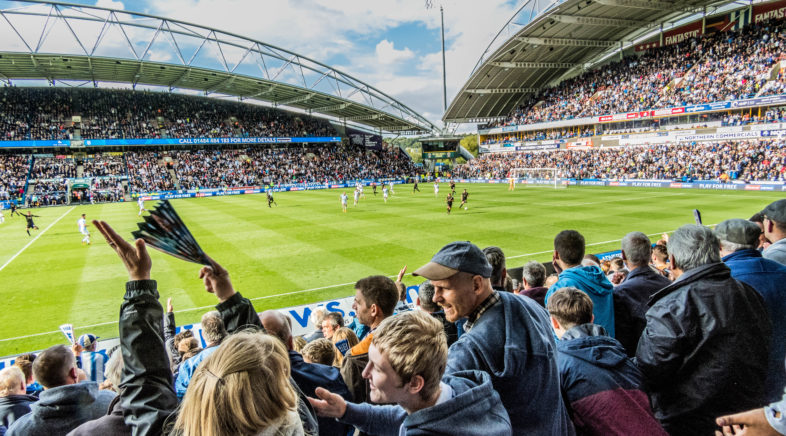 There's quite a story to this one. I knew the Leicester story, the 5000:1 story from a few seasons back. I followed along from afar and watched the documentary after the dust settled on that incredible journey.
Then I learned of Huddersfield, promoted to the Premiership for the first time in 45 years – partly because of the loan of Australian Aaron Mooy from Manchester City last year. Huddersfield won promotion after falling behind (1-3) in the penalty count against Reading at a packed Wembley Stadium. When I was going to be in Yorkshire for work, I had a look around and saw Huddersfield were home to Leicester while I was nearby! I immediately sought tickets, I wanted to be a part of this story…
Sold out.
I researched a little online as I figured there must be resale options, quickly finding the Huddersfield Town Members Exchange. I tried the Members Exchange and found a seat. You beauty. Selected the seat of my desire (30 quid, not bad!) but at the final step, the payment step, I received an error message to the effect of not being able to buy an exchange ticket without a purchase history.
How does one establish a purchase history?
I rang the ticketing office who explained that you need to have attended a home game with a regular ticket before allowance to purchase from the exchange. Madness! How do visitors from overseas get to a game, the stadium only holds 24,000? At one point the woman on the phone asked why I wanted to attend a Huddersfield game, I promptly told her the story (above) and my desire to be a part of it. It was at this stage where I thought she was going to change her mind, find a loophole, help out this customer who had a good reason. Something. But, to my dismay, she told me that there was nothing she could do. She even suggested I try Manchester… sacrilege!
So I turned to Twitter. And the response was overwhelming.
Twitter fam help! @htafcdotcom won't sell me Exchange tix v Leicester as I don't have history. Visiting from Australia, so no history #htafc

— Michael Doig 🇦🇺 (@MarksmanWaugh) September 6, 2017
I had so many PM's, so many offers to meet and buy so-and-so's ticket, messages of support, re-tweets and the like. I even had one incredible member transfer me their ticket digitally, a slick and legitimate method on the Exchange, at which I gleefully accepted. At the checkout stage, I received a similar error! One cannot accept a transfer without a purchase history!
Under immense digital support on Twitter, the ticket office contacted me and back flipped on their previous position! Within 19 hours the power of Twitter and the
generous support of Huddersfield Town fans had seen this little dream realised.
There was still the small matter of receiving the ticket. The instructions were to collect from Gate 2 at the ground, but a day or two later I received an email asking what postal address to deliver to. One definitely fears the worst but a couple days later the golden ticket was safely arrived in my paws.
A seat right on half way (as you can see in the featured photo), fifteen rows back and a 1-1 draw (should have been 2-1 Huddersfield for mine) but all in all a wonderful day. I attended pre-match and post-match functions, met fans, joined the Facebook group and watched this newly promoted side match it with the likes of Vardy and Mahrez. Kirklees is a great little stadium with incredible fans, I can see why they receive a lot of positive comments online about their songs and chants.
I will never forget how the fans rallied behind this Australian who wanted to be a part of their story in 2017/2018…
Hopefully I'll be back in the near future to catch another game, but for the time being, I'll be up at all hours of the night watching when they are on TV in Australia…