A professional clown by the name of Pat Symcox recently decided that the best way to skirt the tag of "Perennial Chokers" was to turn around and label their opponent, whom they've performed the "chokiest" of chokes to, Australia, as the chokers. Astounding. Here's some context.
The year is 1999. Australia have a substandard first round in the World Cup, losing to both Pakistan and New Zealand to sneak into the 2nd stage because we were able to sufficiently beat up West Indies, Bangladesh and Scotland. South Africa, on the other hand, cruise through and are looking fairly certain to do very well, perhaps win the whole thing.
Australia met South Africa in the crucial final game of the Super Sixes, a game they must win to qualify for the semi finals.
Precariously placed after a superb innings from Herschelle Gibbs saw South Africa score 271, Australian captain Steve Waugh and Ricky Ponting start to stage a recovery. With Waugh's score on 56, one of the most talked about blunders in cricket
history occured. He chipped the ball straight to Herschelle Gibbs at mid wicket where the regulation catch was made but completely fubared as he started to celebrate. The law states you must have control of the catch and the further disposal of the ball. He actually fumbled tossing the ball up in celebration! Steve Waugh went on to score 120* and record a famous win to qualify Australia for the Semi Final. Forever Gibbs would be known as "the man who dropped the World Cup" as legend has it that Waugh told Gibbs shortly thereafter "that you just dropped the World Cup mate". If indeed true, it will go down as the wittiest and perhaps prophetic sledge in cricket history.
With this famous win Australia met South Africa in the Semi Final! It wasn't possible that this game would usurp the previous in terms of blunder and legendary status, could it? Australia collapsed, staged a mini-recovery and finished with a sub-standard score of 213. South Africa were cruising, then they weren't, then they were again. Lance Klusener, in bash-you-all mode, was pillaging and making merry towards the win that would get his great nation to the Final. Entering the final over, with 9 needed for victory, he hammered two of the hardest cover drives I have ever seen straight at the boundary. The balls travelled at such speed the very best of golf camera men would have had a hard time keeping up with the ball. 4 balls remaining and 1 run needed, it was all but over. On the 4th ball Klusener played an ungainly looking pull short and called his partner Donald through for a frenetic run. In the most chaotic 5 seconds of my life I watched as Donald first appeared rooted in his sport, then fumbled his bat, dropped it and started running to make his ground at the other end. At the time 11 Australian players converged on the ball, it was utter mayhem. Mark Waugh managed to get the ball to Adam Gilchrist and the first tie in World Cup history was recorded. Pandemonium ensued, who goes through? Commentators going off the rocker. Australia had finished the 2nd round with the slimmest of lead over South Africa by virtue of a superior net run rate. The tie meant Australia were through to the World Cup Final. South Africa were out. This was choking at it's worst.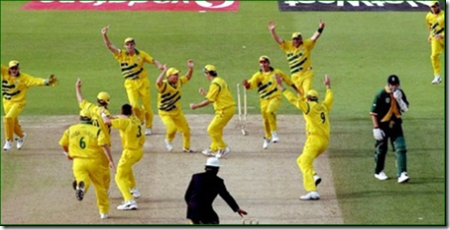 All 11 Australian players celebrate in utter shock at South Africa's sudden blunder!
The year is now 2003. South Africa are hosting the World Cup, it's the final game of the first round and South Africa need to beat Sri Lanka to qualify for the 2nd stage. It was a rain affected match which always seems to play with the mind as people world over try to make sense of and understand the Duckworth-Lewis formula for re-calculating targets in rain shortened games. But it's fair to say that each professional organization must have somebody within it's ranks that not only understands the formula, but can translate it to the teams managers, coaches and what have you. Especially in a World Cup.
Did they know that they needed to be on 230 runs at the end of the 45th over to be ahead? It was raining and everyone was talking Duckworth-Lewis. The score was 223 with 2 balls left in the over. Suddenly Mark Boucher launched Muttiah Murilitharan for a massive 6 that effectively tied the scores. I personally figured they knew what they were doing, that was an awesome shot and most certainly a match winner. The final ball was blocked, I believe Boucher was sensitive to the fact that losing his wicket right there would effectively lose the match as the formula snowball's with each loss of wicket. A massive mis-calculation had occurred though, as 229 was only enough to secure a tie if they were forced from the field because of heavy rain. They were forced from the field because of heavy rain. Like 1999, the match was a tie and South Africa missed out because of run rate. They choked again!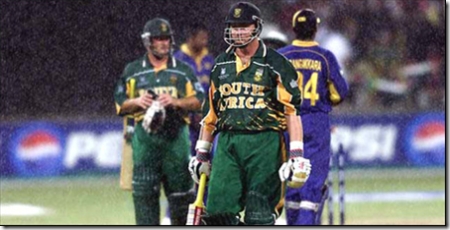 Lance Klusener and Mark Boucher trudge off in pouring rain. Had they miscalculated? Yes!
And with all this negative press on Australia because of our series losses in the Commonwealth Bank Series and the Chapell-Hadlee Series everyone and sundry came out to criticize. Including Symcox and others who tried to pass the buck of choking burden unto us.
South Africa are still chokers on the big stage. This past weekend they found a new way to choke having put themselves into the most formidable position imaginable. Chasing a mammoth score of 377 South Africa were absolutely stunning, crashing their way to 1-160 after only 21 overs! However, they found a new way to choke when captain Graeme Smith's body gave out on him and he started cramping and nearly breaking his ankle as his leg's stopped responding. A sniff is all Australia needed and we proceeded to thwart their progress and effectively rip them to shreds. We finally won by 83 runs but it was all over 110 runs out as Smith returned and lost his wicket.

Captain Graeme Smith receives treating to his somewhat unresponsive legs. © AFP
Botched singles. Miscalculations. Cramping bodies. Yes, South Africa are plagued and possibly destined to choke at the final breath.
The second stage starts tomorrow, South Africa still has a good a chance as anyone to progress to the Semi Finals and Final. They could still win the 2007 World Cup. For now, they're still chokers and I cannot find any articles from outspoken South Africans Pat Symcox and Daryl Cullinan anywhere online. I am quite resourceful.