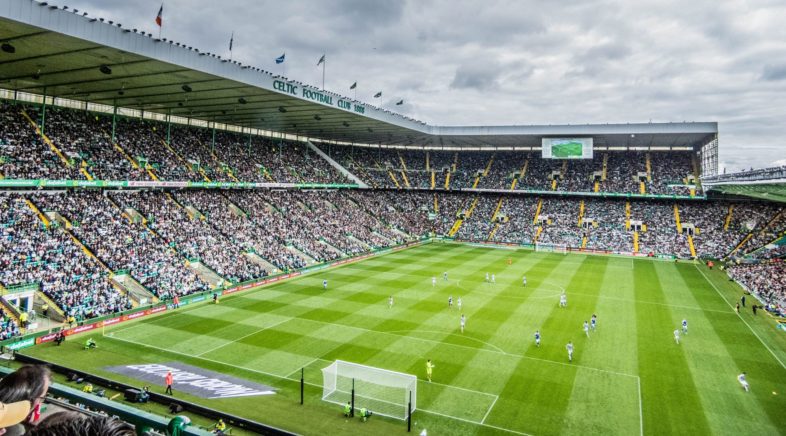 One of the absolute must do's on a trip to Scotland is to take in an Old Firm game between Celtic and Rangers in Glasgow. Alas we were there at the wrong part of the season for this fiery affair but managed to score members tickets to a match between Celtic and St Johnstone at Celtic Park (Paradise).
Louise Connolly has some connections within Celtic, that's for sure. Her uncle is a die hard fan; I'm talking red-in-the-face, scream-bloody-murder-at-every-minor-indiscretion die hard. I was just where I wanted to be!
We enjoyed the entire match day experience. Parking in the back streets and paying youth to watch over your car (read, pay them to not steal or damage your car). Buying some street vendor gear, this my knitted scarf that is not official merchandise. Sitting in terrific seats, eating (but not drinking) and just enjoying the carnage that is Celtic atmosphere.
These guys are mental. No wonder you can't drink in your seats.
It was actually a bit of a jittery mess performance from Celtic. Expected to win easily and to extend their 52-game unbeaten run in domestic football, they fell behind in the 39′ minute when MacLean put it in the bottom right corner. From there they always felt on the back foot, plenty of mistakes and plenty of pretty vicious commentary from fans all over the place. Kids matter not, here…
Finally in the 79′ minute Callum McGregor sent the stadium in a frenzy with a similar bottom right corner shot from the centre of the box. Pandemonium. Delirium. A saved unbeaten run extended to 53 and these proud folk made their way home or, like us, down to the closed off members bar to drink for more hours.
Here I received a lot of attention and all manner of free beers and small gifts; a hat and badges and just weird but enjoyable banter as these die hard fans tried to convert a new one.
I was converted the minute I walked in the ground. Louise, this was a day to remember!
PS – I have a Nikon B700 – with 60x optical zoom. These photos are mine, incredible how close to the action you can get!