Who doesn't miss the Calypso Kings of the 70's and 80's? Those somewhat high pitched squeals when all 11 players went up to celebrate a wicket. Tall lanky buggers all giving each other high-ten's. They were brilliant, belligerent, astonishing; but don't think for a second that they weren't arrogant and did not strut their stuff. They did.
They they deserved to. They earned it and used it. You don't think their whole aura and dominance weren't used as a scare tactic?
Those burning eyes, those snarls whenever things didn't go their way; Holding, Roberts, Marshall, Garner, Ambrose. We loved it.
The West Indies were dominating because they had snarl. They were arrogant. They knew they were great and made sure you knew it. Australia are dominating because they are ruthless. They're just fine with ending careers, thumping and making a mockery of bowlers and batsmen world over. They're fine pointing out who they're targeting pre-series and targeting them.
I firmly believe bowlers these days don't have the snarl; probably because how quickly everyone comes down on them. If a bowler appeals longer than a few seconds the commentators start talking about over-appealing and suggesting an appearance in front of the Match Referee. Bowlers have to be careful with chirping in the batsman's ear before the Umpires intervene. Disgust at an adjudication not in their favour? Match Referee. And forget send-off's – they're no longer approved.
It's a batsman's era where conditions and officiating (and everything else) favour the batsman. Everyone wonders why games are high scoring and 10 wicket's can't be taken? Thankfully there are still some games where bat and ball compete on even ground, the Australia v England in World Cup 2003 comes to mind. But it doesn't make up for the grand percentage of games that are bat heavy.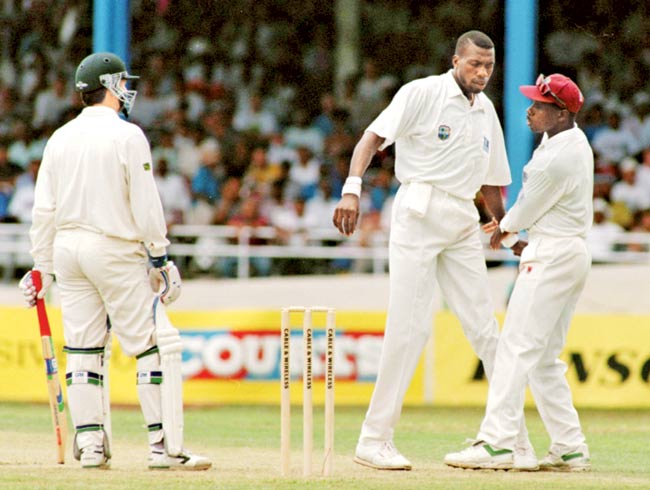 Richie Richardson holds Curty Ambrose back from further approaching Steve Waugh – where has the snarl gone?
Back on point – I have a feeling Australia already had their collapse; already slipped from grace. It happened in February and March. It was a short lived moment of glory for all the media snipers out there. Bask in the 5-in-a-row losses. For a team who has achieved every single thing there is to achieve in cricket (and there's nothing left bar the 20-20 World Cup), the start to this World Cup must be chilling for the rest of the World. Australia is hungry and want to destroy everyone in it's path.
The media continue to dig into Ricky Ponting. When will they learn? It incenses him and causes him to do what he does; and I know you know what he does. He chirps at the Umpires regarding their decisions and receives criticism for it. Let me leave you with one to take to the drawing board:
If your captain would display the arrogance and the fire to be right in the thick of things; and I mean everything; then perhaps you will have taken the first steps towards your own kind of dominance.