When Tropical Cyclone Marcia touched down and wreaked havoc in Queensland mid February I didn't hold too much hope for this match – Game 11 – Australia v Bangladesh at the GABBA. Unfortunately, I was right.
I chose Nevan for this flight to Brisbane because we were close to the Gold Coast. Being the eldest (15) we decided we'd hit the Theme Parks around the match and have a bit of fun. Unfortunately, again, that wasn't to happen either.
The flight was eventful. We were able to squeeze away and were the last ones to fly to Brisbane before cancellations ran rampant for the remainder of the morning. Lucky we had that 6am flight…
At the GABBA we first met a very talented artist who painted us Aussie Pride style and second met the legendary Fahimul Hoque. Fahimul flew from Bangladesh and was spotted at many (all?) of their games dressed up as you see in the photo above. I can appreciate someone with such passion and am glad to have met the guy. Apparently he's quite well known back in Bangladesh, for after I tagged him the photo went from 30 likes on Facebook to 260+ in hours. Incredible!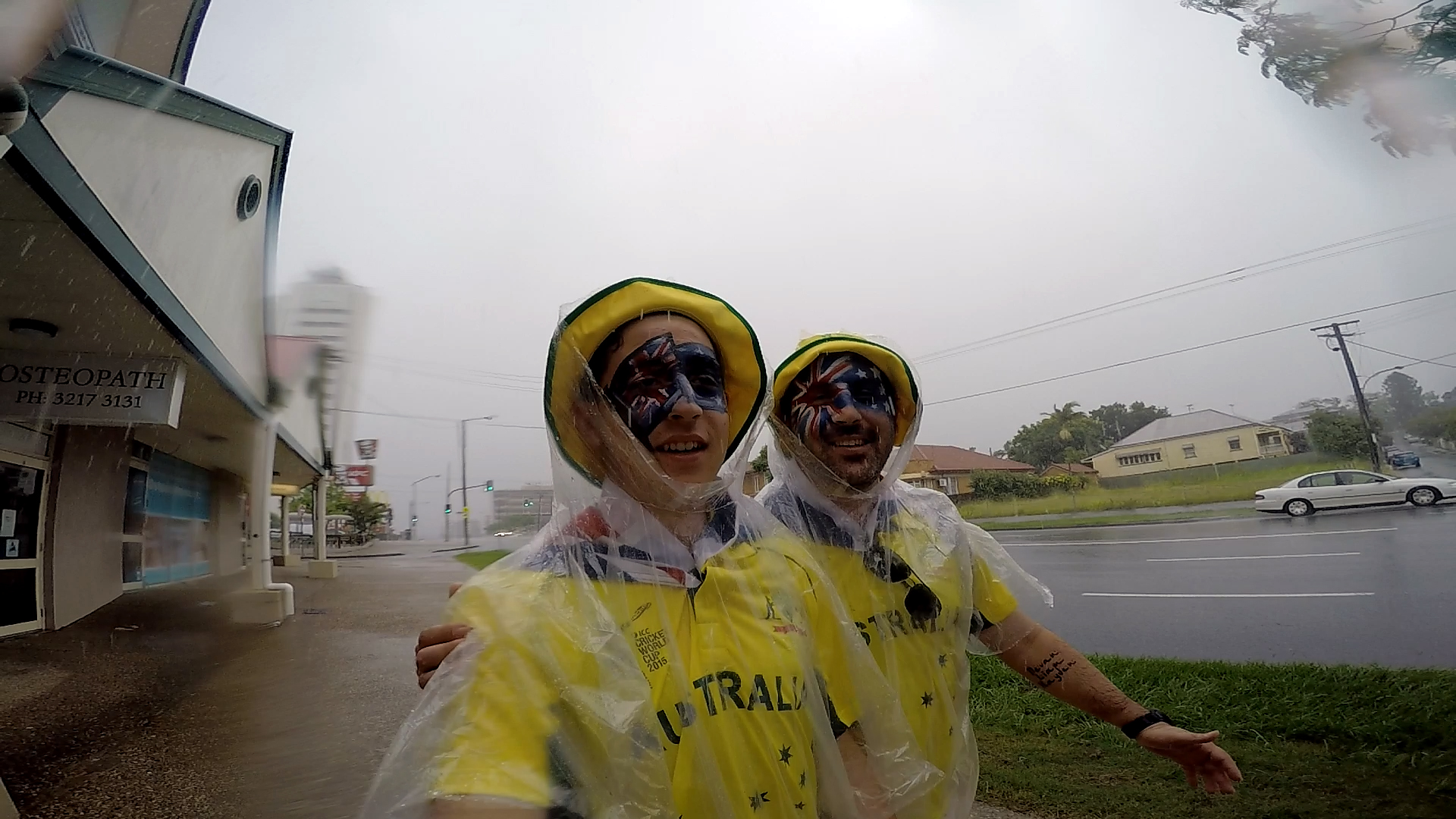 We left the stadium, in pouring rain…
As Nevan and I sat around for a few hours we realized there was very little chance the game would be on. We left the stadium, in pouring rain; to find the restaurant across the road was not serving food. We walked further away from the ground until we finally settled on the Pineapple Hotel, landing ourselves a delicious, hot Parma and drinks to wash it down.
With the inclement weather we found ourselves with a lot of free time. We took a movie at Mt Gravatt, after getting on the wrong bus and having to walk several km to the centre I once visited as a kid. We also caught up with some old high school mates (Glenn and Graham) for breakfast one morning. I hadn't seen these guys in 20 years, we had stayed in touch a little via Facebook, but for years we could be found down at the local park playing footy, cricket, war and all the things kids do. After brekky in Slacks Creek (my old stomping grounds) we drove the short distance back to our old neighborhood to check it out. Nevan was with me in 2001 when I last visited the area, but far too young to remember. This short detour with old mates was definitely a huge plus to a messed up weekend.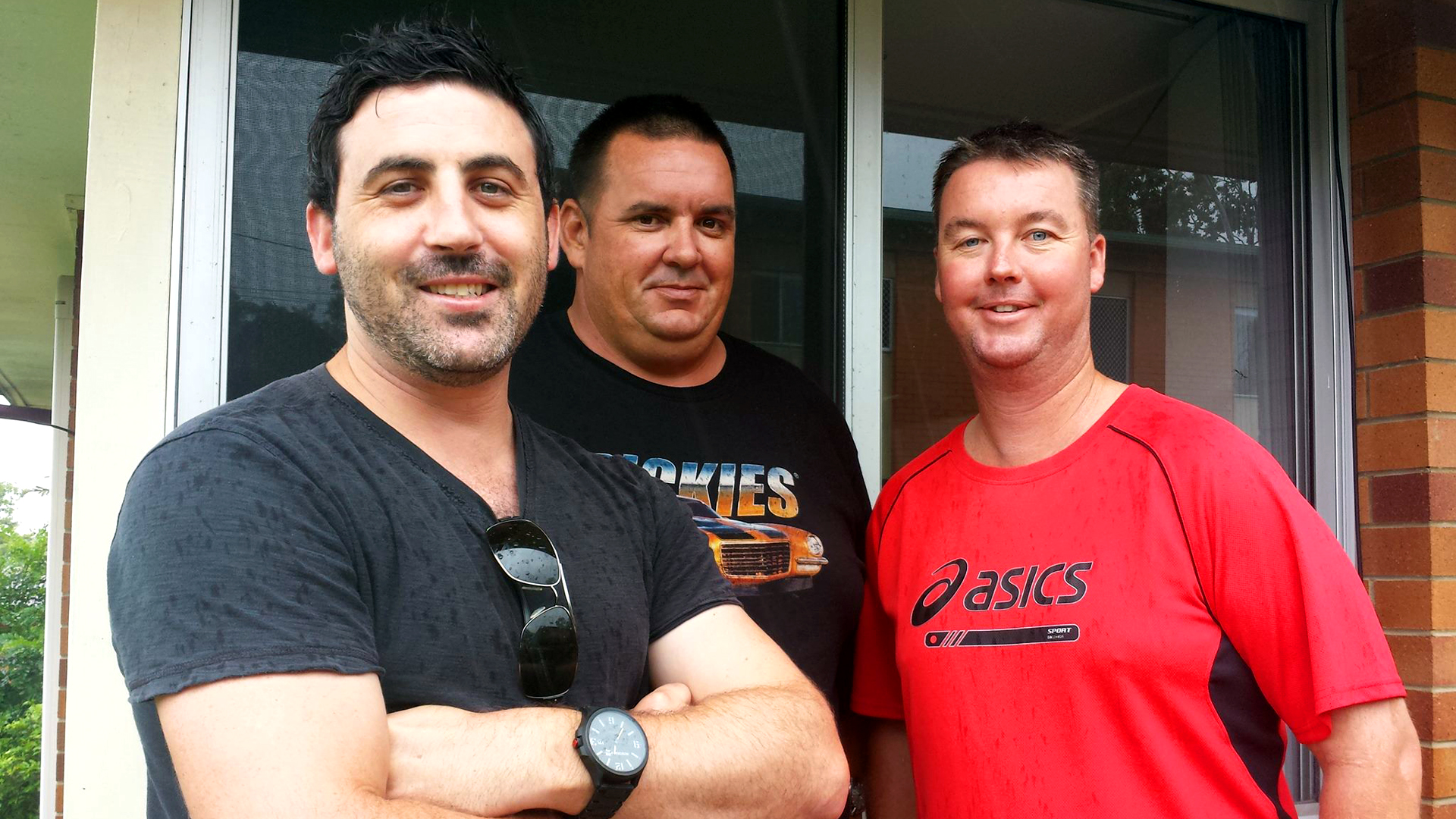 From left: Michael, Graham and Glen
We spent the rest of the time staying on the Gold Coast, visiting Ripleys Believe it or not (I had always wanted to go as a kid), swimming in the high rise pool and generally hanging out in the wet Gold Coast.
It turned out to be the only washout of the entire world cup. Bugger!
Scorecard: http://www.espncricinfo.com/icc-cricket-world-cup-2015/engine/current/match/656419.html
Match Report: http://www.espncricinfo.com/icc-cricket-world-cup-2015/content/story/835989.html
Trip Photos: https://www.mike250.com/photos/y2015/february/