Third game in the top division, and picked up man of the match in this one. It was also my first 2-day game since I played cricket as an under-15 way back in 1990 something. For those not in the know, it's 90 overs each day and the one difference I see here is you pretty much are forced to declare at the end of 90 overs if you are still batting. I don't see how you can have four completed innings in two days but we had a couple in the league this weekend.
Our game only had two completed innings though and we won on first innings. We batted first on a very tough and slow wicket, starting reasonably well but crumbling to 7-96 after about 55 overs. This is where newcomer Mark Cottam and I came in, determined to make our presence known and rescue the team. Mark is an ex-West's player who moved to our team this year so he was brought up the order a bit against his former team. I was batting at #9 which was lower than the previous #7 probably because the team doesn't feel confident about my lasting ability, they see value in my one day hitting but I need to be tested in staying long periods at the crease.
Mark was defensive and kept everything out in his first real dig since joining the team while I was a bit more extravagant; my goal was to hit over the top to push the field back and then milk them for all I could. This I achieved as we took the score from 7-96 to 8-164 before I was out for 49, the ball stopping on me and forcing me to play way too early and spoon an easy catch to cover. Mark scored about 15 in that time as I dominated proceedings pretty heavily. But I valued our time together so much because I knew we both had a real chance here to do something special for our new team. While Mark scored far fewer his innings was no lesser than mine, I found that we really complimented each other out there. What I enjoyed most about my innings was playing patient for 5 balls every over with the field spread and then when the field was brought in on the final ball I cashed in with a boundary or six over the top. It turns out I also have the distinction of hitting the first six ever on our new ground.
We ended up scoring 184 which was a very good score for the conditions and almost batting out 90 overs to boot. Sunday they batted and although they batted a session and a half without losing a wicket at one point we were able to eventually bowl them out for 126. I took two wickets to bring my season tally to 7 and also took 3 catches, one of them running away from the pitch and diving full length to grab one that was hit over the top. That was a crucial wicket as it was the opener who, for some reason, batted 55 overs for 21 runs.
While I took two wickets I bowled a few too many that were clipped pretty easily on the leg side, something I'll have to adjust. I'm more used to bowling wicket to wicket one-day style and need to find a groove of on or outside off for the future. But then again, I earned an LBW and you can't get those if you are always landing outside off…
My match haul of top score 49, 2-18 off 8 with the ball and 3 wickets earned me my first 1st grade man of the match. The paper is getting closer to getting my name right, at least I am Mike Doig in the batting section.
I also get a mention in the weekly wrap up news article so that was pretty cool.
Articles attached!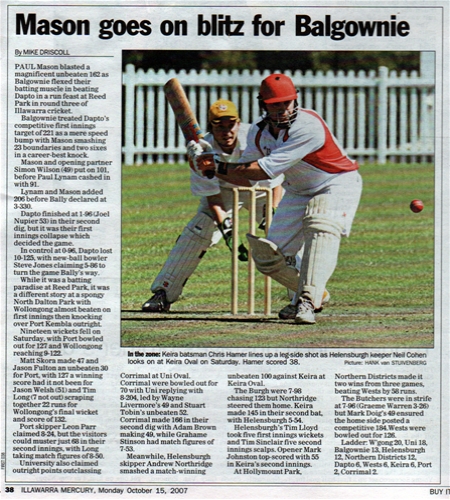 I get a mention towards the end of the weekend league wrap, still getting my name wrong!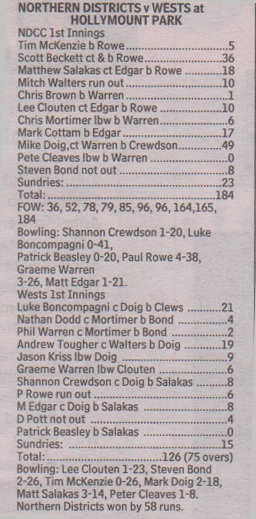 Hey! When batting I am finally Mike Doig! When bowling I transform into Mark again…
Blog photo by Rob Sheeley