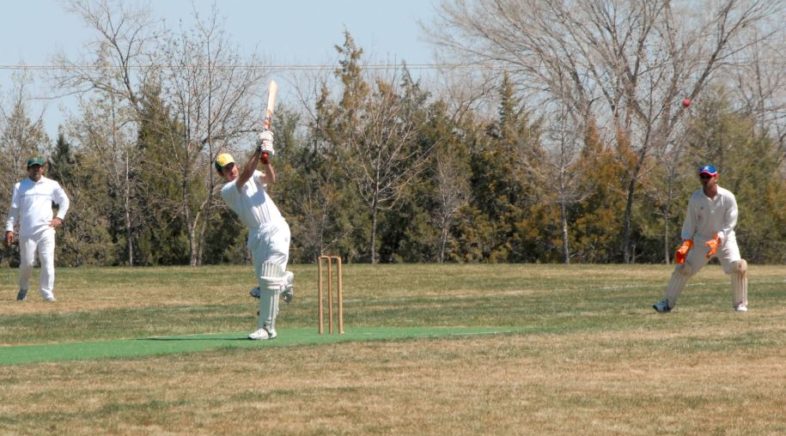 I've been exchanging emails with my good mate Robert in Colorado Springs over the past couple of days. This isn't unusual; we talk a lot about cricket and lately the discussion has revolved around the imminent exodus of the Australian cricket team. With much of the side pushing their mid to late 30's it's only a matter of time before we see fresh faces in the squad. A lot of fresh faces.
Robert is from Trinidad & Tobago; our resident West Indian cricketer in the Colorado Cricket League made up of mostly expat Indians and Pakistani's.
He's also a dear friend not only to me, but my wife and two boys as well. We've stayed with Robert a number of times during our weekend-long cricket trips to the Denver area.
Robert said something in his most recent email that got me thinking about my cricket. He said:
Hey Mikey,I was smiling when I read this and had to send it to you because you immediately came to mind. It sounds like something that would be on your report card too …
"During a training camp at the Academy when he was in an under-17 squad Gilchrist was singled out because he hit too many boundaries."
It was part of the Cricinfo article talking about him being the first man to hit 100 6's in Tests … he's on 97 from 88 matches and Lara's second with 88 from 131 matches. Ain't that amusing?
Later,
– Rob
When batting my natural tendency is to nudge and curdle like a Bevan or a Hussey. I have found though, while playing in the Colorado Cricket League, that my game seems to be better suited playing aggressively. Here's the thing though – I still have to learn patience. I'll tell you why.
When I scored 55 against Littleton this year, it was the first game of the season. I got to 50 in about 20 balls. Because I was batting so quickly without any false strokes, I had so much time to go on and make a really big one. I had just pulled Dharma for six to bring up the half century. I then slapped Kit straight down long-on's throat because I got caught up in the moment.
Then when we were playing CSU at CSU you gave us a tremendous start and I came in with Ray to give us the advantage. Ray played beautifully smart while I gave an early half chance (long on spilled a tough chance) before finding my groove and scoring faster than a run a ball on the tough CSU ground. With a 50 in sight, and who knows what else, I tried to hit their innocuous medium pacer for six only to sky it straight up. I gifted my wicket when they were clearly rattled and wondering how the hell to get me out.
And the best (but worst) story of the lot. Playing for Berridale in Country NSW with my cousin. When asked what I do I told them I was an all-rounder. They put me at #7. I didn't protest to bat higher or anything, I was a guest. But I walked out with the score at 5-38, the grass was long, and I could be forgiven that it had an eerie Colorado feel to it. I received a bouncer first ball that I pulled for six and didn't look back. It wasn't charge and bang cricket, it was calculated destruction. One full ball on my pads disappeared for six; you remember what that looks like, I hit one just like it against Denver Sluggers in a pre-season game and you told me yourself it had Viv Richards stamped all over it. I tore the other team apart with six 6's and a four and raised my 50 with a six to long on that dented a fence about 30 yards beyond the boundary. Next ball I left my crease for the first time in the innings and skied their spinner to long on, out for an even 50. I could have scored 150 that day.
I'm hoping I remedy this problem when I finally settle near Sydney…