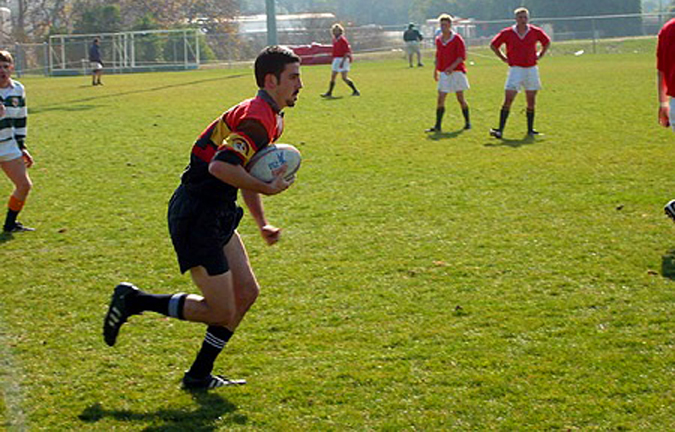 My first pre-season rugby game of the year went well. Here is an article posted after the game on the Slorugby website:
San Luis Obispo and arch-rivals Arroyo Grande clashed at Riverbottom Field on Saturday, where the SLO team continued its recent dominance of its neighbour.
The local derby between these two proud clubs is always hotly contested, and Saturday was no exception as the teams vied for local supremacy.
Both teams started a large number of rookies in an attempt to get these players as much exposure to competition experience before the league opens in mid January.
It was the underdogs Arroyo Grande who exploded out of the blocks faster, piecing together several promising raids on the SLO line, however it was San Luis Obispo's electrifying fullback Michael Doig who drew first blood with a scintillating solo try against the flow of the game in the sixth minute, showing off his trademark sidestep magnificently in the process. Not long after, the Arroyo Grande boys had a moment of glory themselves as they scored an impressive team try under the posts to draw level. The score would remain 5-5 at the half.
The first 20 minutes after the resumption of play belonged to Arroyo Grande, whose defense was stifling any attacking moves and causing countless errors and turnovers from the men in red. They finally turned pressure into points when the Arroyo Grande turned the ball over in a San Luis Obispo ruck, and their open side flanker scored in the right corner. This would prove to be their final moment of triumph.
San Luis Obispo, led by barnstorming prop Craig Thorstenson came charging back, setting up multiple phases, and culminating in a forwards try awarded to the effervescent flanker Jeff Bailey in the 63rd minute. Bailey was everywhere on the day, stepping up to lead a very inexperienced pack from the front. His play was inspirational, and was capped off when he crossed again five minutes later to score the try that broke Arroyo Grande's spirit.
Special mention must be made of several players efforts – most notably Sean Bolduan who stepped in to scrum-half for the first time, and held his own against AG's wily number nine. Devin Pope, playing his second game ever is improving exponentially each week and will be a force to be reckoned with later in the season. Finally, rookie prop Craig Thorstenson showed signs that he will be a dominant force in the months to come, pulling off some bruising tackles and crushing runs through the heart of the Arroyo Grande pack.
With the return of stalwarts Andy Adams, Ross Moriarty and Bobby Evans, and backs Nick Filice, Deron Brewer, Forest Nielsen and Lief McKay, the SLO team looks to have the ingredients in place for a successful season.
San Luis Obispo has now recorded five straight victories against Arroyo Grande.
Score: San Luis Obispo 19 defeated Arroyo Grande 10
MVP: Jeff Bailey