The World Cup in style.
Back in January our department participated in a team challenge – with the prize being fully catered boxes for Game 19 – South Africa v West Indies at the SCG. Our team won the challenge (2-1) but with some unavailability all those who wanted to attend ended up being able to attend. Win win… or lose win. Whatever. We all attended, which was ideal.
I've always had a soft spot for the West Indies – back when I played in Colorado one of my closest team mates was from Trinidad & Tobago. When I relocated back to Australia we swapped hats – I gave him my Cricket Australia cap and he gave his West Indies cricket cap. I still have that sweat ridden cap in my cupboard. Suffice to say I was a West Indian supporter this day and lured into purchasing a retro West Indies cricket jersey.
Wishing to remain in the spirit of the carnival, we left work early to arrive early (why wouldn't you?). We participated in the pre-match activities – which was great because I was finally able to see how Englishmen Phil and Olly went with bat and ball in hand. Phil – aggressive yet wayward. Olly – picture perfect defense. He probably attended a solid English College with rich cricketing history. We were smacked around by some Indian kid – probably 12 or 13 – a great talent. Finally we chilled to West Indian music and match replays at the Cricket World Cup Bus.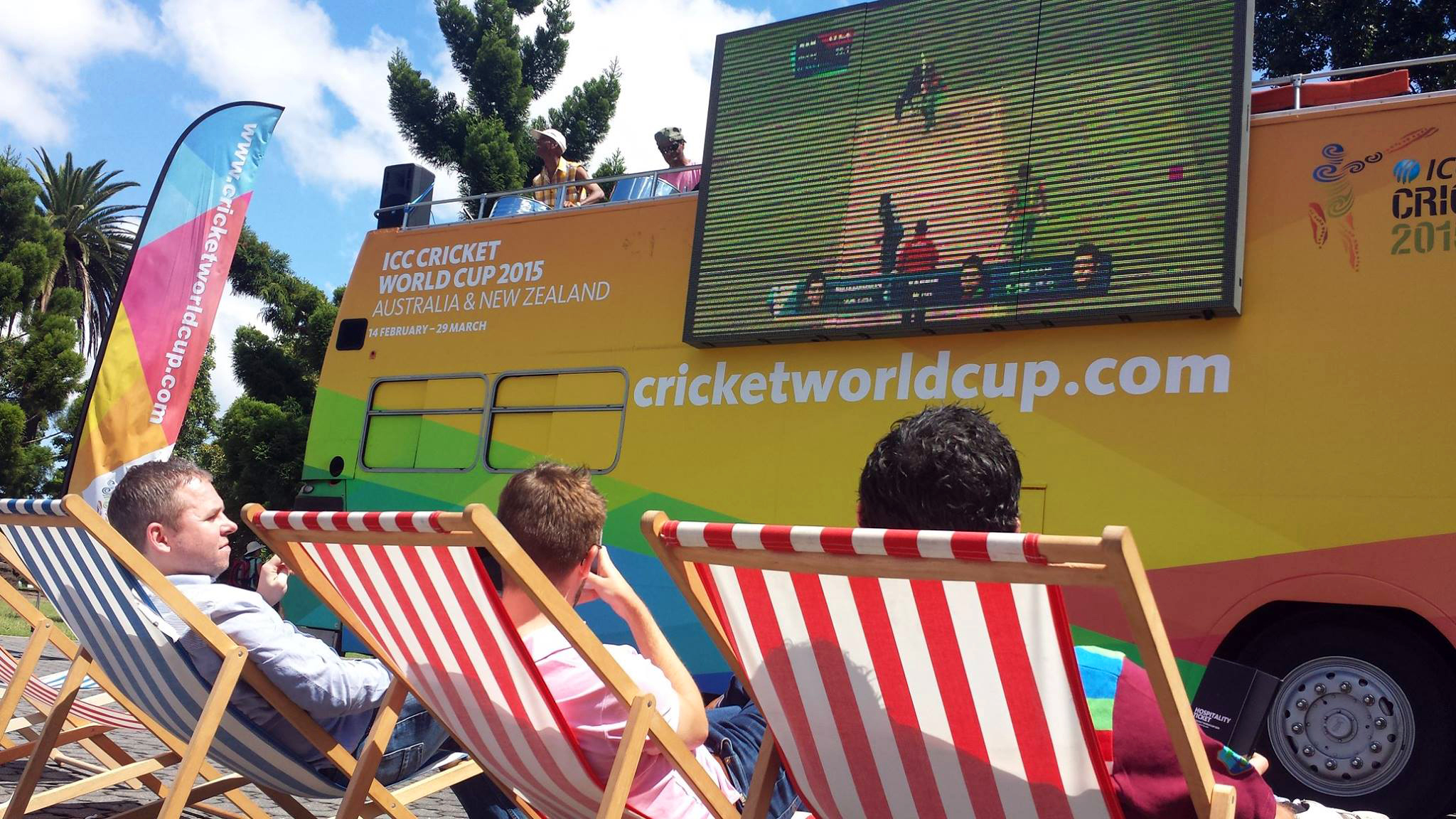 Listening to West Indian drums at the CWC15 Bus
Our fancy pants passes soon had us making our way into the Corporate area where, upon locating our box, we were greeted with the Official Cricket World Cup 2015 book and a beer. Top shelf.
Now… AB De Villiers. Let me say that again. AB De Villiers. For mine, the best batsman in the world at the moment. He had performed some ridiculous feats recently in South Africa (against the West Indies, mind you) so we were quite excited to drink and eat and make merry – whilst hoping he made merry.
Picture an hour and three quarters into the contest. We've had a few to drink and have nibbled on some bits and pieces. South Africa haven't been all that exhilarating but they had worked themselves to 3/146 after thirty overs. This is the part where AB De Villiers walks in.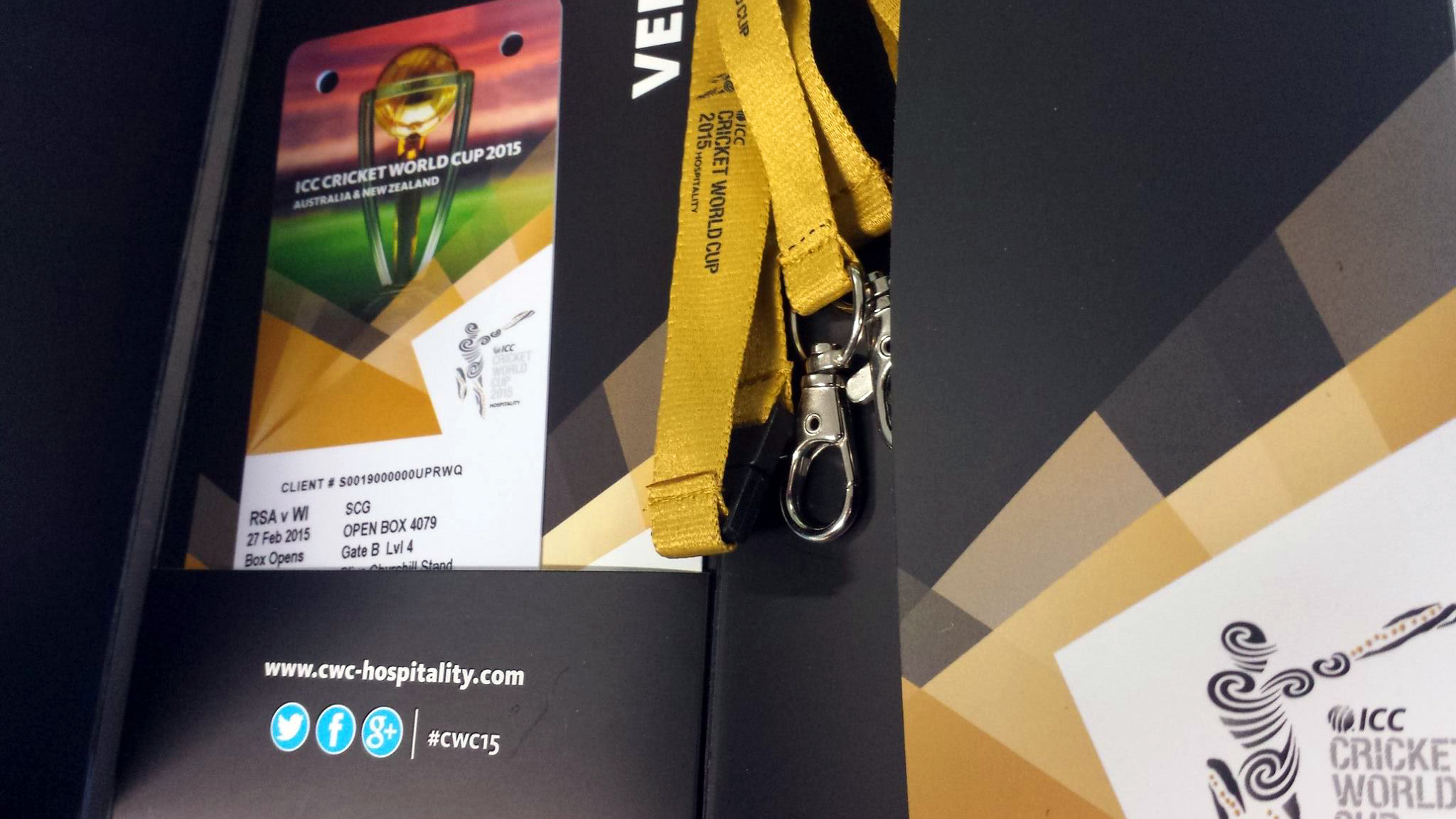 Fancy pants passes soon had us making our way into the Corporate area
From here South Africa would have wanted 320-330 if they didn't lose too many wickets. Oh no, no no no. De Villiers settled in a little to get himself set before playing a mix of brilliantly technical and brilliantly ridiculous cricket shots to account for a run rate of about 11-12 over the course of 10-overs. He barely broke a sweat in his 30-ball fifty – he did it so easily without thrashing about. 22-balls later he had recorded a 52-ball century. We thought we had seen it all. We were wrong.
In the final three overs, De Villiers chiefly accounted for the 78 runs scored. Six fours and six sixes in those final three overs were not only spectacular, breathtaking and unbelievable, it saw South Africa through to 5/408 – the first time in history that the 400 barrier had been cracked in Australia. De Villiers now has the fastest 50, 100 and 150 in ODI cricket – finishing with an incredible 162* (66)
AB De Villiers' assault was extraordinary and something that will long live in our minds. I've never seen anything like it and am thankful beyond words that we were able to be there.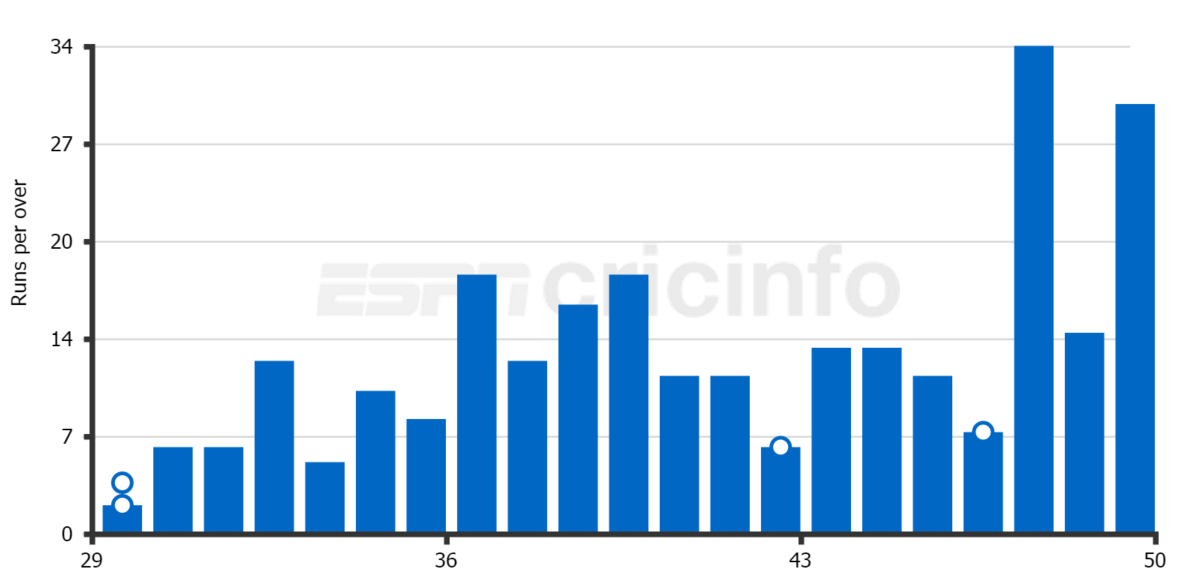 South Africa's Manhattan after AB De Villiers walked in
If there is another man in world Cricket who can match AB De Villiers, on his day, it is West Indian Chris Gayle. Unfortunately he was dismissed for three and from there hearts sank across the stadium. They appeared to sink in the hearts of the West Indian players, too; for they went on to scrape an ugly 151 and lose by 257 runs. Some of the dismissals were shocking – none more so than Lendl Simmons who chose not to review his LBW and simply walk off. He had to know he smashed it, we could tell from where we were sitting.
There's nothing more I can write about the West Indies here, sadly. South Africa were too good and those at the SCG will remember AB De Villiers' knock, always.
Scorecard: http://www.espncricinfo.com/icc-cricket-world-cup-2015/engine/match/656435.html
Match Report: http://www.espncricinfo.com/icc-cricket-world-cup-2015/content/story/839693.html