We lost after weather adversely affected our run chase, they spelled my name wrong but in the end I had a decent outing again. Newspaper clipping attached.
Basically we started in pretty shocking fashion with a host of wides giving the Lighthouse Keepers the chance to establish themselves at about six runs per over at the first drinks break. By the 2nd break they were well on their way to scoring 300. We pulled them back and fought beautifully to knock them over for a gettable 220. I was brought on to bowl five overs into the wind at the death and was pleased with my 3 wickets. The goal was to land the ball full on or outside off and it paid off.
While chasing we were pretty well placed at about 2-60 after twenty overs when the rain came. Although we were only cruising at three an over we were pretty happy that 220 was something we could hunt down. The rain break cost us ten overs before a second rain break cost us a further three. What resulted was a revised target of 177 from 37 overs, the calculation based off the Lighthouse Keeper's score at the end of 37 overs.
This is a terrible calculation and I found myself disappointed that there wasn't a much better method being used in First Grade cricket in Australia. First, it did not reward us for the excellent effort in the last 15 overs of their innings. Second, it had a very negative impact on our run rate required as 20 overs had already been spent. Instead of needing about 160 runs at 5.33 runs per over we now needed about 117 runs at 6.88 runs per over.
It was a big enough margin to make a difference, with the wet and overcast conditions batting became much harder. I felt we did a good job of staying in the game as long as we did. In the end we couldn't make the 177, falling short at 9-143. I was able to score 19 before I mis-hit a catch to midwicket and was probably the final straw in our remote chances…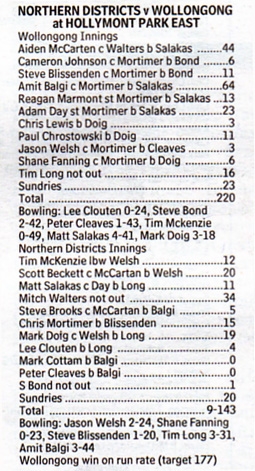 Blog photo by Rob Sheeley