Finally.
The 2015 ICC Cricket World Cup had begun.
I'd only been waiting somewhere in the vicinity of eight months… eight months since I started a mad grab for tickets… eight months since I started planning a once-in-a-lifetime set of trips for myself and my sons.
Here we were – Game 2 – Australia v England at the MCG. All the more special because this was to be my first ever cricket match at the world famous Melbourne Cricket Ground (for some absurd reason, one that I cannot explain, I had always put off popping down to the "G" for a match). As a self professed cricket nut, this is sacrilege.
As I had previously alluded, I had made some serious plans around this World Cup. Those included buying flights and tickets to games that might offer the most out of the experience for whichever son I was bringing. I would have loved to have brought them all to all matches – but flights, accommodation and tickets to eight matches for four people was exorbitant. The contingency was thus decided – take turns flying with a different son to a different venue based on things that might further interest said son. Dad gets to attend all. Brilliant if you ask me.
Additionally special was the number of friends flying down to Melbourne for this massive first Australian World Cup match. Great mate from high school Shane and his girlfriend Helena (therefore Jenifer and Katherine, turning it into a girls weekend whilst the boys were at the cricket). My other great high school mate Dennis. Work acquaintances Olly and Phil; both English, both great blokes. Sam, who lives down in Melbourne now – Shane's mate from the Navy and now our golfing buddy.
We all met at The Sporting Globe, Richmond for lunch and drinks prior to the match. And ran into some other mates I have played cricket with, Peter, Neil and Shep. Frankly – what a start to the Cup.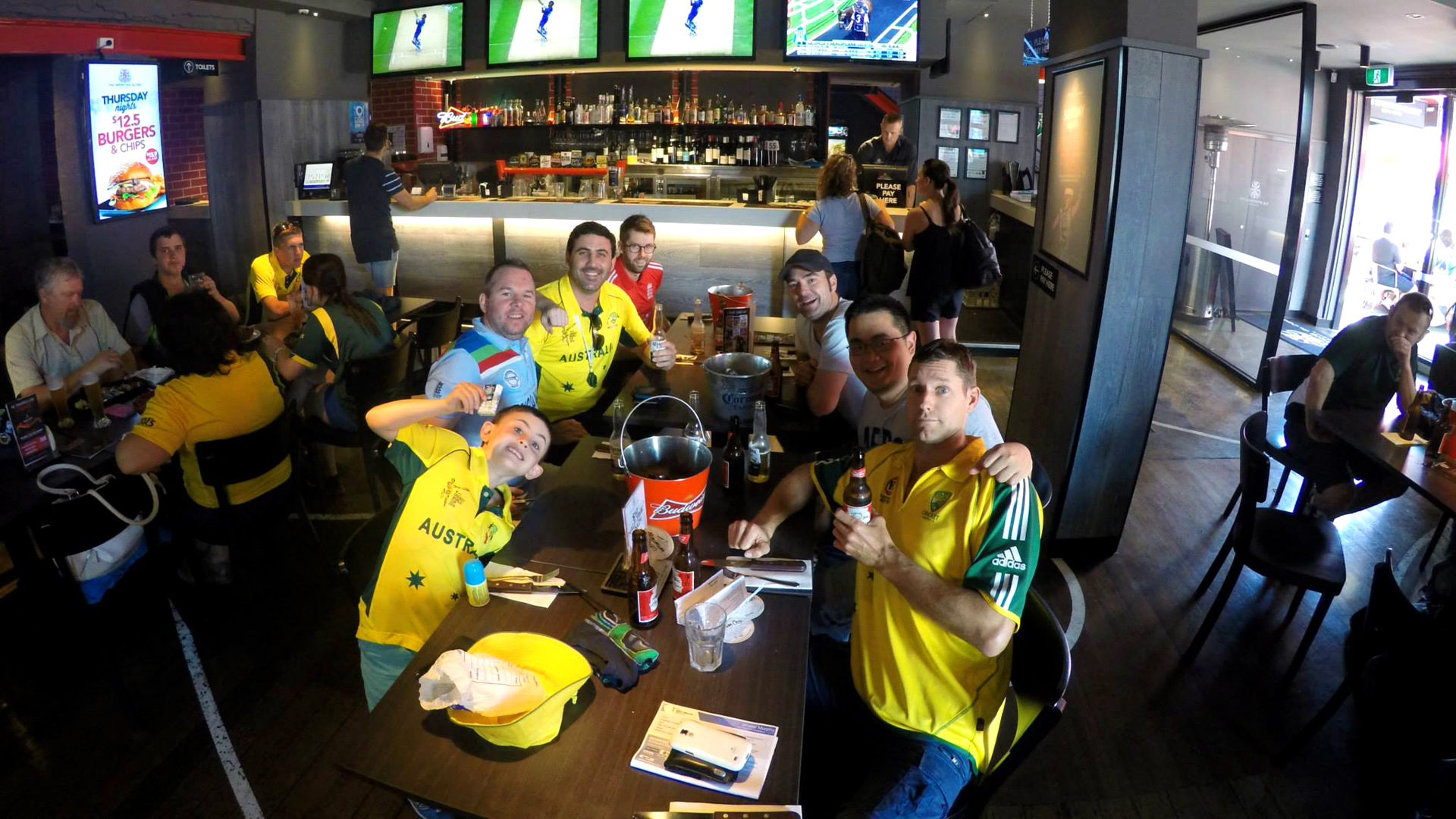 From Left: Hayden, Phil, Michael, Olly, Sam, Dennis, Shane
Post lunch, post drinks – we made the roughly 1.5km trek to the ground. When you have a mix of Aussies and Poms in the group you're bound to have some fun sledging along the way. Green and Gold v White and Red. Flags. Chirping. Olly had the English flag wrapped around Hayden at one point. We ended that quickly!
The entrance to the stadium itself will live long in the memory. This thing is a Colosseum. With 85,000 fans I felt giddy momentarily. It was all too much to take in. The Great Southern Stand takes up nearly half the ground. Ponsford stand. Olympic stand. Members stand. They all come together at similar heights to complete the dizzying spectacle. It is fair to say I was in awe.

The dizzying spectacle. Photo courtesy good mate Sam Martin
In a match that had plenty, Australia went on to bash 9/342 from their fifty overs. Aaron Finch led with 135 at the top whilst George Bailey (55) and Glenn Maxwell (66) belted the Poms all over the park. Englishman Steve Finn took a sensational hat-trick in the closing stages to give the Poms something to cheer about.
It was about this time that Hayden started to struggle. 6+ hours is a lot for a 6-year old watching a cricket match – I get that. Trust me, he had everything he wanted. But drinks and chips and lollies soon didn't cut it. He'd go from energetic to acting sick. I never believed him (you'll soon see why) – but thankfully we got through. Come the 2nd innings the row of twenty or so blokes saved the day (these guys were a riot – one of them can be seen wearing the stack hat in the photo above).
At some point Hayden wanted to join in the Mexican wave. These guys had Hayden leading the wave and (you didn't hear this from me) leading the making of paper planes to throw. Within half an hour he was playing musical chairs, sitting with and becoming friends with the lot of them. They were buying him treats, lifting him up in the air and cheering, crowning him their King. Gone was the earlier foul language – having a kid around you changes things and they all respected this. Twice I saw Hayden on the phone, apparently he was talking to their girlfriends! In short, Hayden had what is probably the time of his life to date and begged me to go to another match!
Back in the match, Mitchell Marsh proceeded to rip through the English top order to finish will stellar figures of 5/33 from his nine overs. James Taylor, the shortest man I have ever seen playing cricket, stood tall with a composed yet exciting 98* – unfortunately and controversially robbed of his hundred when given LBW – only to be challenged, winning the challenge to find that Anderson had been run out in the confusion. Officially the ball should have been dead – but at the end of the day the debut hundred was the consolation prize on offer. England were thumped and their horror run continued against Australia. A match that had it all…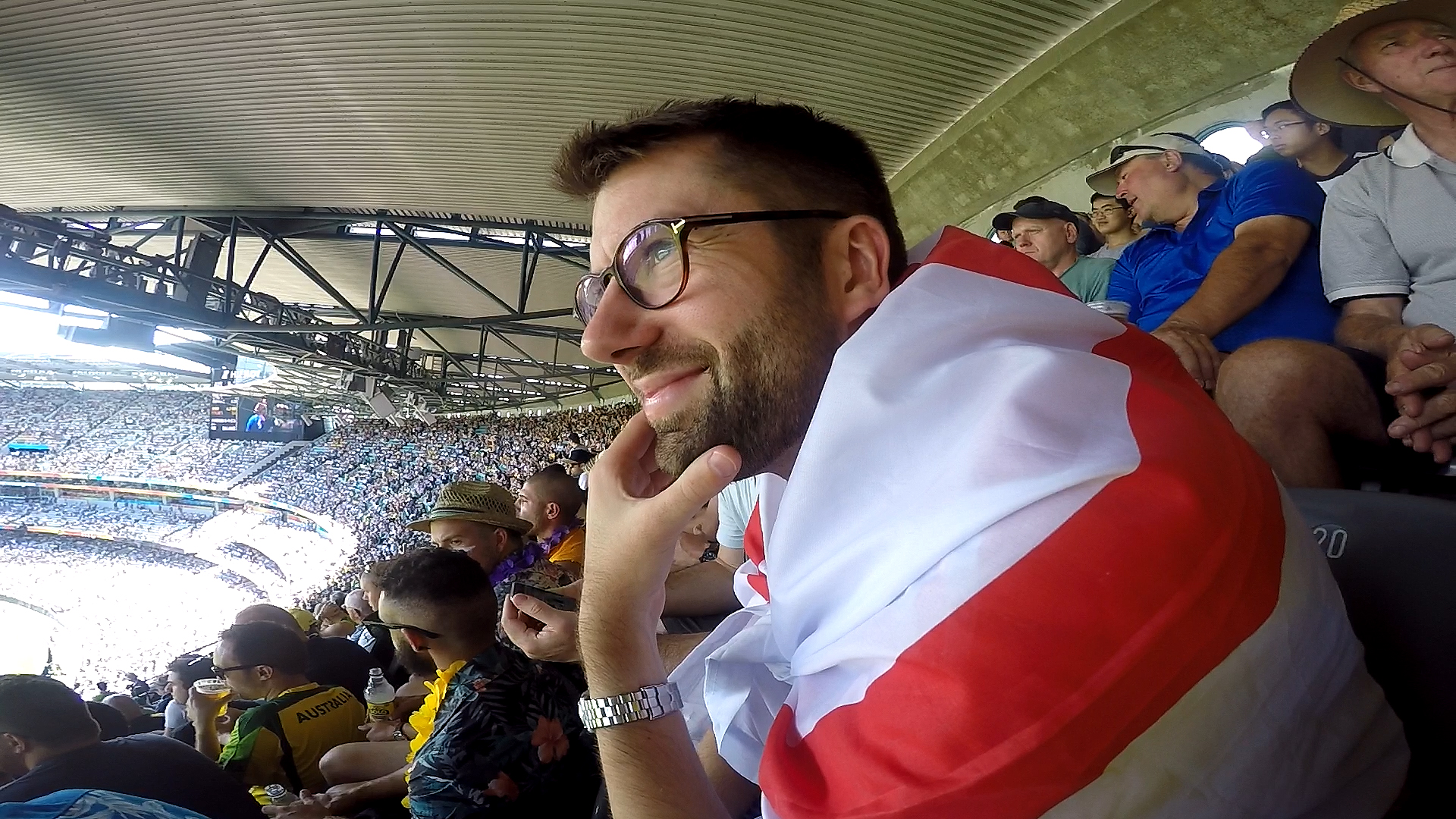 Olly was a great sport for the duration of the match
I had lost my voice, it was a belter of a match. Olly (who sat beside me) was a great sport for the duration of the game – despite being on the receiving end of plenty of playful sledging.
We spent the rest of the weekend visiting with my Uncle John, Aunt Penny and my cousins Karina and Julia. We also caught up with my long time internet friend Troy, his wife Rochelle and their adorable baby boy Jacob. The last time I had caught up with Troy was back in 2006, it had been far too long.
Finally – the boys couldn't complete the trip without a round of golf. Down to Royal Skye we went for an early Sunday morning round before most started flying back to Sydney. We've been playing golf at various venues around Sydney as a way to catch up for the past year or so, great to expand the horizons venue wise. For the record, Dennis took the sword (our trophy is a sword) with a 9-over 45.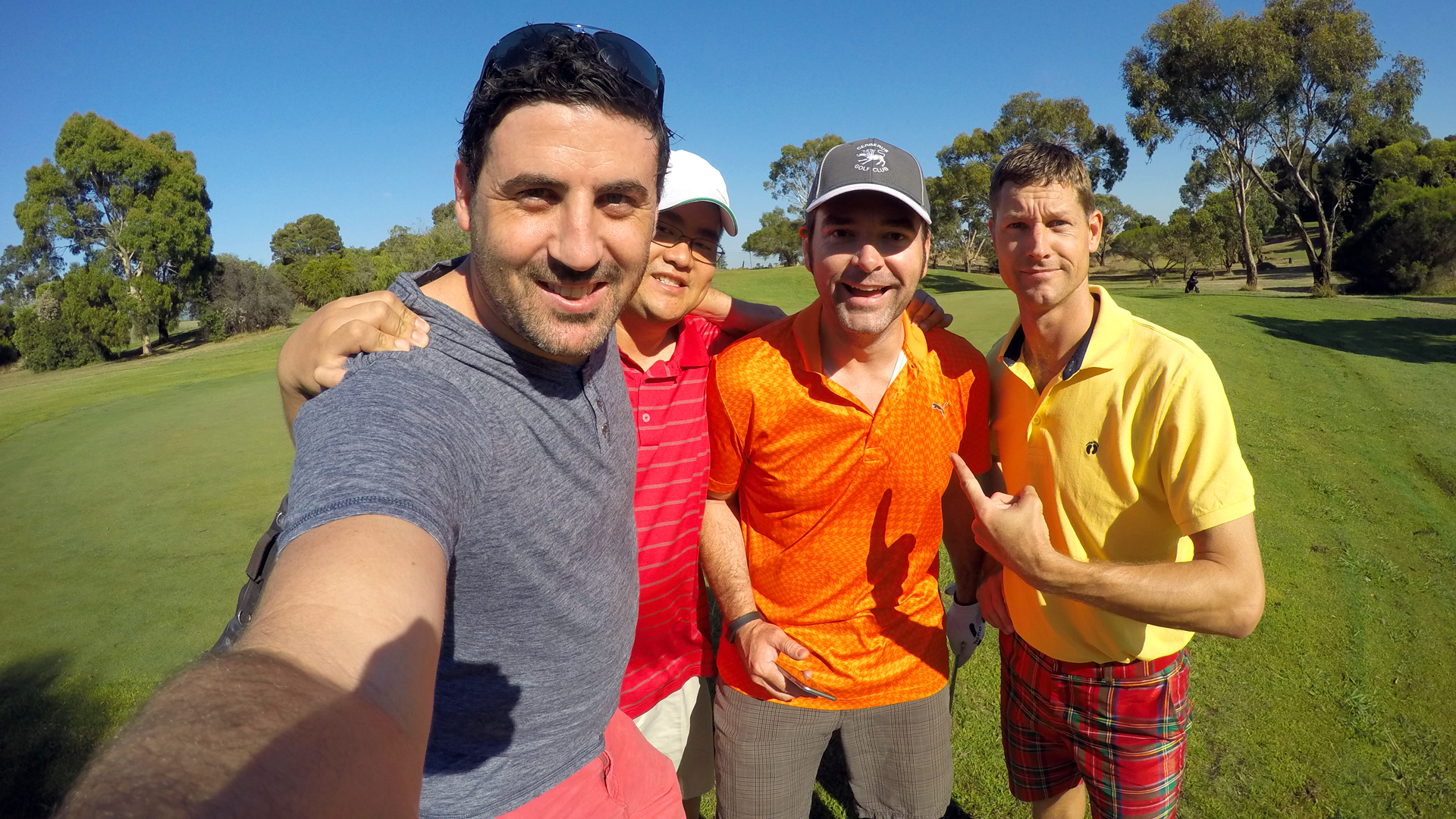 From Left: Michael, Dennis, Sam and Shane. Dennis won the sword with 45.
I could not have asked for a better weekend, nor a better way to start this ICC Cricket World Cup. One to savour.
More Information
Scorecard: http://www.espncricinfo.com/icc-cricket-world-cup-2015/engine/current/match/656401.html
Match Report: http://www.espncricinfo.com/icc-cricket-world-cup-2015/content/story/830835.html
Trip Photos: https://www.mike250.com/photos/y2015/february/