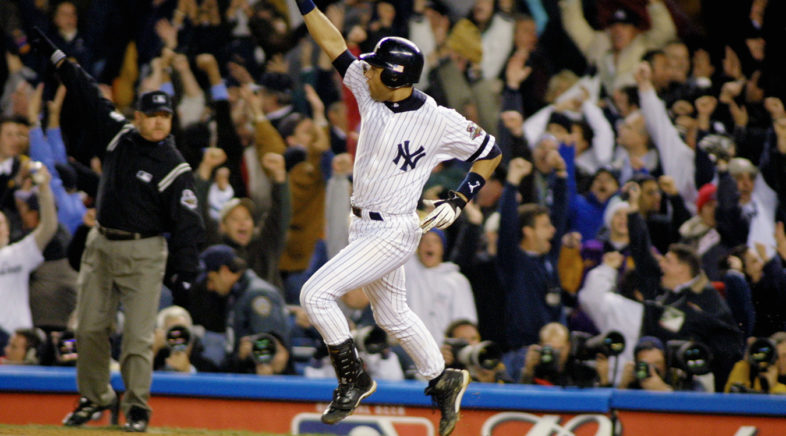 How did they do it?
What am I talking about? Why World Series Baseball. I am not exactly a baseball fan, but you've got to appreciate and even enjoy a game being played at the highest level that goes down to the very last wire before a result is determined. It's even better if the home team comes from behind in a miracle comeback to win. It's outrageous when it happens 2 nights in a row. But that's exactly what the New York Yankees did!
This was something straight out of baseball fiction, the kind of ending kids play out in their backyards all the time.
World Series. Ninth inning. Two outs. Two runs behind.
Pow! The home team hits the game-tying home run.
That doesn't usually happen in reality. Only once in the history of the Series had a game been sent into extra innings on a home run with two outs in the bottom of the ninth inning.
Now it's three times.
Tom Tresh did it for the New York Yankees in 1964, and now Tino Martinez and Scott Brosius have done it on consecutive nights against the Arizona Diamondbacks.
It is a great way to turn a ballgame.
Watching game 4 from my hotel room, I found myself up on the bed bouncing, punching the air and cheering for the Yankees. It was a most incredible finish. Yankees down 1-3 in the bottom of the 9th with 2 out and 1 on base. Tino Martinez goes long and ties the game! Derek Jeter then follows with a single home run in the 10th innings to win the game!
I did not get to see all of game 5, when I left the hotel New York were down 0-2. It stayed that way until, when? Bottom of the 9th with 2 out and 1 on base. This time Scott Brosius hits the 2 run homer to tie the game! New York has to wait until the 12th inning before completing the fairy tale finish when Soriano hits Chuck Knoblauch home for the win. I missed the scintillating game 5 finish, but I did see the game 4 finish. It's just miraculous!
What better time for this to happen to the city of New York in light of the Terrorist attacks. My hat goes off for the Yankees. Well done lads!