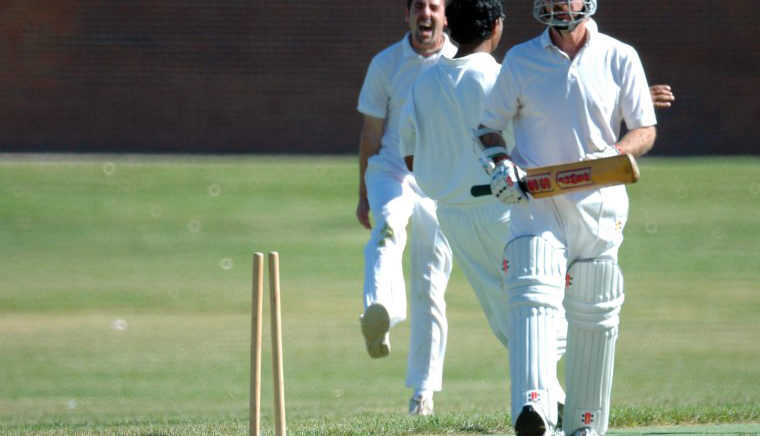 I find myself the front-runner for a potential MVP of the playoffs. This past weekend I took 4-19 in 7 overs, scored a direct hit runout from the outfield, and then scored 33* in 21 balls to cap a fabulous day out for myself, and recognition of player of the week. So suddenly I have 5 wickets and a batting average of 69.00 in the playoffs. Here's hoping for a big performance this weekend in the finale.
I've been really, really unlucky bowling lately. Nothing I do goes right. My last few games I think I am nearing 10 catches dropped of my own bowling. This semi-final was different. I got a wicket in the first over. 5 dots followed by a short one that was too quick and the batsman popped a simple one to Keshav. Awesome, last time had scored 24 and I hadn't troubled him at all. But, I've bowled at him three times now and gotten him cheap twice.
Then I had a tough catch dropped, so my next ball I threw in a good slower ball that was nicked to 2nd slip. Ananth pouched it and suddenly I had 2 wickets in a couple overs. Could be my day. Sure enough, I pulled off an amazing runout that even I am proud of. AMAZING. And I quote:
Sampath punched a great looking shot into deep cover and the batting pair set off for what looked like a comfortable two. Michael, fielding at mid-off, sprinted and met the ball on the slide with his back facing the pitch. He picked the ball up in his right hand and immediately got up, pivoted and threw down the stumps with a direct hit at the batters end. Sampath was found short and perhaps a little wide-eyed as Michael raised his arms in triumph and fell to the ground, arms still raised, being mauled by his ecstatic team mates.
Heh, I am quoting myself as I wrote the article. But still, it was brilliant. Mahesh is a dangerous batsman, he scored a hundred against us last year. So the Sluggers were in deep trouble, their middle order played really well and coming in for my final spell I was able to snare a couple more wickets. We were actually well behind the over rate so I was really ripping through my overs. A nick to the keeper and a yorker that uprooted the bloke's middle stump and I had bagged 4 with the #11 to have a go at to get my first 5-for.
The cheeky bugger walked across his stumps and flicked me for four! Then he skied one and the fielder was slow, in my opinion, to get into position to make the catch. Then the other guy hits me for four, but I thought it was a catch, but 5 foot nothing Raymond at midwicket was in too far! Or was he just too short?
Well they scored 150/9 and we fancied our chances. And Kalpesh, who is having a fine season, racked up 32 runs in the first 2 overs of the innings! We were stunned, we were shocked, amazed, baffled. Who knows what we were, but he was on an absolute rampage. Sixes and fours to two of the most frugal bowlers in the league. He went on to 50 in 20 balls and got out the ball after. Mukesh out for 13, Robert 22, Kervyn a duck and here I was again to try and avoid danger. We were 107/4 in about 15 overs. A couple more quick wickets and we could have been in deep trouble.
But Ananth was still there and he is all class, even if his scores don't yet show it. He's experiencing the Colorado Newcomer Hoodoo. I went through it…
We took the game away. Ananth finished with 26 with a six and a couple fours, I went on a bit of (another) rampage myself and scored 33* in 21 balls. 3 sixes and a four. Again, different parts of the ground. Vamshi is their leg spinner and he was bowling well, had claimed 2 recent wickets in one over. I timed a perfect shot over long off for a big six when I was on 3. Shortly after their offie went for six over cowie corner. They brought pace back on and a shortish ball was slapped to point for four. You know, that might just have been my first shot to point for 4 since I started playing again. Then the beauty, with one run to win I pulled a short ball for perhaps the biggest six of my life. It went miles, and bounced out into the street where cars had to dodge the ball. I'm not lying. If I am guessing, it went 100 yards on the fly, maybe more.
So we finished at 156/5 in half our overs. And I'm becoming the dangerous all-rounder I want to be. I like that. I've now got 20 wickets this year, 235 runs at an average of 33.57. I'm in the top 5 of league batting averages. Top 10 of total runs scored. Top 10 in wickets. Most catches. Things are going good.
And again, you can read the official version at http://www.coloradocricket.org/news.php?news=297&ccl_mode=1