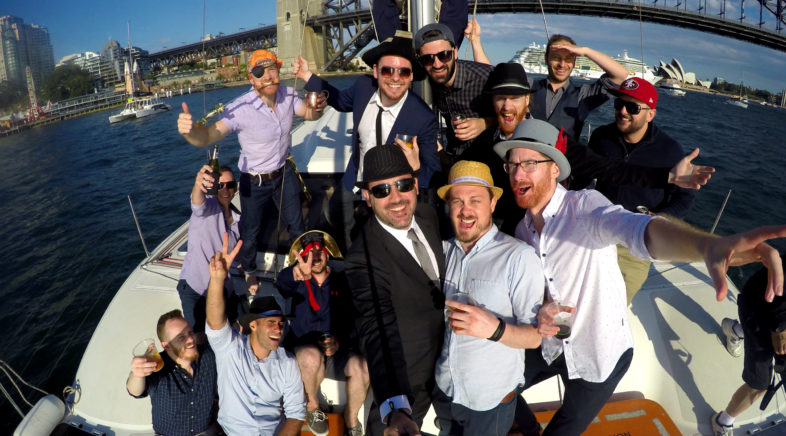 Looking back on 2015, I suppose the highlights could be summarized like so:
Jan • Feb • Mar • Apr • May • Jun • Jul • Aug • Sep • Oct • Nov • Dec
---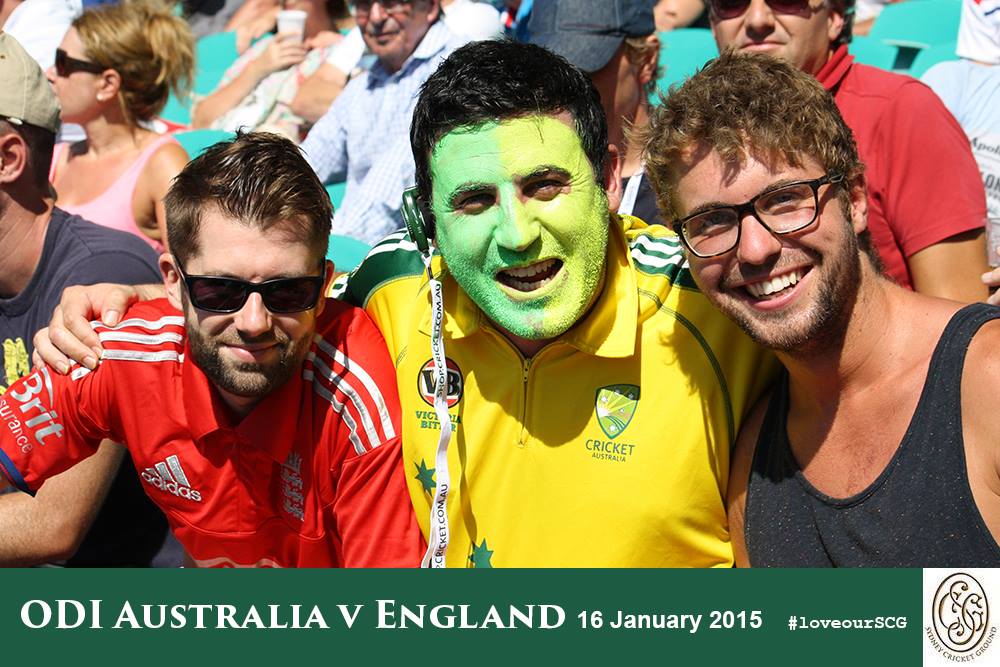 With the Cricket World Cup coming to Australia in 2015, it was always going to be a year of cricket. The year began in January as my good English mate Olly Scott and I watched Australia play England at the SCG in a series before the World Cup. The SCG official photographers at the ground picked us up and featured us.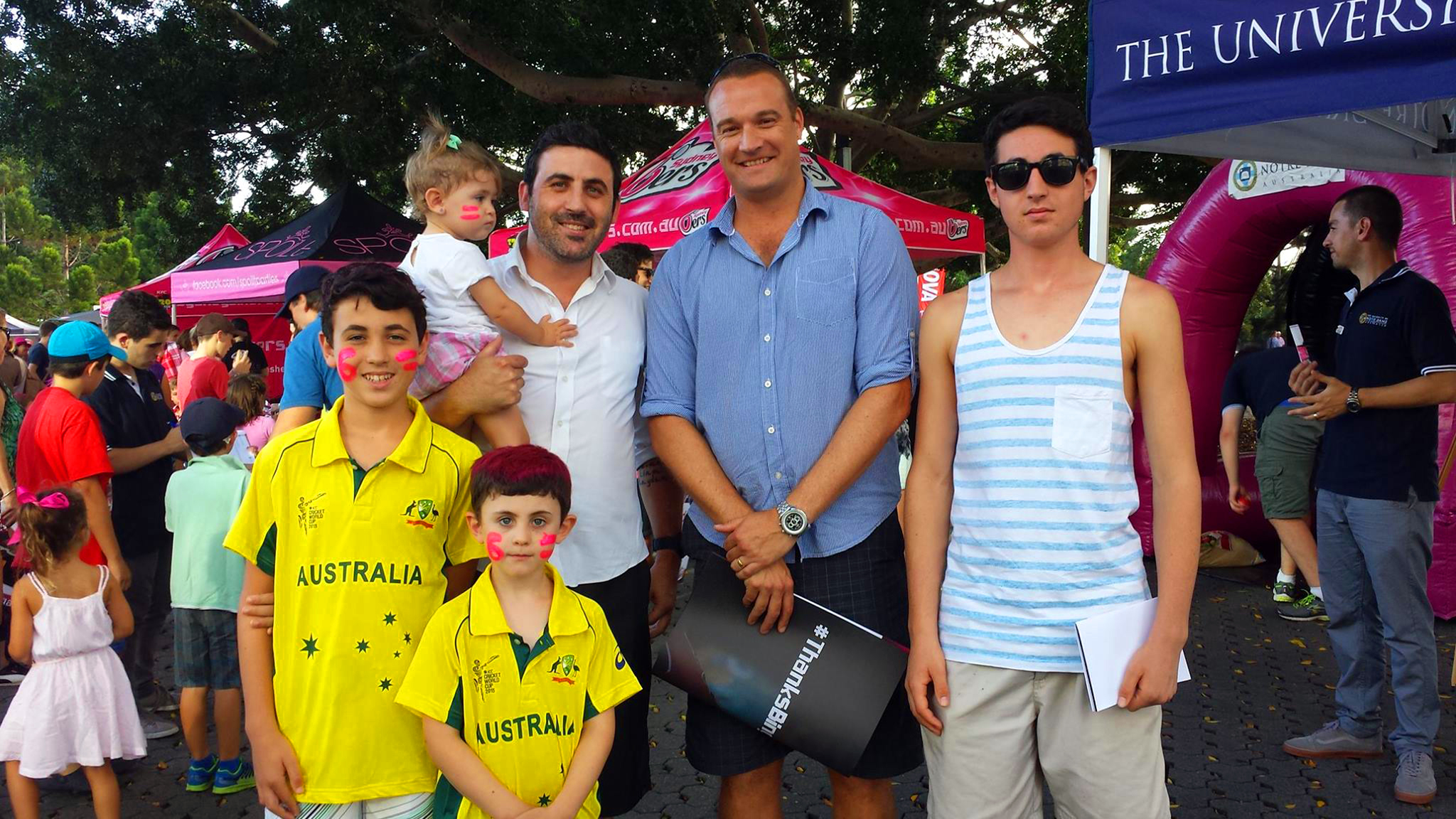 The family attended the Sydney Sixers vs Sydney Thunder Big Bash match at the Sydney Cricket Ground. Prior to the match we met retired Australian fast bowler Stuart Clark.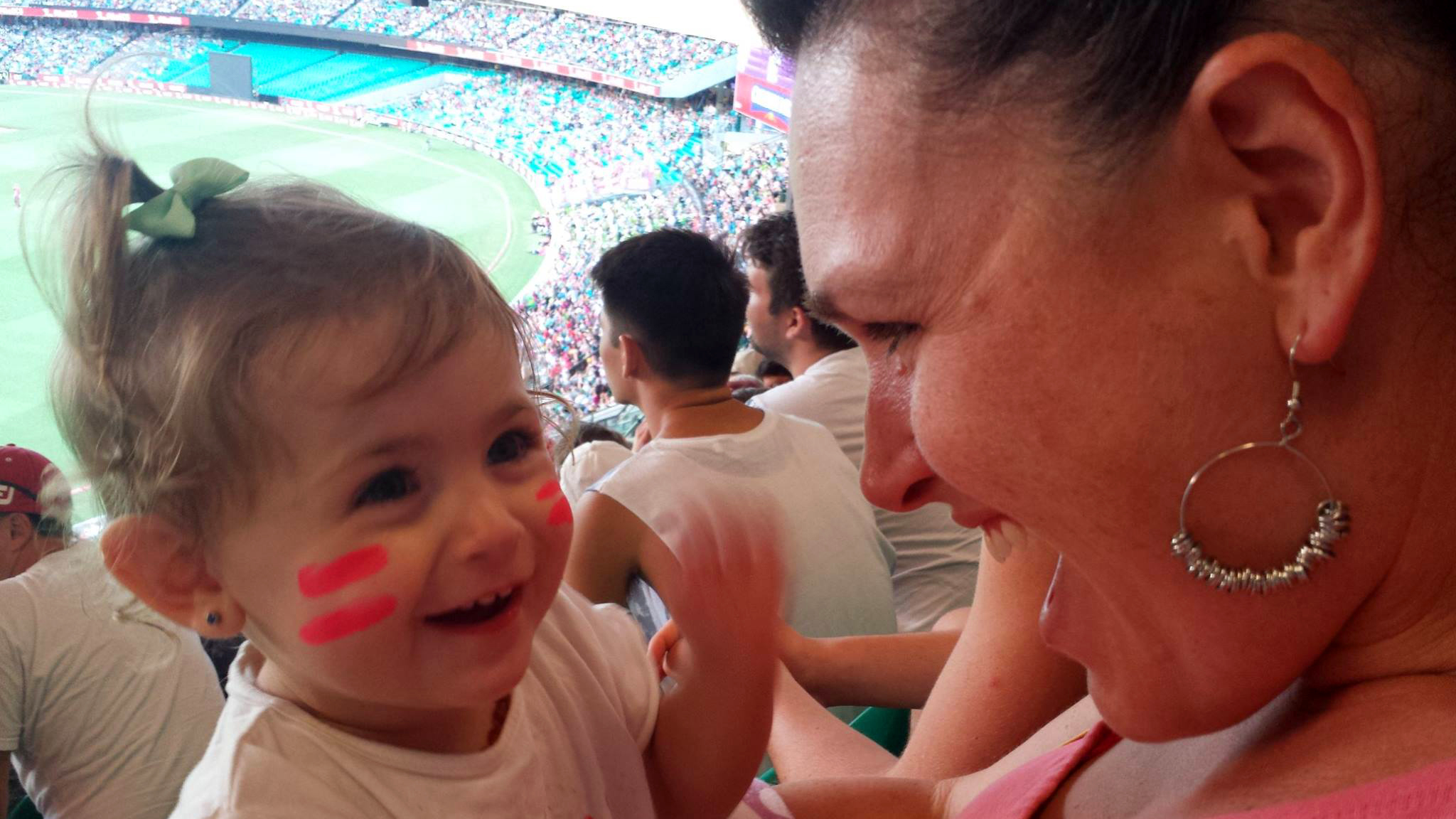 This was also Katherine's first ever T20 match, thoroughly enjoying it right…?
---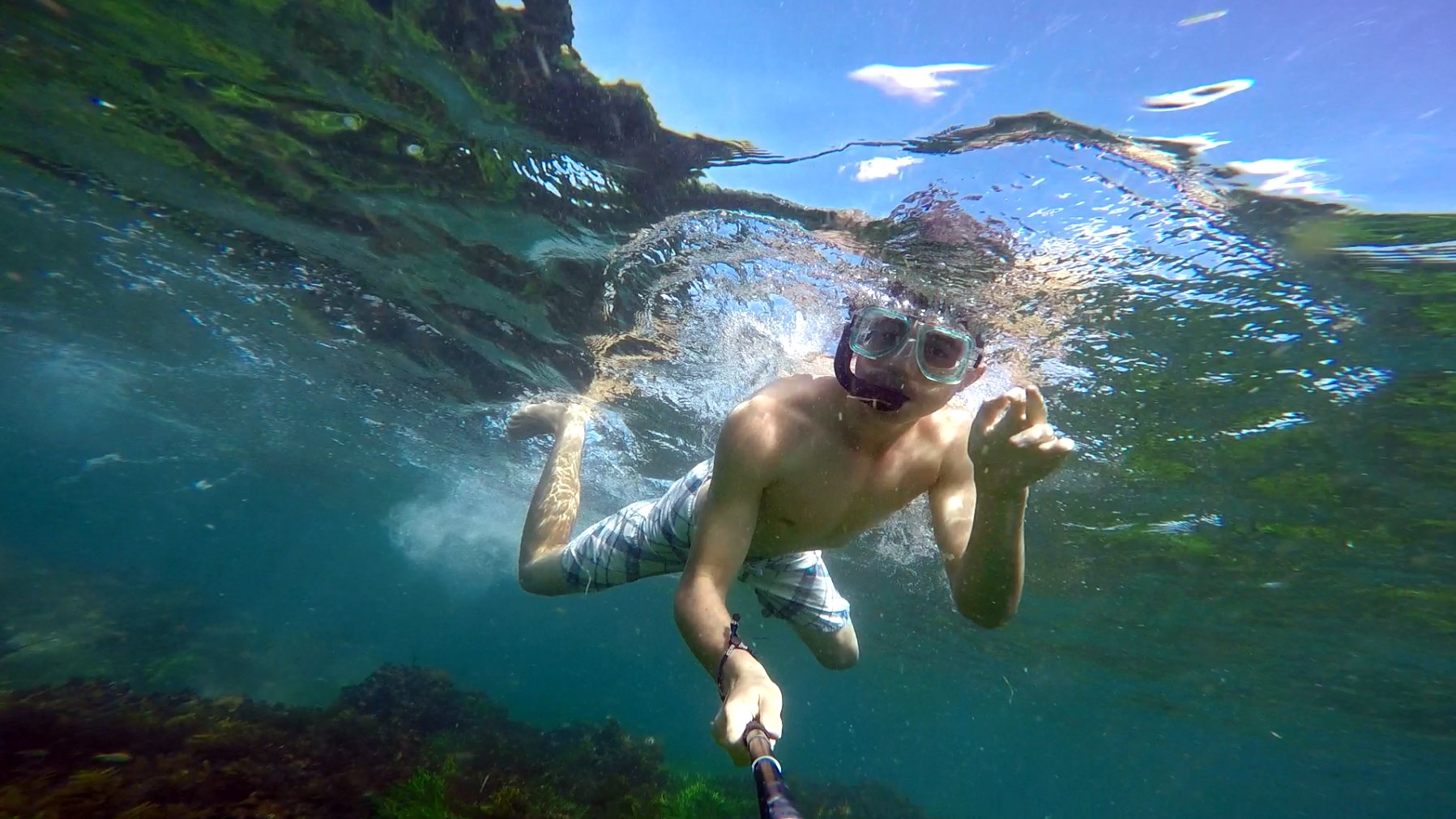 Nevan turned 15. We bought him a Go Pro Hero 4 to take with him on his adventures. Now, on any given weekend; he's out in the ocean, hanging off the side of a cliff, or just kicking it around trying to capture awesome action shots. It is the most ideal encouragement for outdoor play.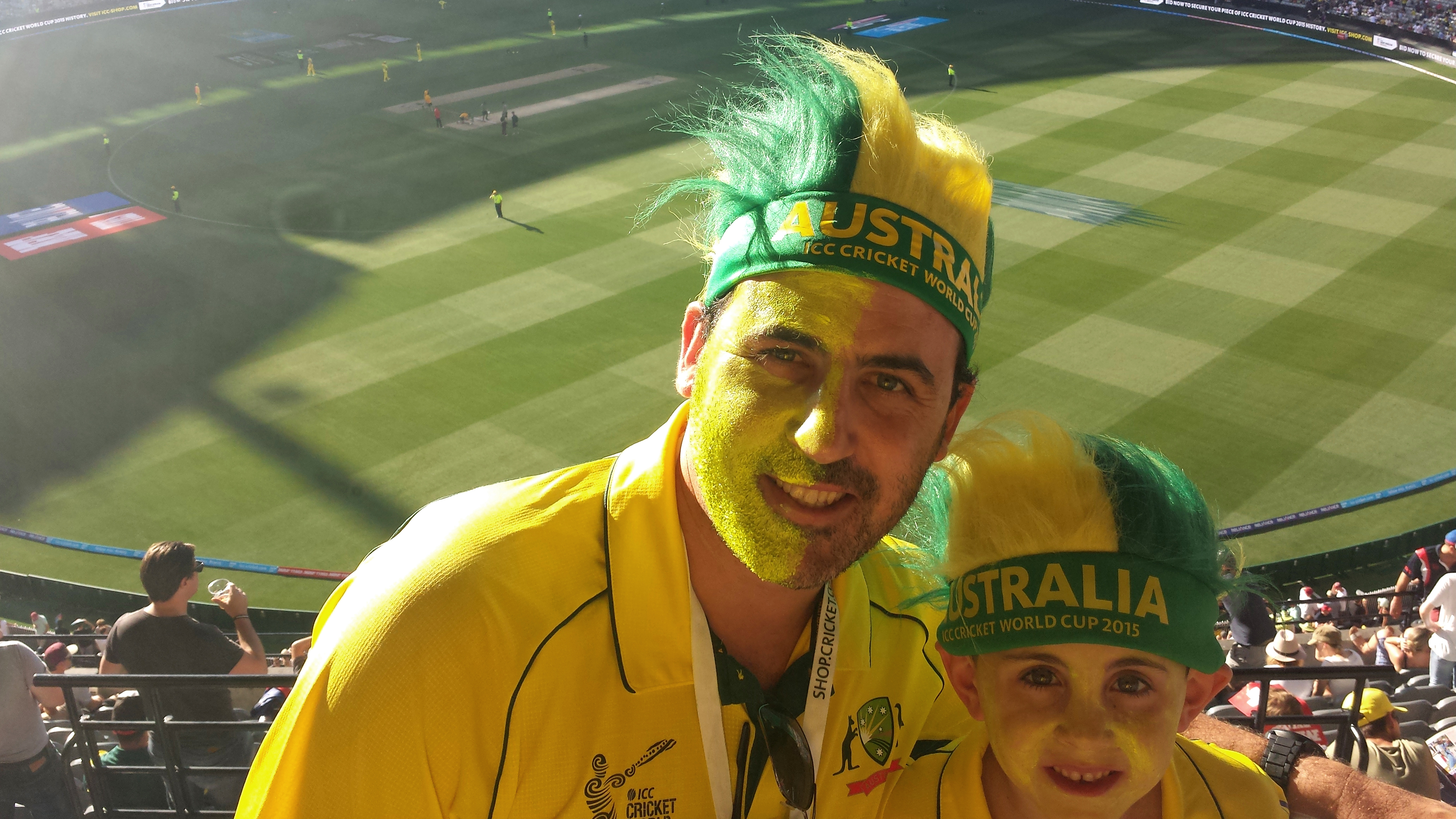 Hayden and I flew to Melbourne to watch Australia's first game of the World Cup against England. My good mates Dennis, Shane, Sam and Olly also flew down. In front of 90,000 fans Australia won – my highlight being the row of 20 men in front of us that Hayden befriended. They had him leading the Mexican wave for the entire stadium. They fed him lollies, soft drink, chips and (twice) he had a phone conversation with respective girlfriends. Incredible day.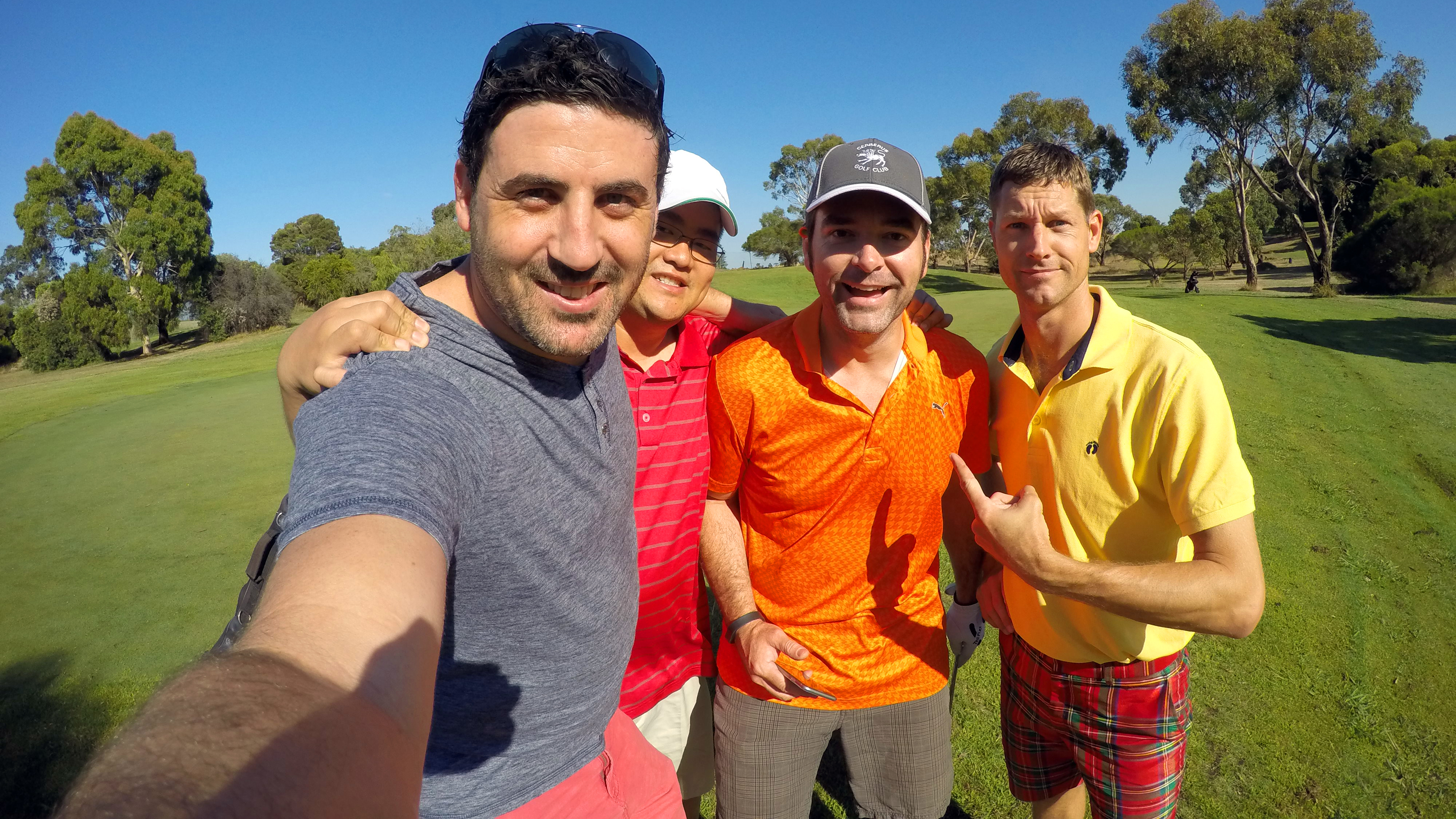 Townsville High School mates, we've been getting together for golf weekends periodically over the past few years. The goal is to visit a different golf course every couple months. This was our first interstate round as we had a whack in Melbourne, Victoria.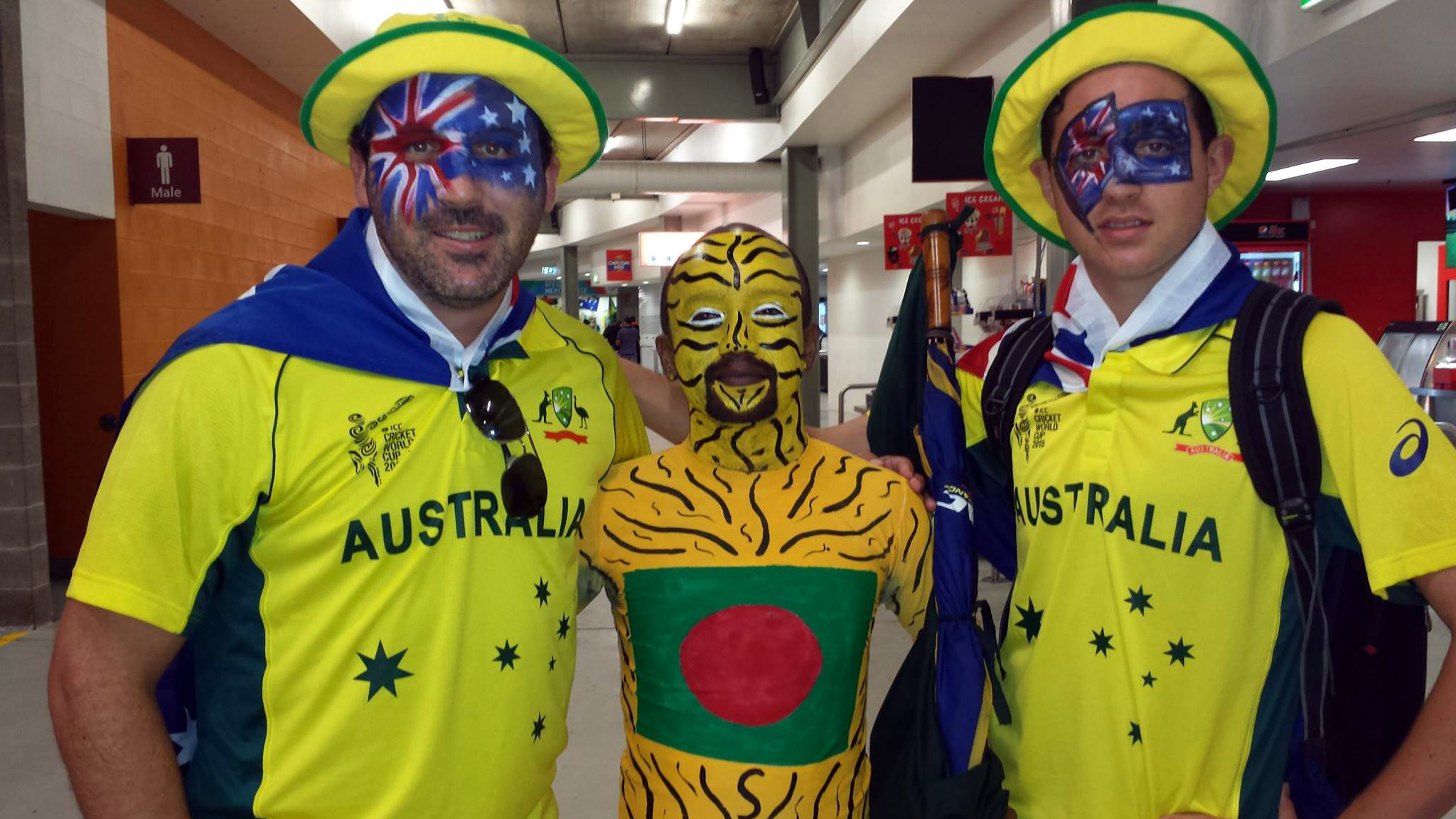 Nevan and I flew to Brisbane to watch Australia's World Cup match against Bangladesh. Unfortunately this was the only washed out match of the entire Cup. We did meet Bangladesh's greatest fan though – Fahimul Hoque.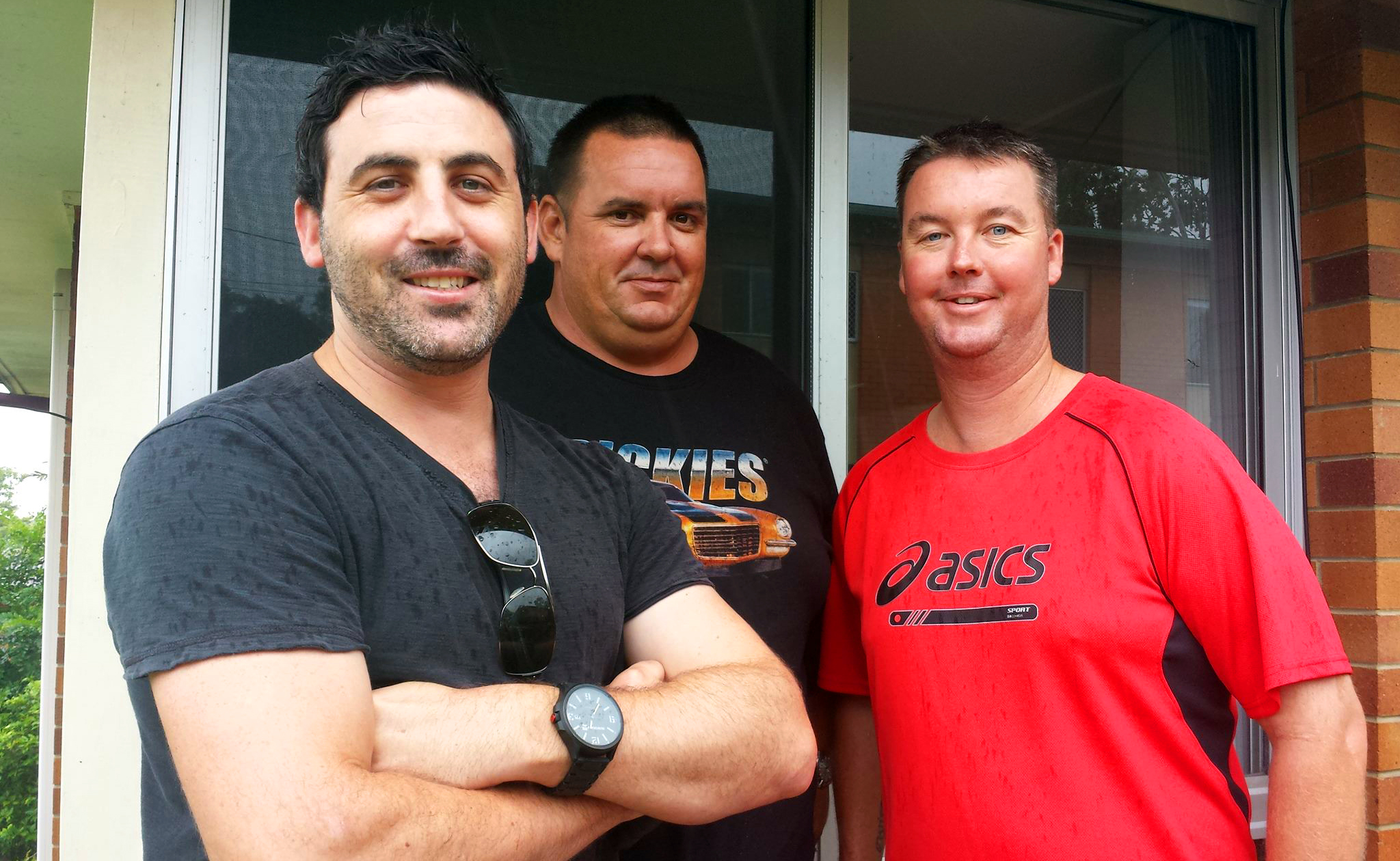 Whilst in Brisbane I took the opportunity to show Nevan where I had grown up, my Primary School, my High School and the general area. It had all grown up so much more than I remember. One morning I caught up with two high school mates, Glen Sheppard and Graham Dunn. We all lived in neighbouring streets twenty years earlier. It was great to catch up with two old mates and begin penciling in a golf trip for 2016.
---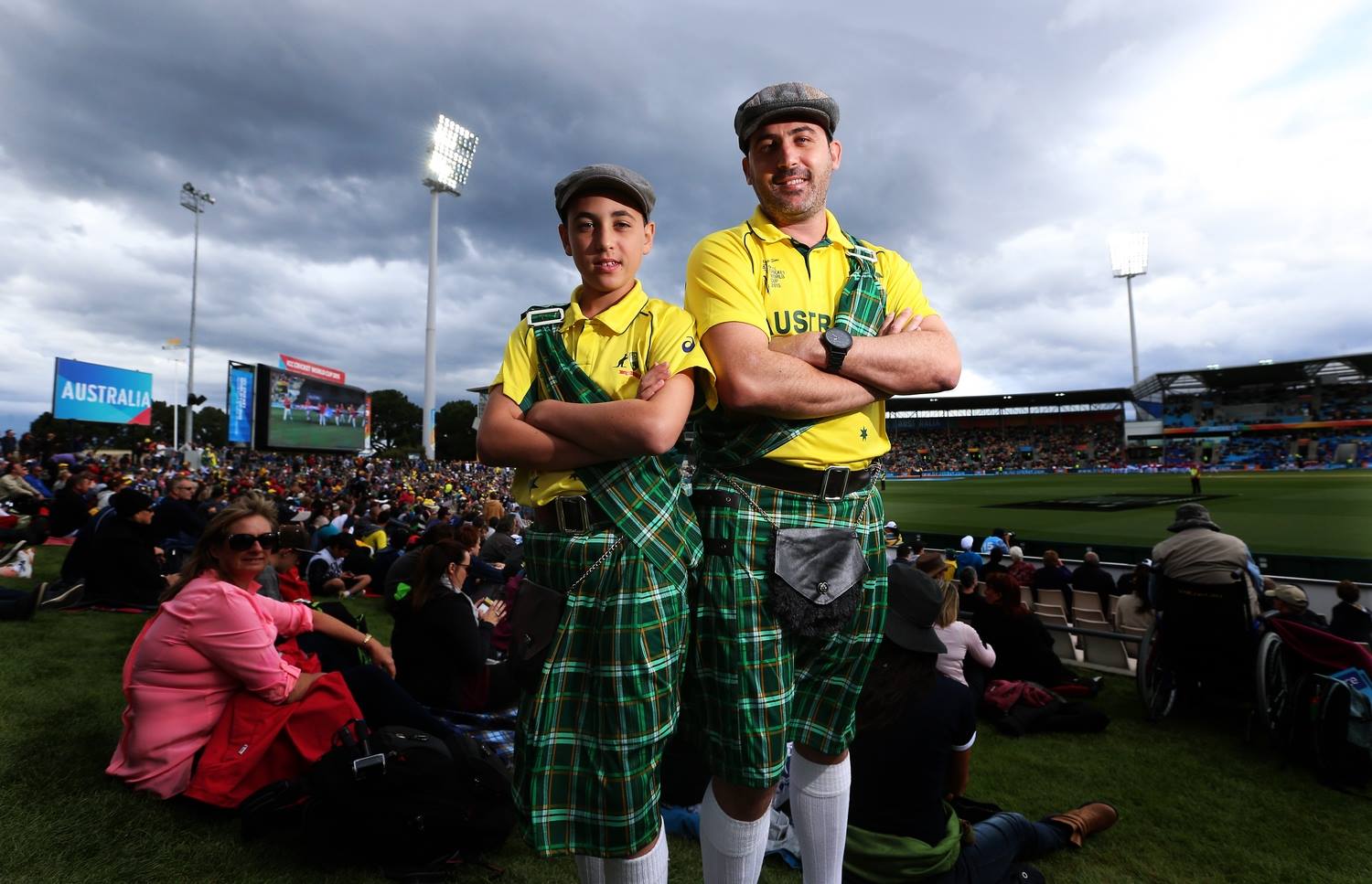 Liam and I flew to Hobart to watch Australia's World Cup match against Scotland. As we have Scottish heritage, we decided to go all out and dress in Australian (Green and Gold) tartan. We had an absolute ball and, on a number of occasions, were interviewed by the local papers and media. This photo is the official Hobart Mercury photo that ran in the paper. For the record, Australia comfortably won.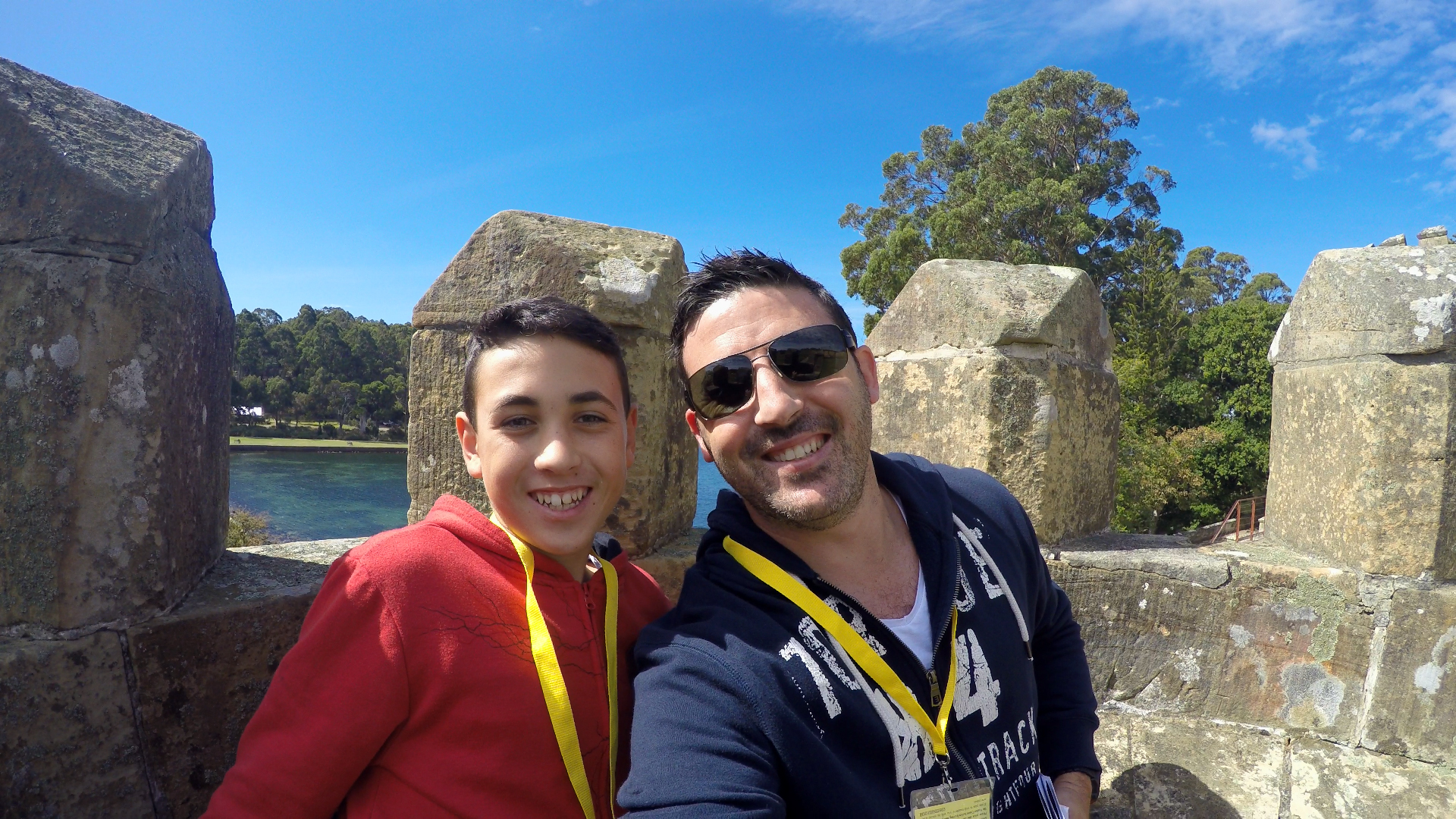 Liam and I took the opportunity to pay a visit to Port Arthur whilst we were in Tasmania. A former convict settlement, Port Arthur is one of our most significant heritage areas, an open air museum and (sadly) home to our bloodiest massacre in history. We spent hours wandering the ruins as well as enjoying the cruise to and around the Isle of the Dead.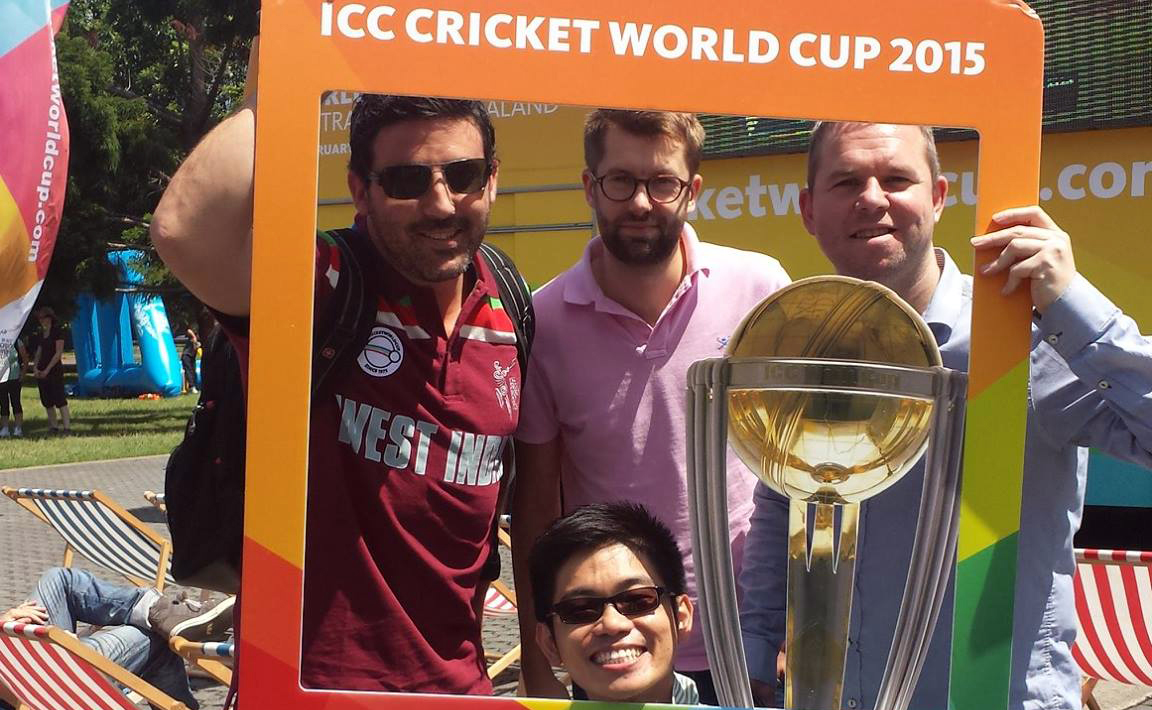 A few work mates and I took advantage of our Corporate Box to watch South Africa vs West Indies in Sydney. Olly, Phil, Josh and I joined Richard & Monica – though I had donned the West Indian colours for the day we were all hoping for something special from South African AB De Villiers. 162* off 66 balls meant for a fine day of food, drink and ridiculous batting. What a day.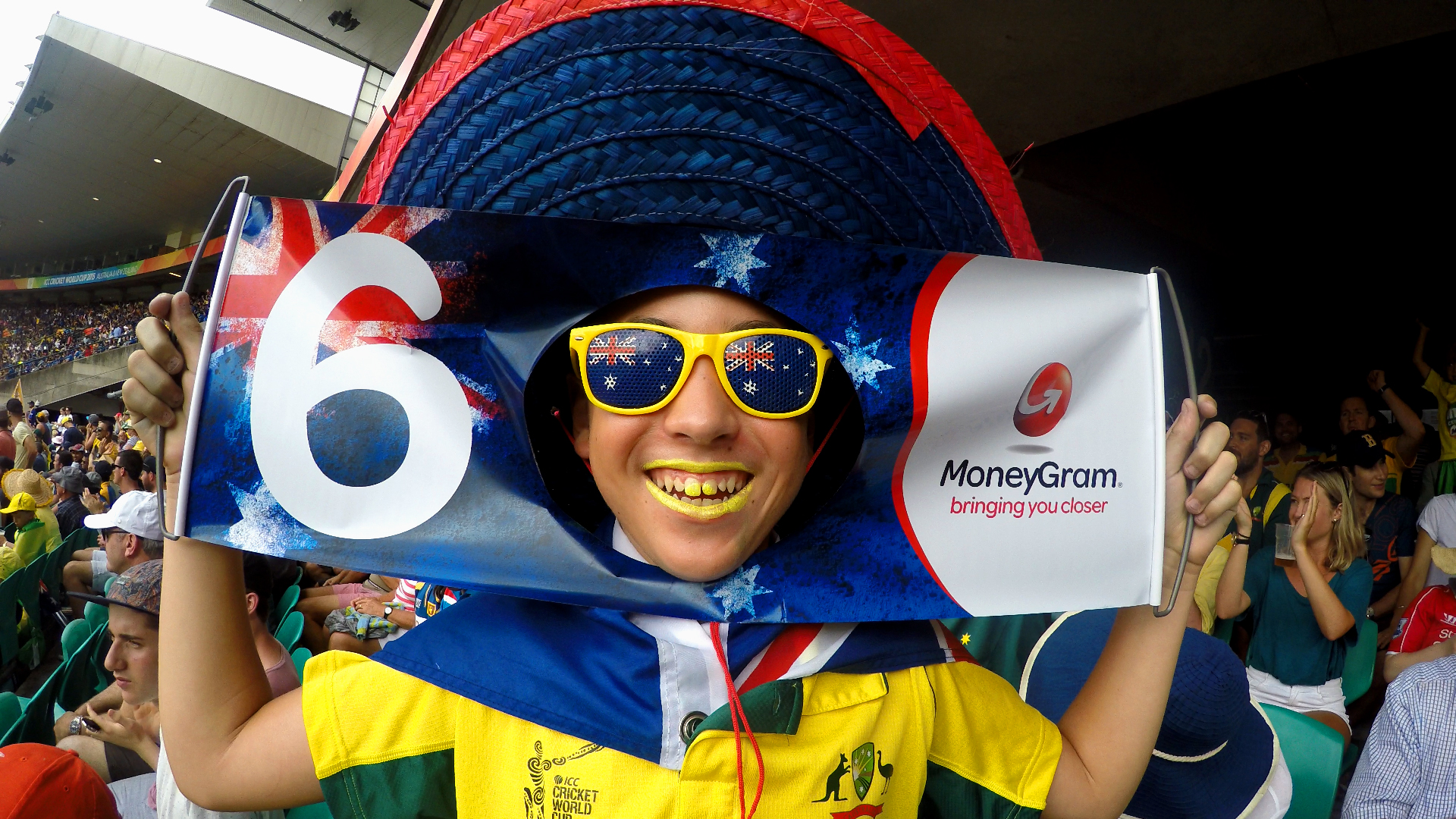 Nevan was unavailable for our next World Cup match, Australia vs Sri Lanka in Sydney, due to work commitments so Liam joined me again for this one. It was a little odd not getting on a plane for a cricket match, we'd been flying so much. The highlight of this game being Liam's hero Glenn Maxwell setting the stadium alight with his first hundred for Australia. It made Liam's day, he is still talking about it!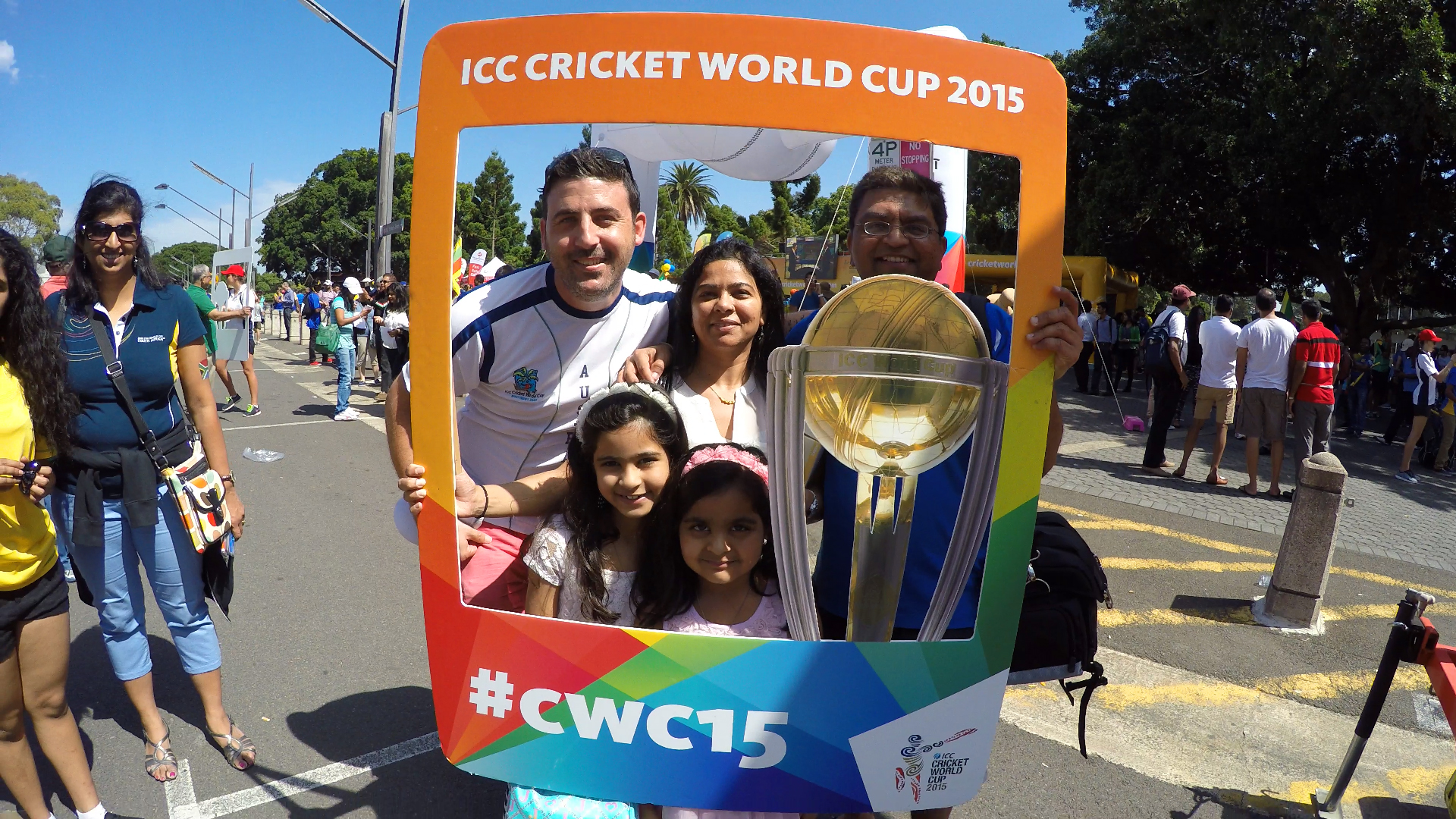 My great mate Rajesh Solanki and his family flew over to Australia for the final few matches of the World Cup. We used play against each other in the Colorado Cricket League, though as team mates a few times when representing our state or at trials. We loved our few days catching up and made sure we attended a couple games together, this the Quarter Final between South Africa and Sri Lanka.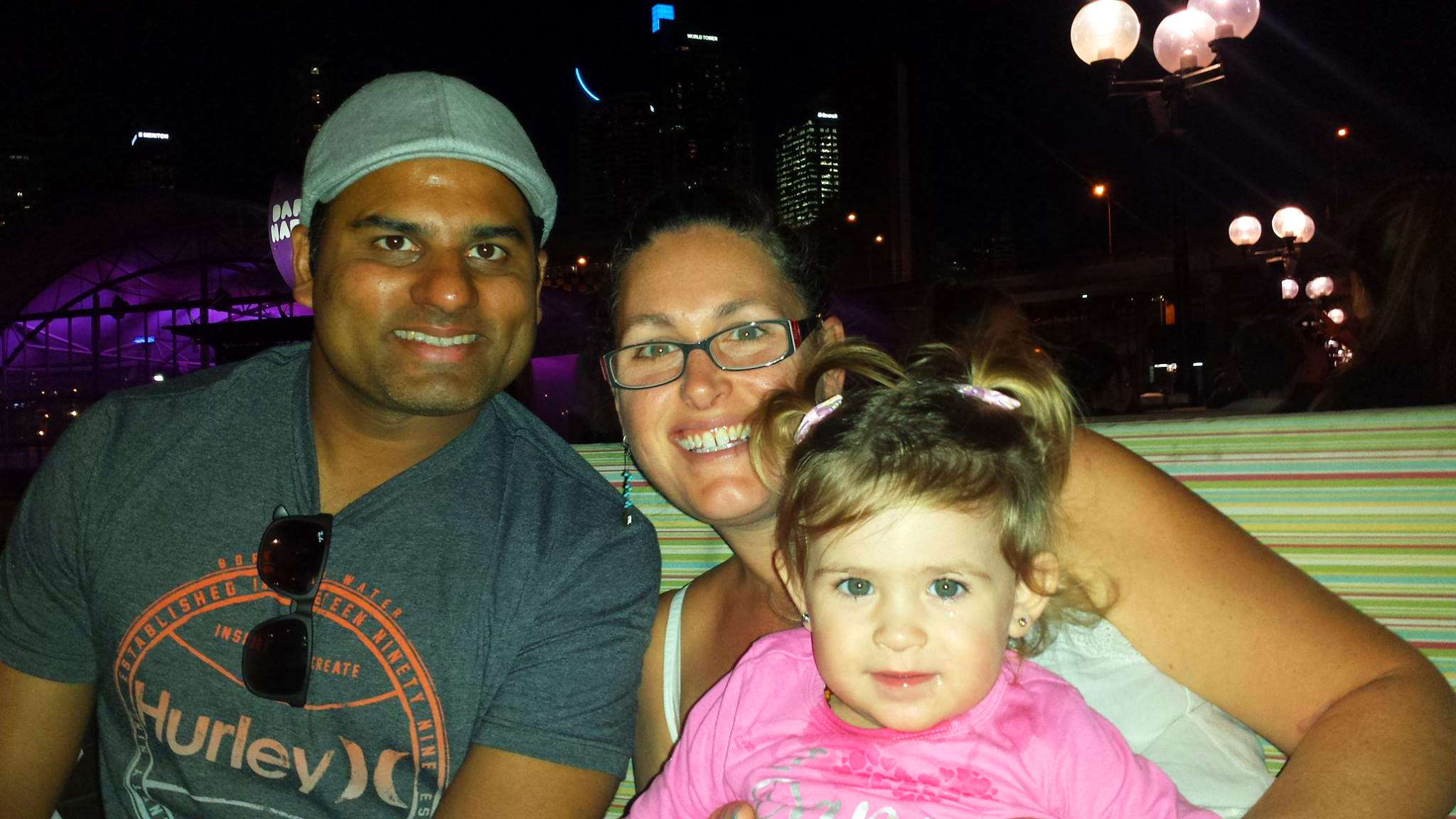 Another great mate from my past cricketing days in America, Ananth, visited Australia for the World Cup. Jenifer has always had a soft spot for our good buddy, we took the opportunity to go out for dinner whilst he was here. Ananth and I then traveled to Melbourne for the World Cup Final.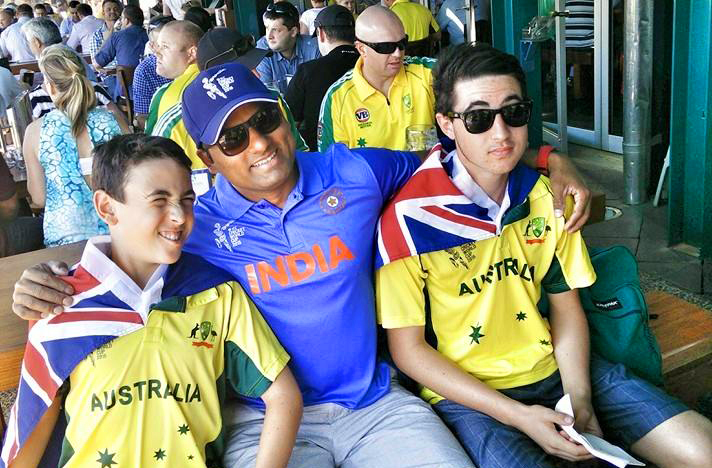 Solanki and I then went on to watch the Semi Final between Australia and India in Sydney. Due to the difficulty in getting tickets, we were all split up. My other good mates Ananth and Phil were situated around the stadium, so each of my boys took turns sitting with them during the match. We caught up with Ananth prior to the match – doing it Aussie style with a few beers pre-game. Australia would go on to win and, unfortunately for my two Indian mates, knock India out of the cup.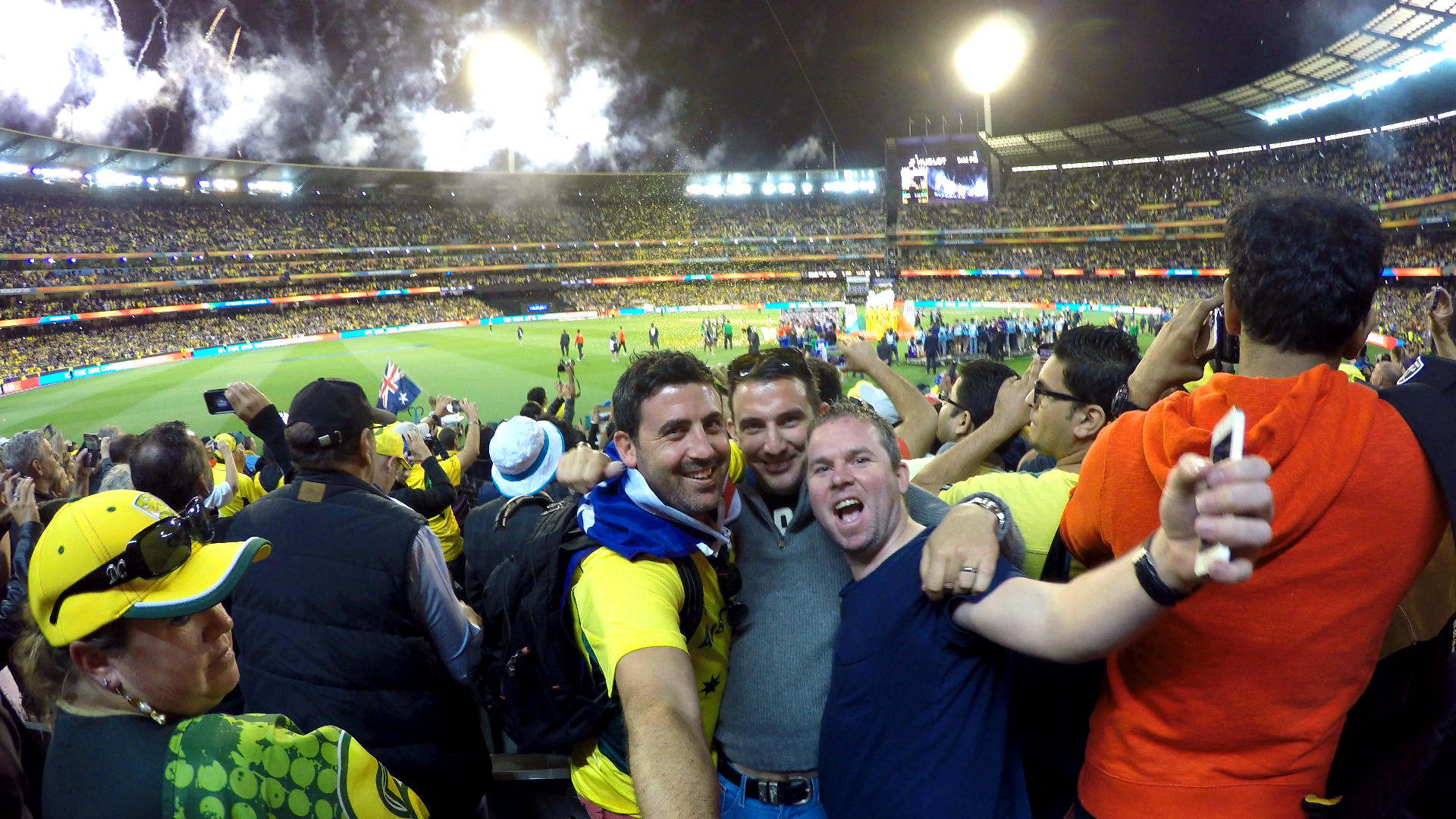 The Cricket World Cup Final. One of the greatest days of my life and a night I will never forget. Flying to Melbourne to meet Ananth, Phil and Justin for the ultimate match was just amazing. Australia had lost to New Zealand in pool play in an absolute thriller and here, the rematch, the hum of the atmosphere was palpable. When Mitchell Starc removed Brendan McCullum in the first over the Aussies wrested the advantage and never gave it back. Australia would go on to win the Cricket World Cup 2015.
Meeting the players the morning after (Who's struggling the most contest?) was an absolute highlight and something I'll cherish forever. The players looked quite dusty, there were some photos on Instagram showing they had been partying all night until the dawn. But really, who hadn't? 😉 Oh, my tweet of the below photo went a little viral. Glenn Maxwell, you legend.
---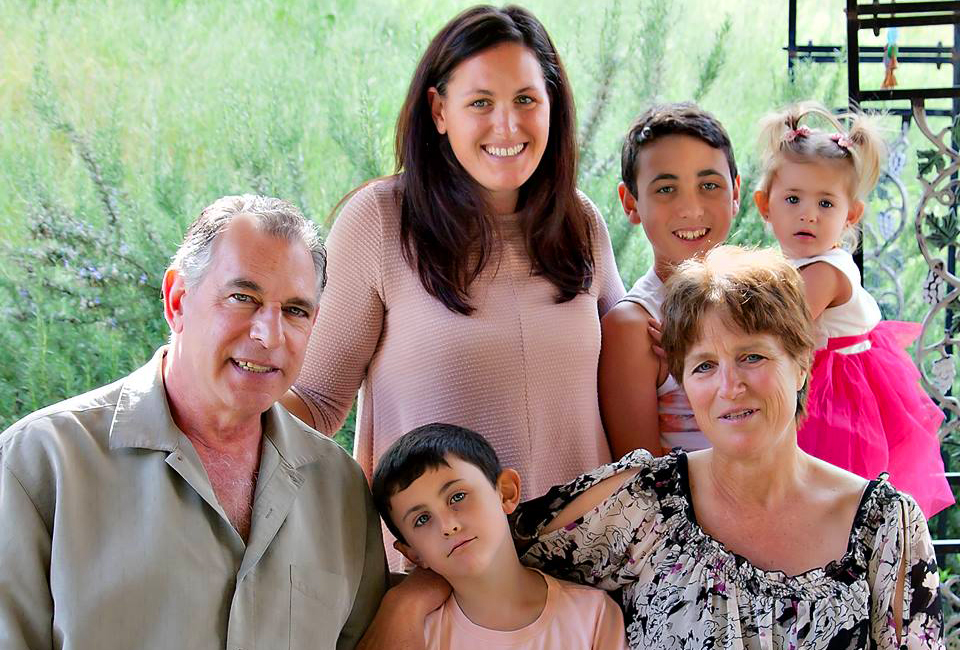 Jenifer flew to the USA with Liam, Hayden and Katherine so that the family could meet Katherine for the first time. They spent three and a half weeks catching up with many family and friends throughout California. This is a family photo taken with Jen's mum and dad.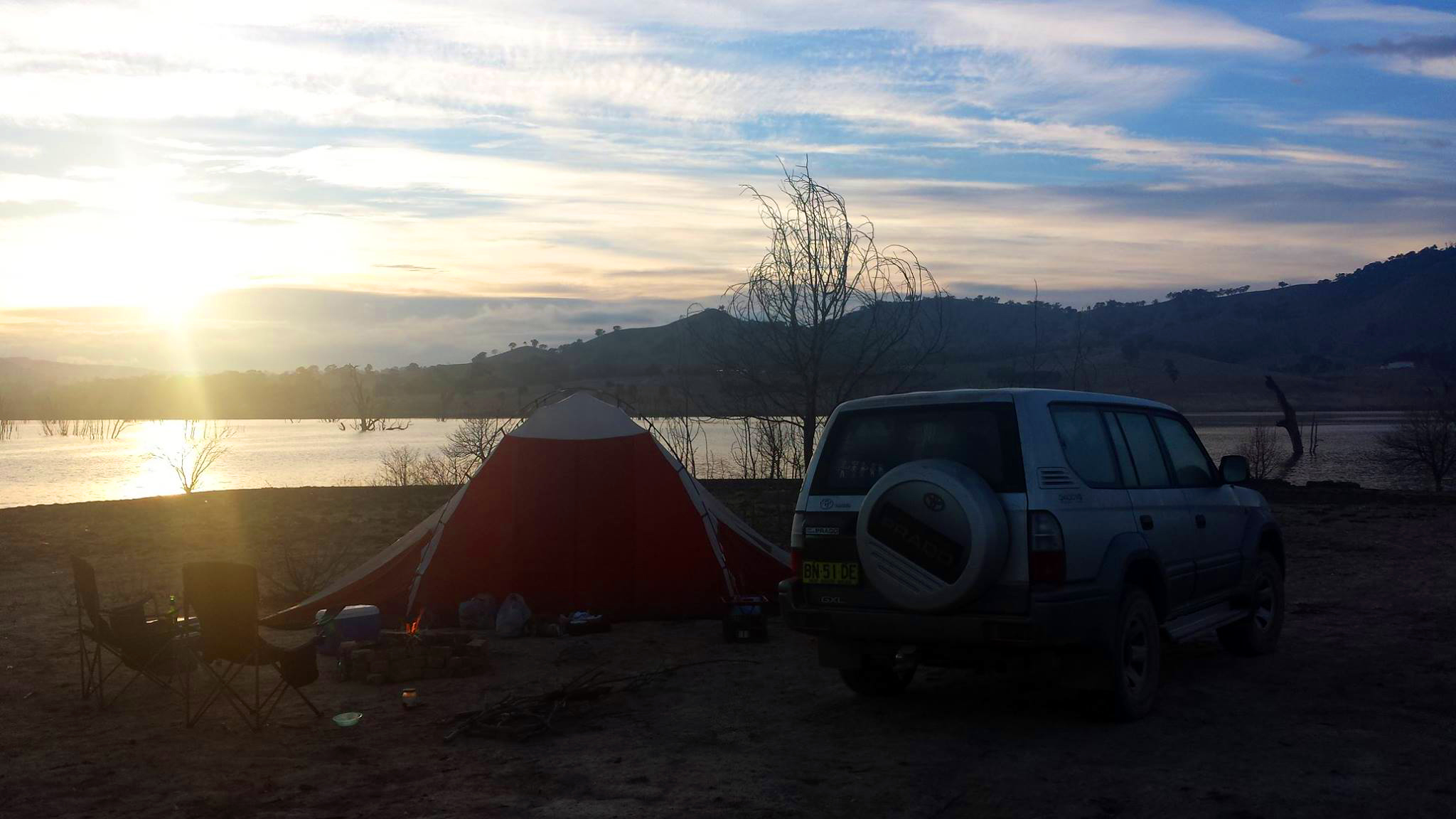 Nevan and I joined my good mates, Brett Daniels and Peter Ford on a road trip to Melbourne while the family was away. We stayed in Gundagai, the Yarra Valley and Lake Eildon whilst getting in a whole host of activities. Wine tasting, comedy festival, AFL at the MCG, burger hunting – and many, many laughs.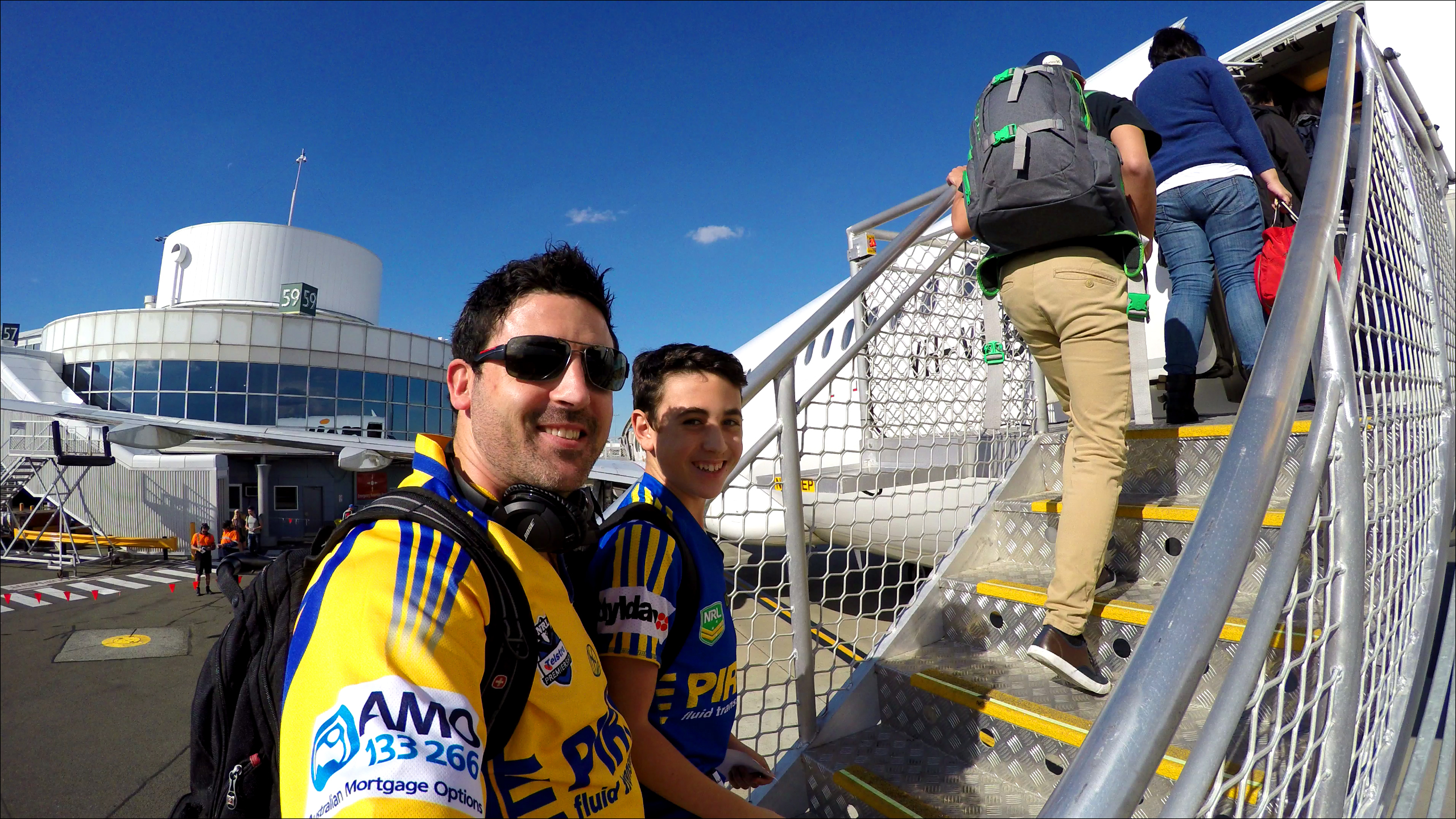 Liam arrived home from the USA the week of his birthday. So we went to the footy, Liam and I. As we're on the train he said, "Isn't Parramatta playing in Brisbane this week? Or is it next week?" "This week", I replied. "Would you like to fly to Brisbane today and watch them?" His eyes lit up and so we boarded a plane and watched our beloved Parramatta narrowly go down to the eventual Grand Finalists Brisbane.
---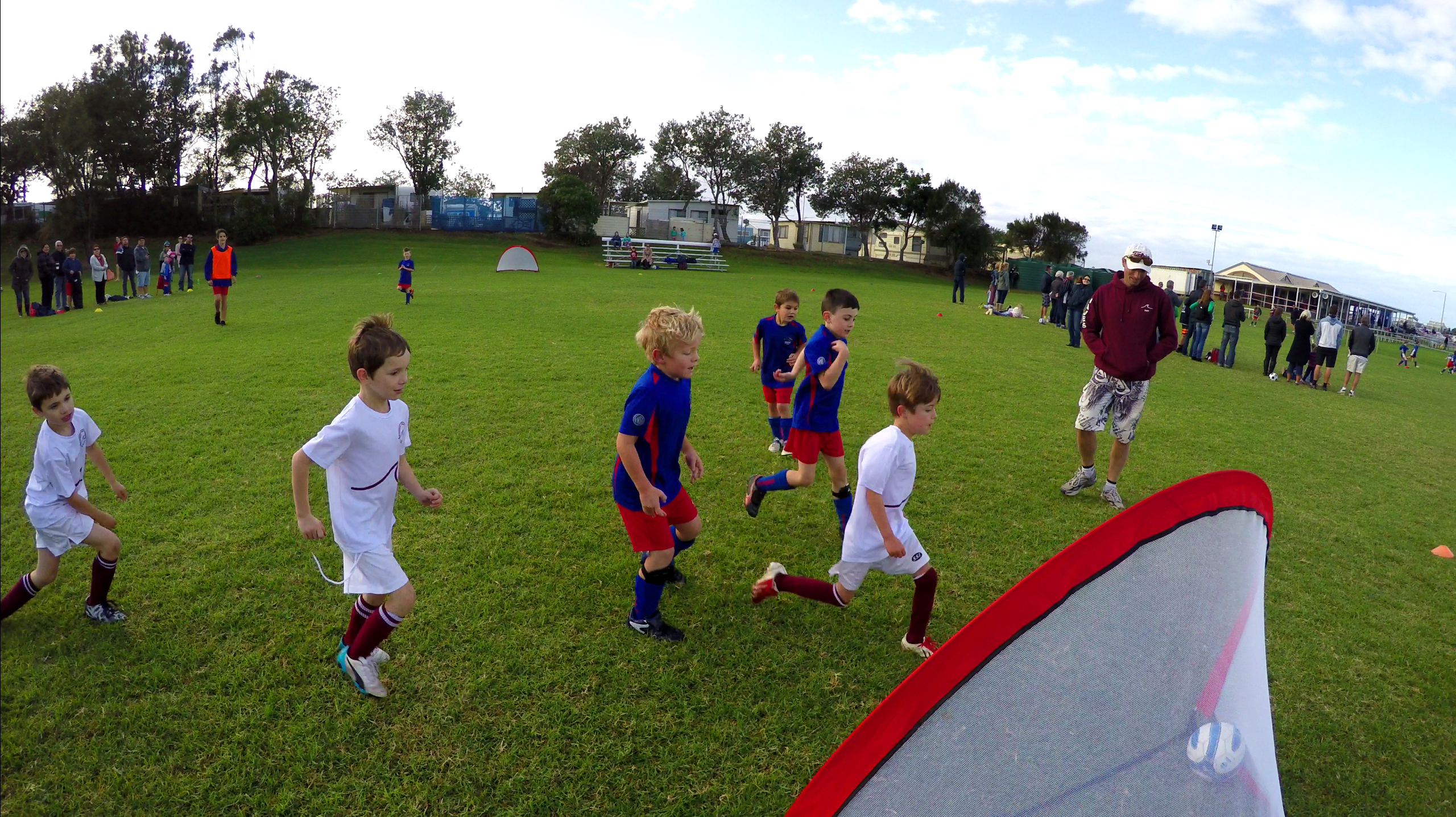 Hayden joined a soccer club (The Sharks) and began his winter sporting career. At this age there was a lot of kids chasing after the ball and very little else. The photo below shows Hayden scoring one of his first ever goals, off the left foot into the back left corner of the net. I don't know how he managed it, he can only kick right footed. We had a great season, though.
---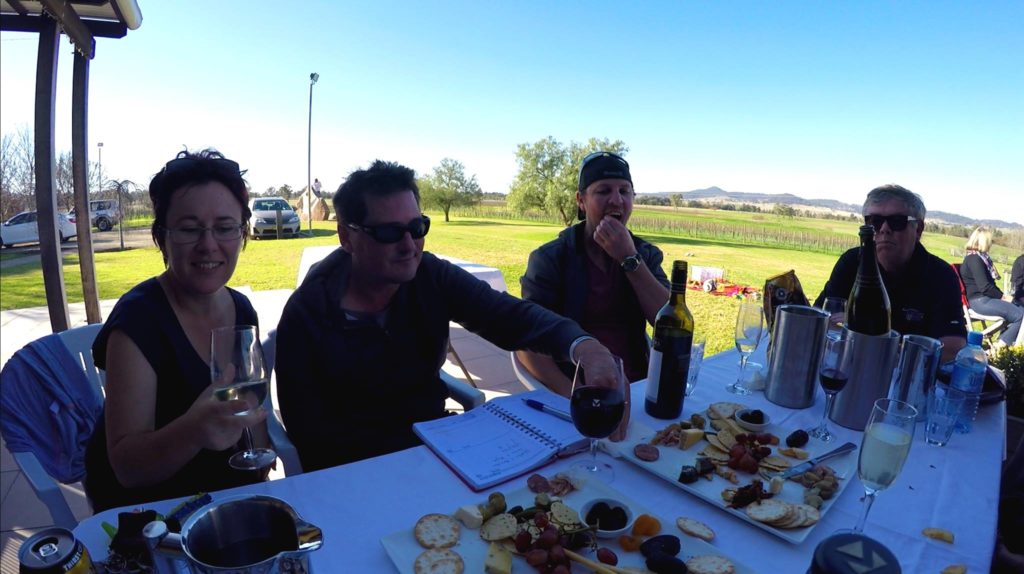 Celebrating cousin Stephen's 50th up in the Hunter Valley. A weekend away filled with dinners, dancing, camping and lunching at the Two Rivers Vineyard in Denman.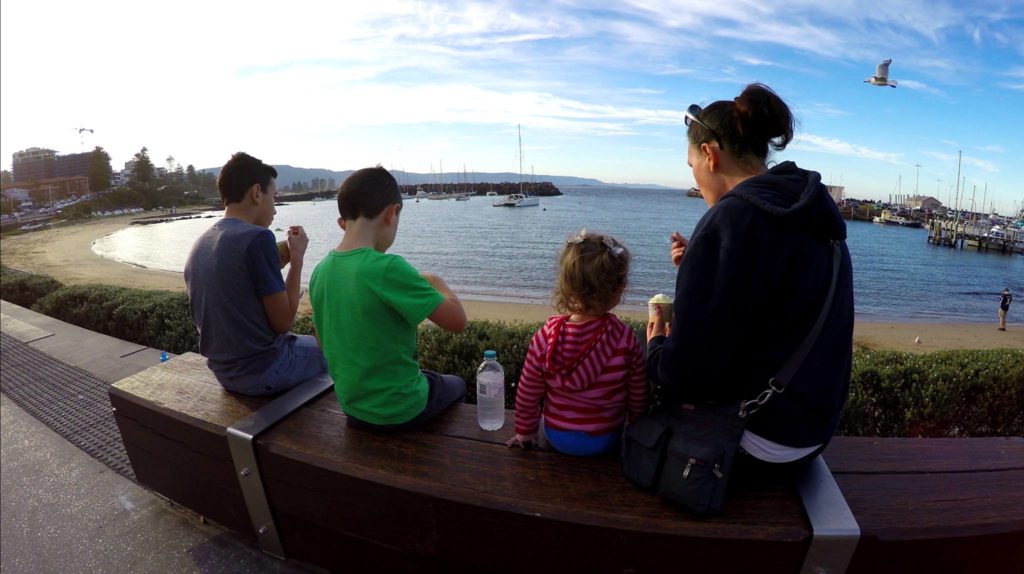 Winter days in NSW… not so bad. Despite what my North Queensland friends might say. Gelato and a play by the harbour after a week of sickness is finally over.
---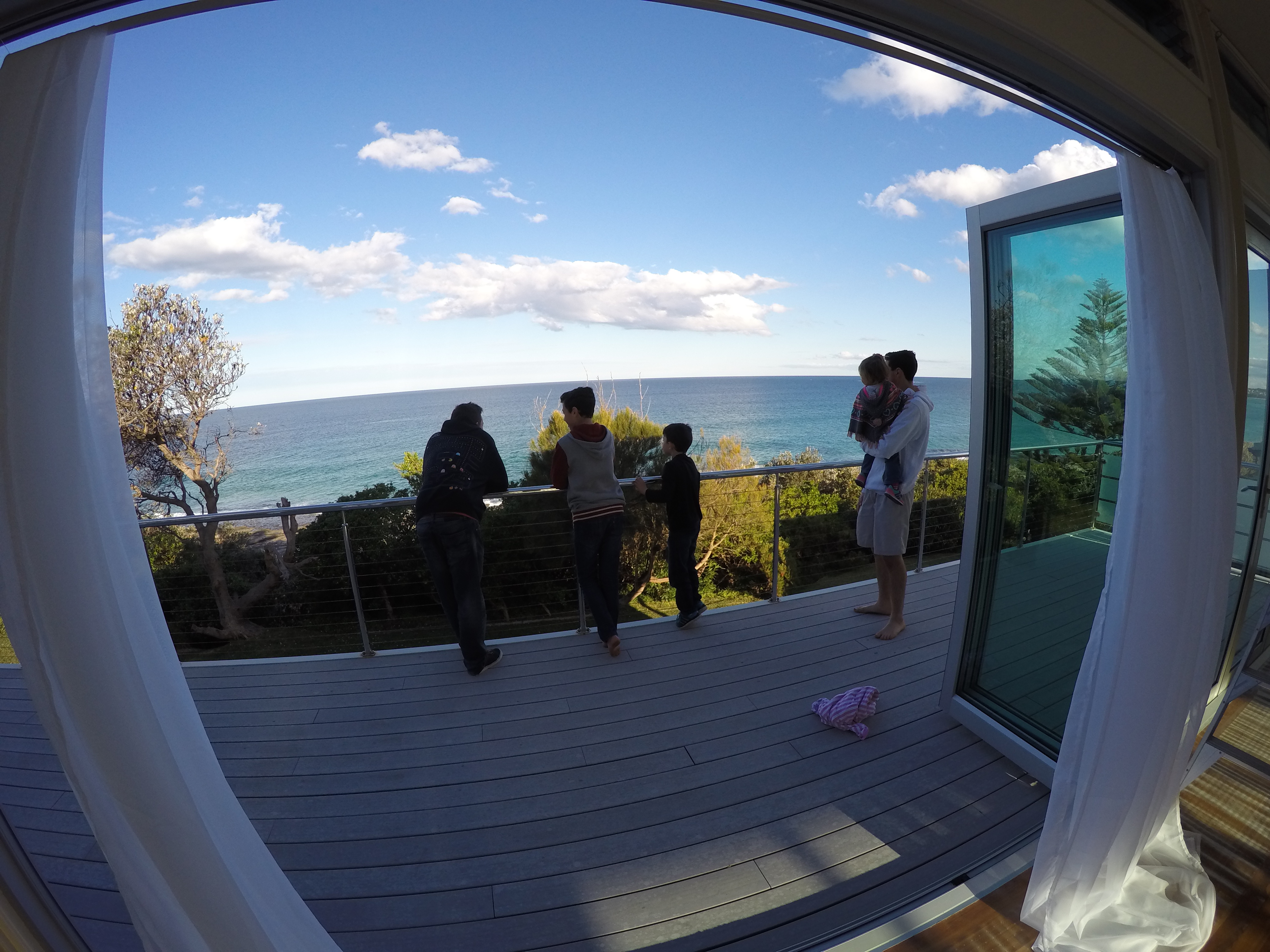 We enjoyed a beach house weekend getaway when we joined Brett and Abigail down in Ulladulla. From here we had gorgeous ocean views, whale watching options galore and, heading inland a little, plenty of enjoyable rock climbing and hiking fun.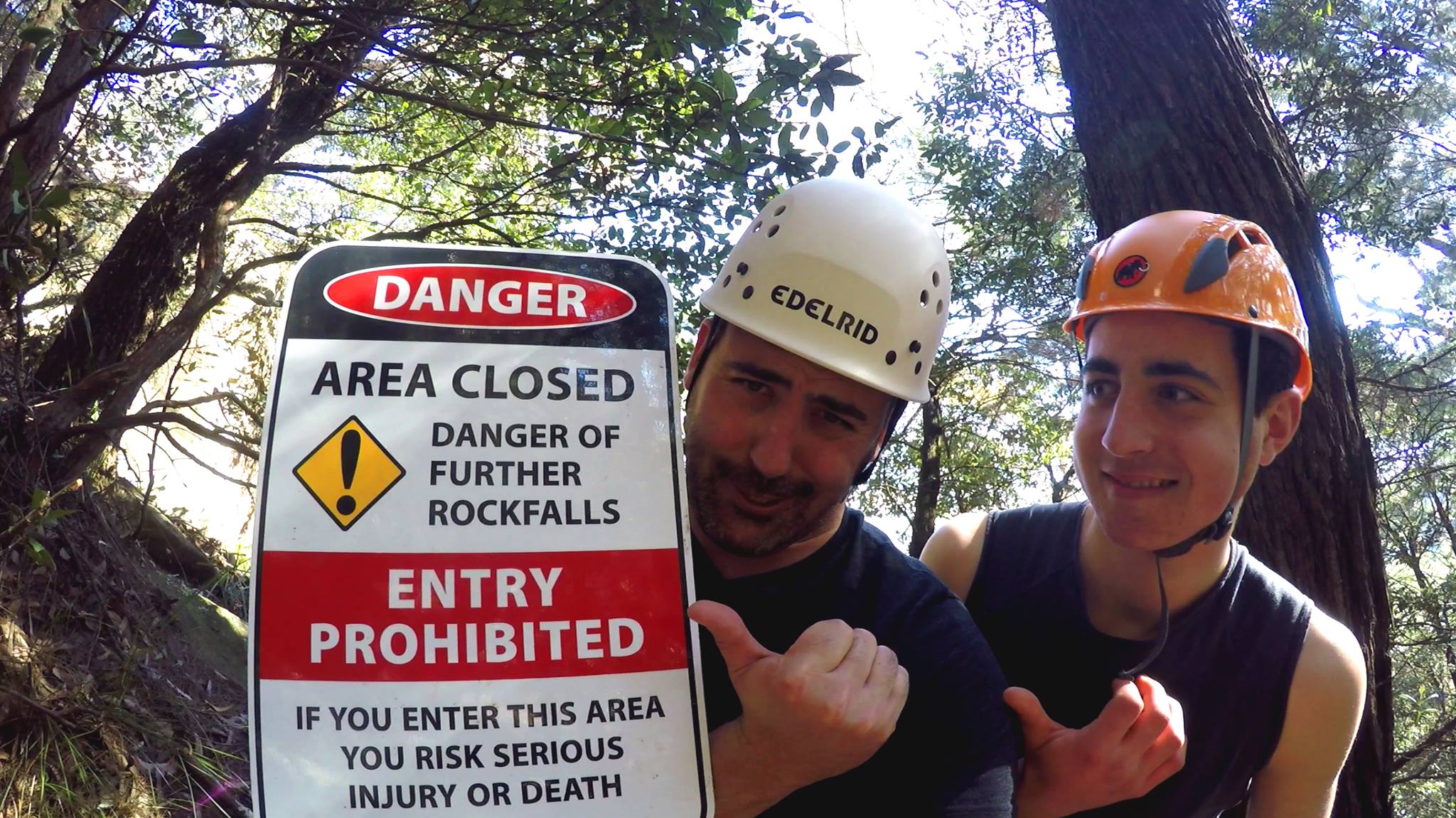 What a day for it. This is the middle of Winter and this confident lad is about to jump over the edge – abseiling adventure with my son, Nevan. Risking serious injury or death. As the great Simba once said, "I laugh in the face of danger!"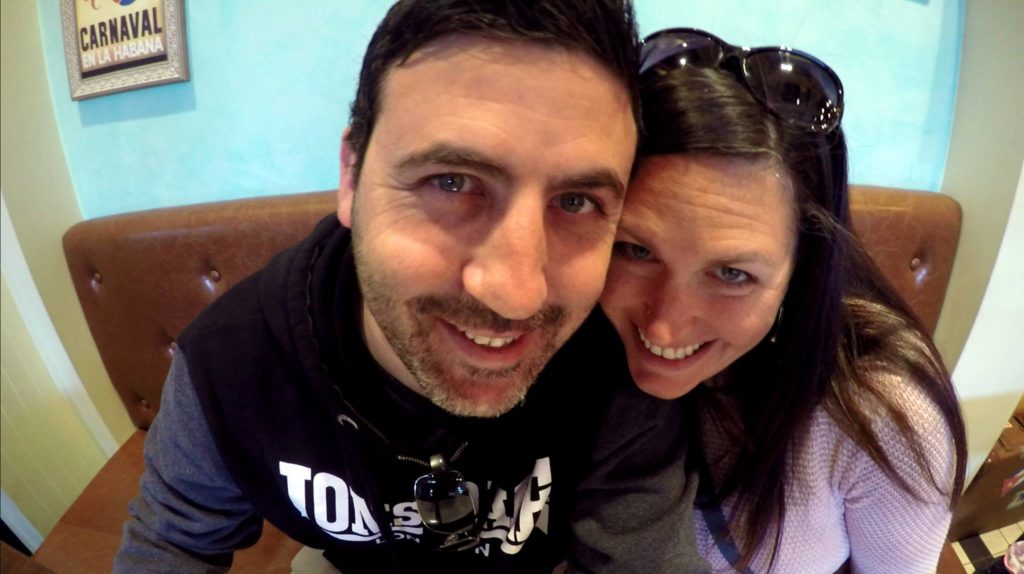 Rum and Mojitos, Mojitos and Rum. Quickly becoming one of our favourite little spots in the Gong. Thanks for the photo kiddo (Liam).
---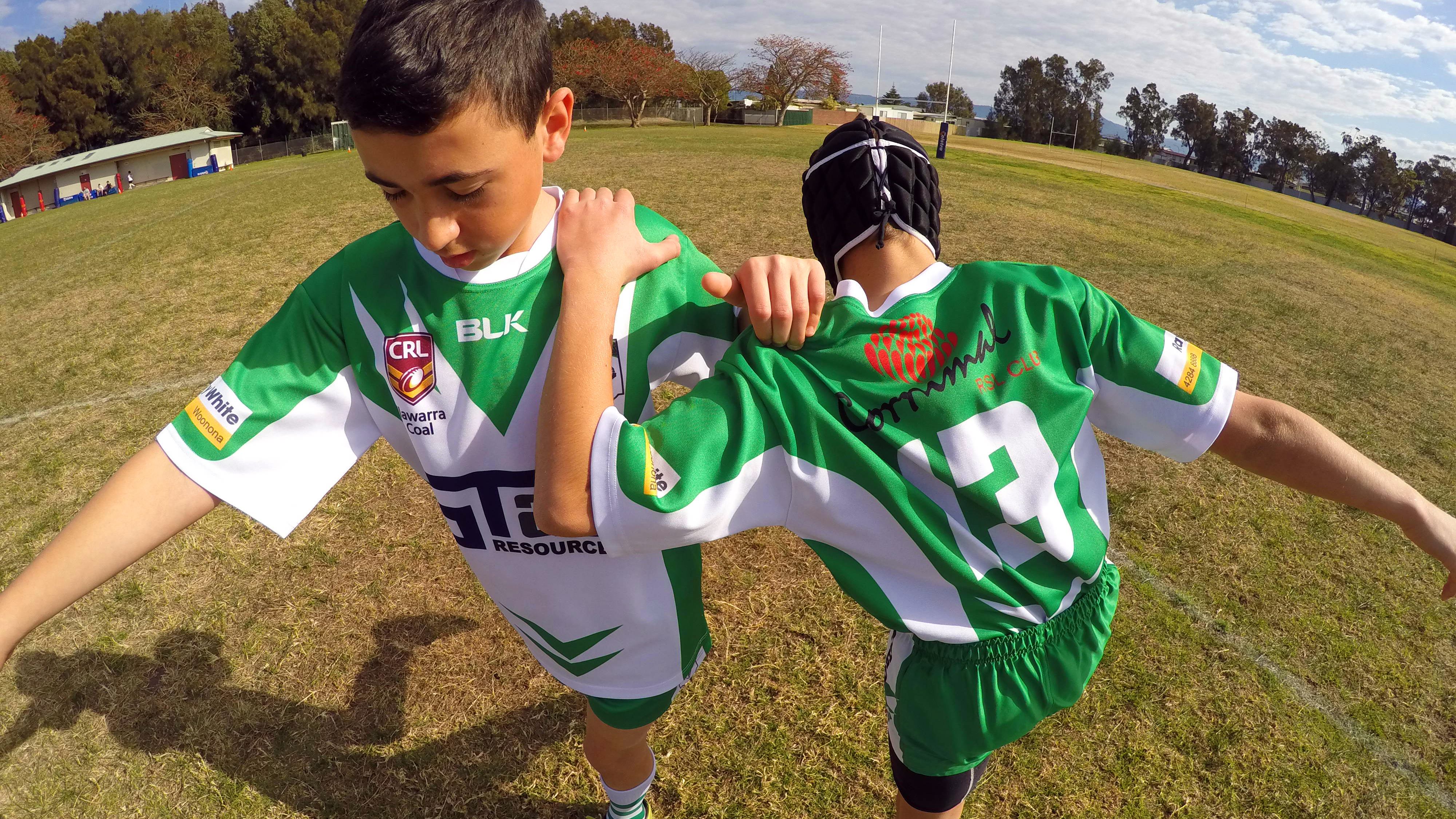 Liam playing his final Rugby League match for the season. It was a year of vast improvement for the Bushrangers, as they started to be a lot more competitive and pulling in a couple wins. This game Liam scored early, the team shot away to a healthy lead. They eventually went down but it was a much better year for the side.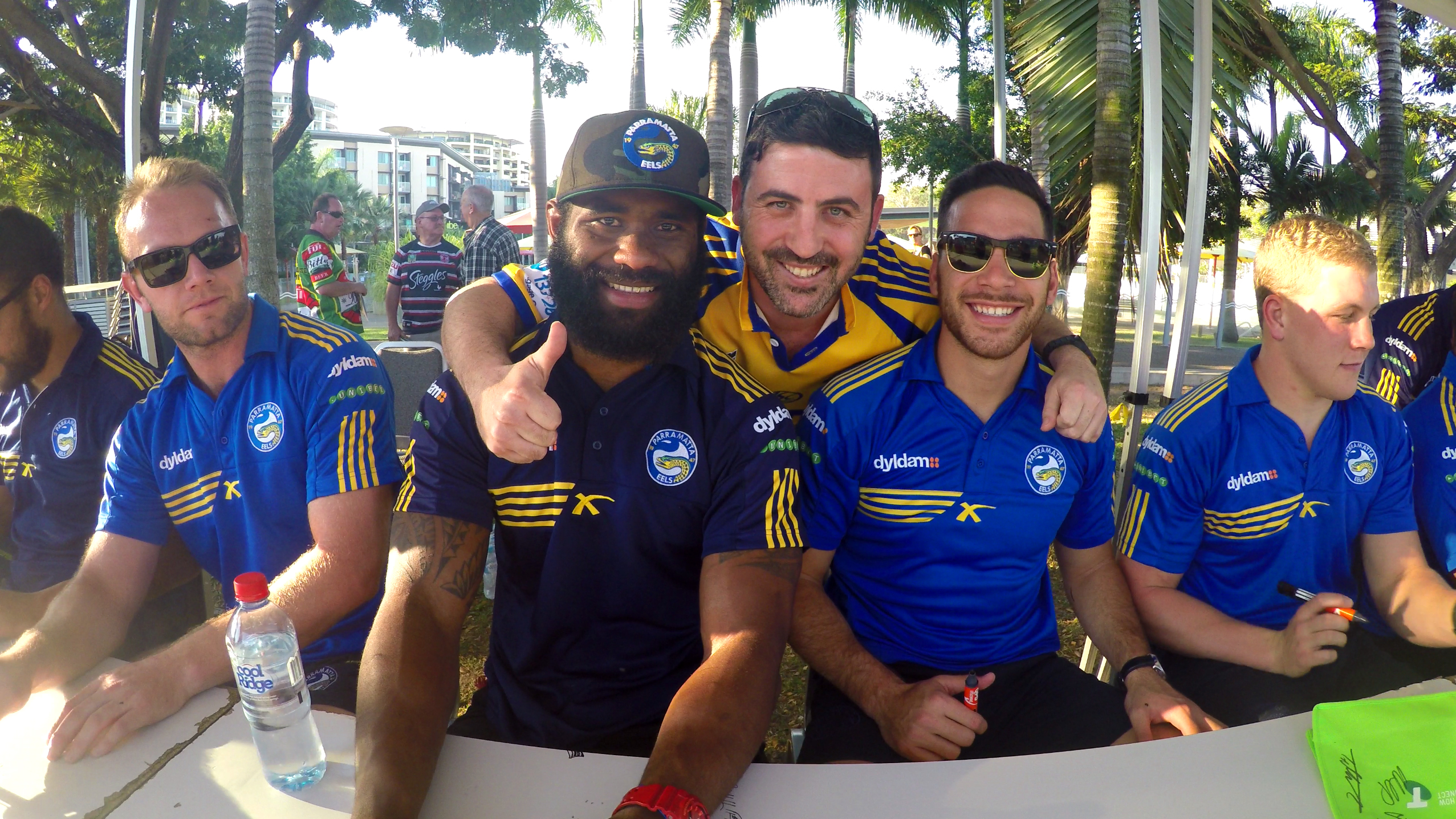 I traveled to Darwin for work and timed it such that I could attend the Parramatta vs Penrith "local derby" at TIO Stadium. The Northern Territory have sponsored Parramatta for a few years now, in return 'Parra plays a game or two in the top end each year. Two sides who are geographical siblings in Sydney playing in Darwin… another bucket list item checked off. Also had the opportunity to meet all the players (Semi and Norman pictured) and ran into a childhood hero in David Fairleigh.
---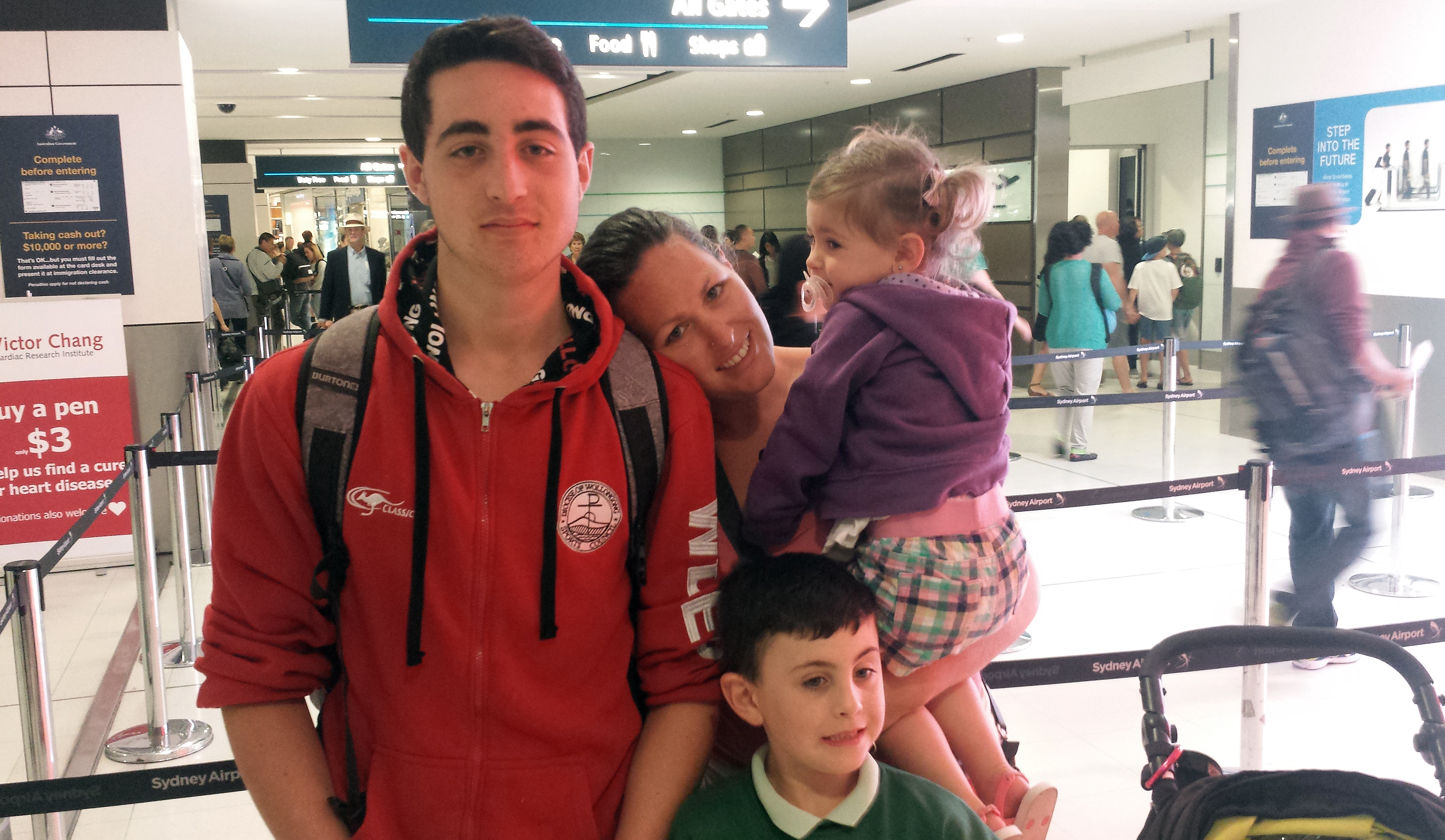 The day where we had to let go harder than we ever have before. Nevan financed his own trip to the United States – a three week trip of backpacking in the mountains and spending time with family in California. There's only so much training and preparation you can do as a parent – at the end of the day he had to navigate both Australian and US Immigration and Customs. This he did with aplomb and had the teenage defining time of his life. I am sure this is only the beginning.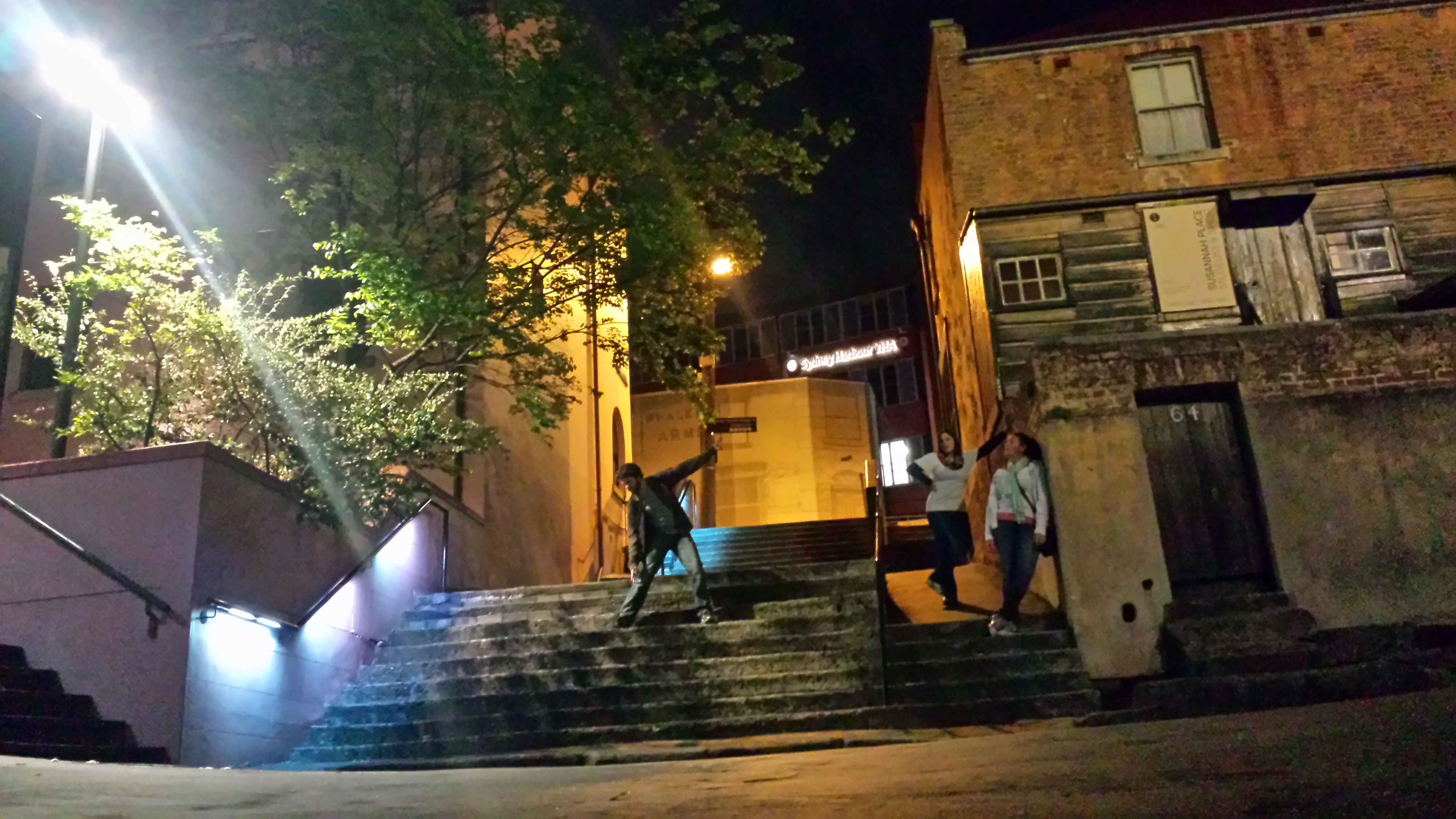 Our 17th Anniversary was spent in and around the Rocks in Sydney, after an earlier Paintball adventure. Food and drink and general mischief with the beautiful couple Amber and Richie Schafe (who were celebrating their 9th Anniversary). This photo highlights one of our drinking games, as we're on a scavenger hunt for that which I don't remember.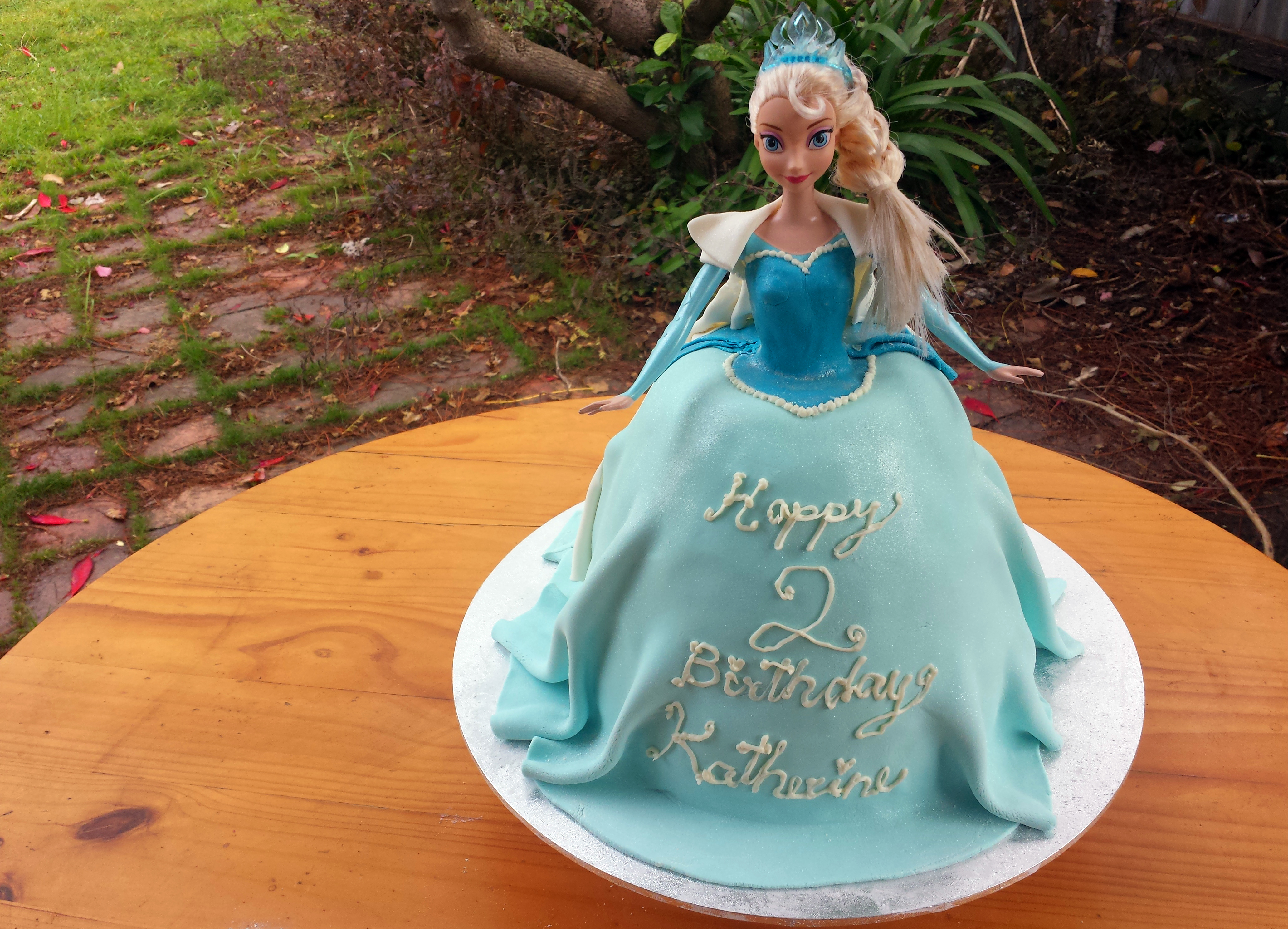 Katherine turned 2 and as is now customary, Jenifer baked a kickass cake for the occasion. What little girl is not obsessed with Elsa, Anna and the entire Frozen franchise? I know Katherine is and I've embraced it in my life 😀 Below is the amazing cake that features Katherine's first ever doll – her Elsa (this is her actual doll, the cake had to be thoroughly cleaned off her!)
---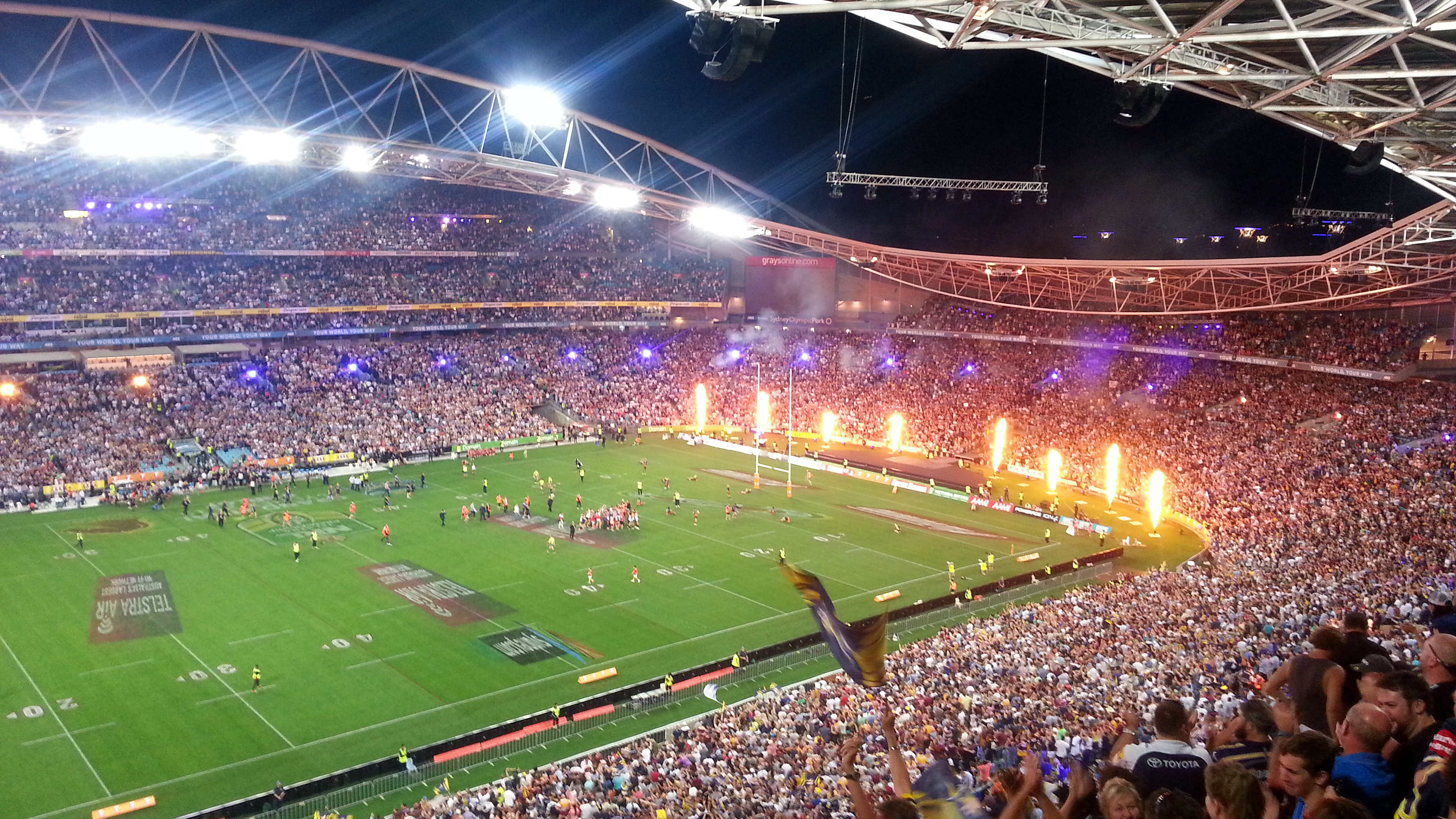 The boys and I thoroughly enjoyed watching history unfold as the North Queensland Cowboys came back from the death to tie the Grand Final in the final seconds of the most incredible match. The atmosphere was electric, people in front of us were crying when JT missed that conversion. They cried again when they sunk the golden point in extra time… I can't describe this Grand Final finish. This first ever Golden Point Grand Final finish. You just have to watch it.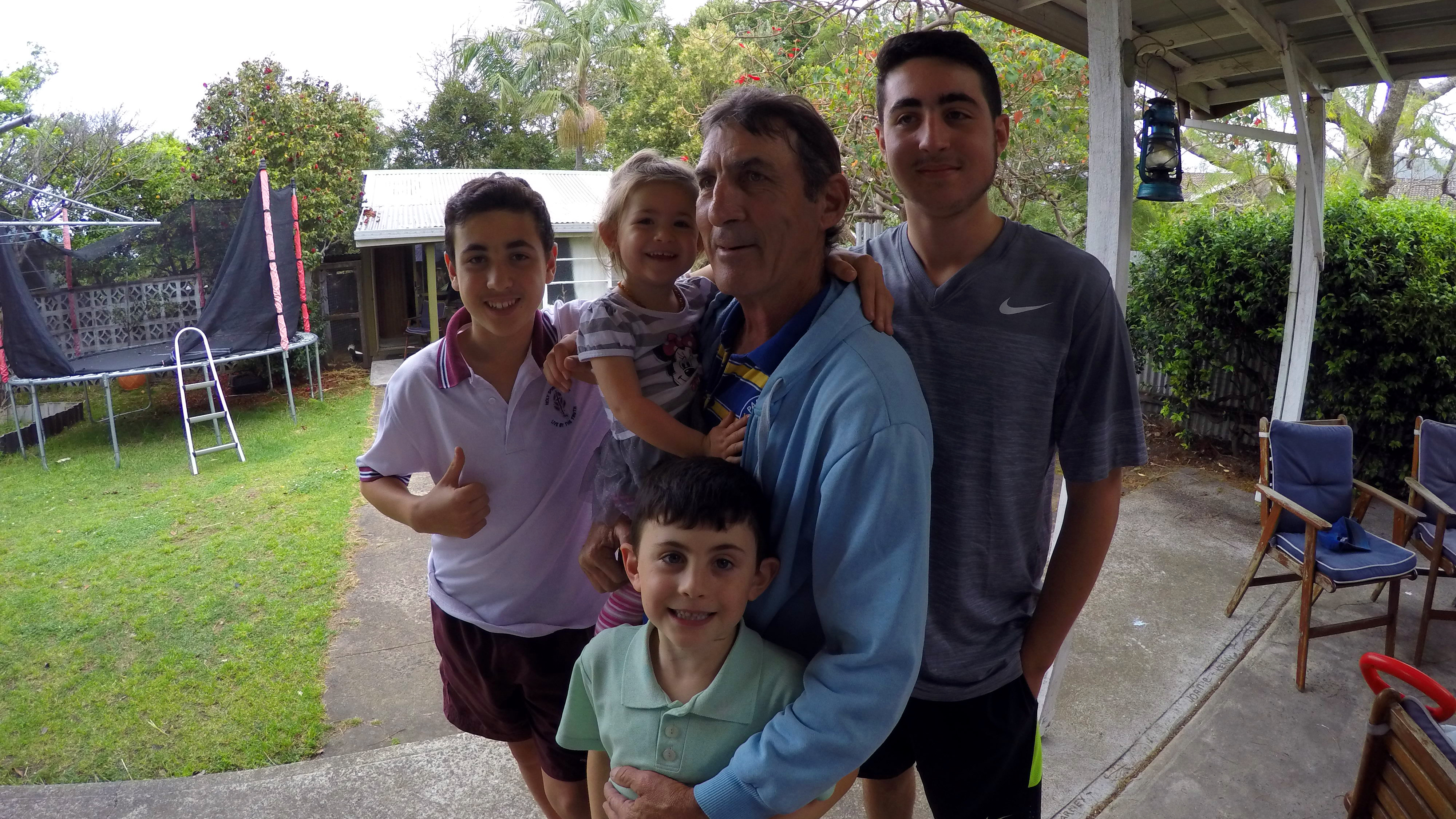 Pretty sound timing, this. Nevan landed back in Australia the morning dad was passing through on his way back to North Queensland from South Australia. Many stories being shared – as you would expect when a 15 year old flies solo half way around the world! It's good to have the boy back and a bummer to send the old man off.
We flew up to the Gold Coast for a few days to enjoy a Theme Park getaway, staying at Treasure Island Holiday Park to be in close proximity to Wet N Wild and Movie World. A couple action packed days and the first time we had been to the parks since 2009.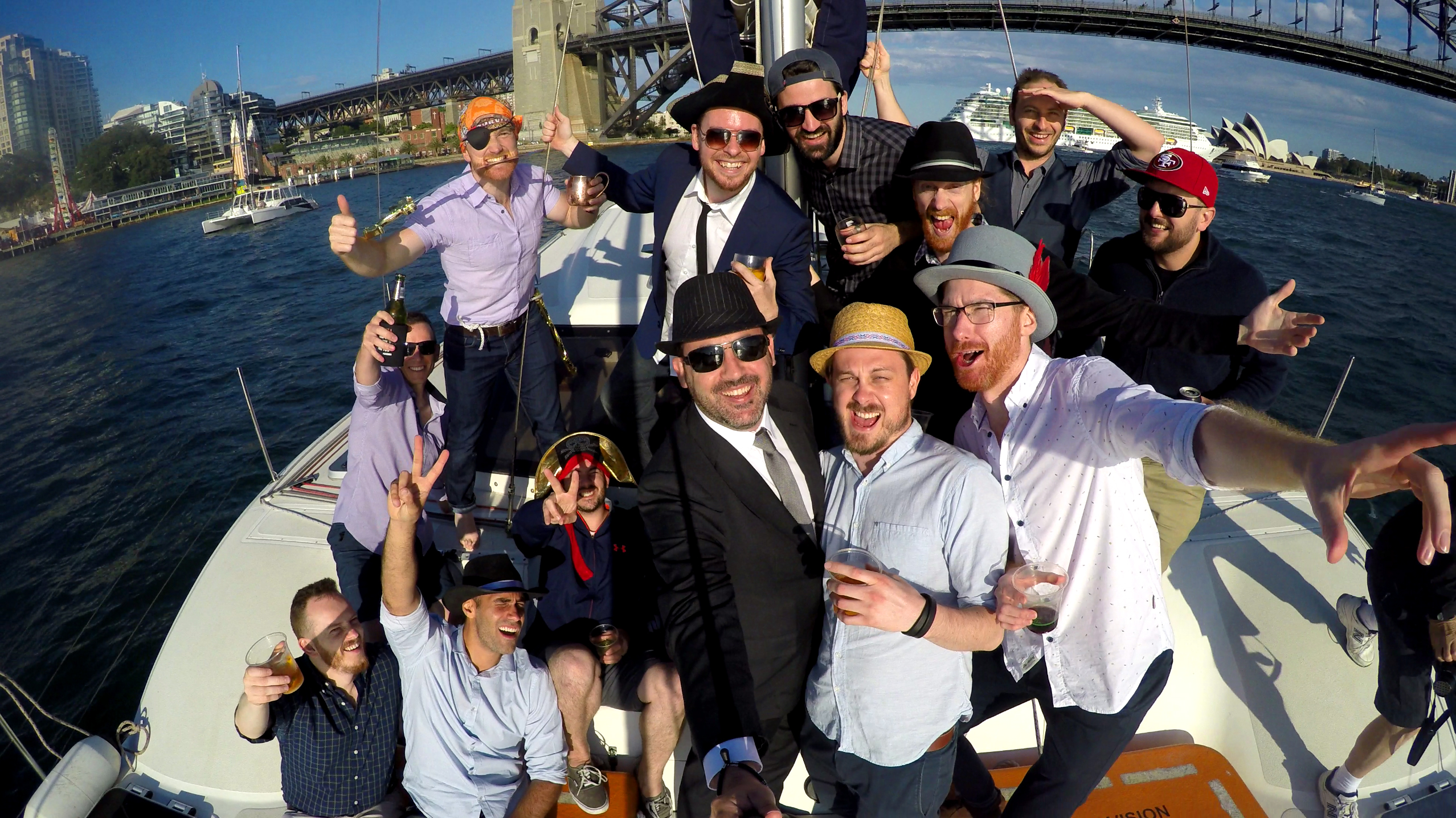 My great mate Brett Daniels Bucks party. The theme: Hatted Gentlemen sailing a catamaran on this most stunning Sydney Harbour. So much food, drinks and general gentlemanly merriment and a photo for the ages. One final bout before the man gets married in November (Aussie version) and December (US version).
---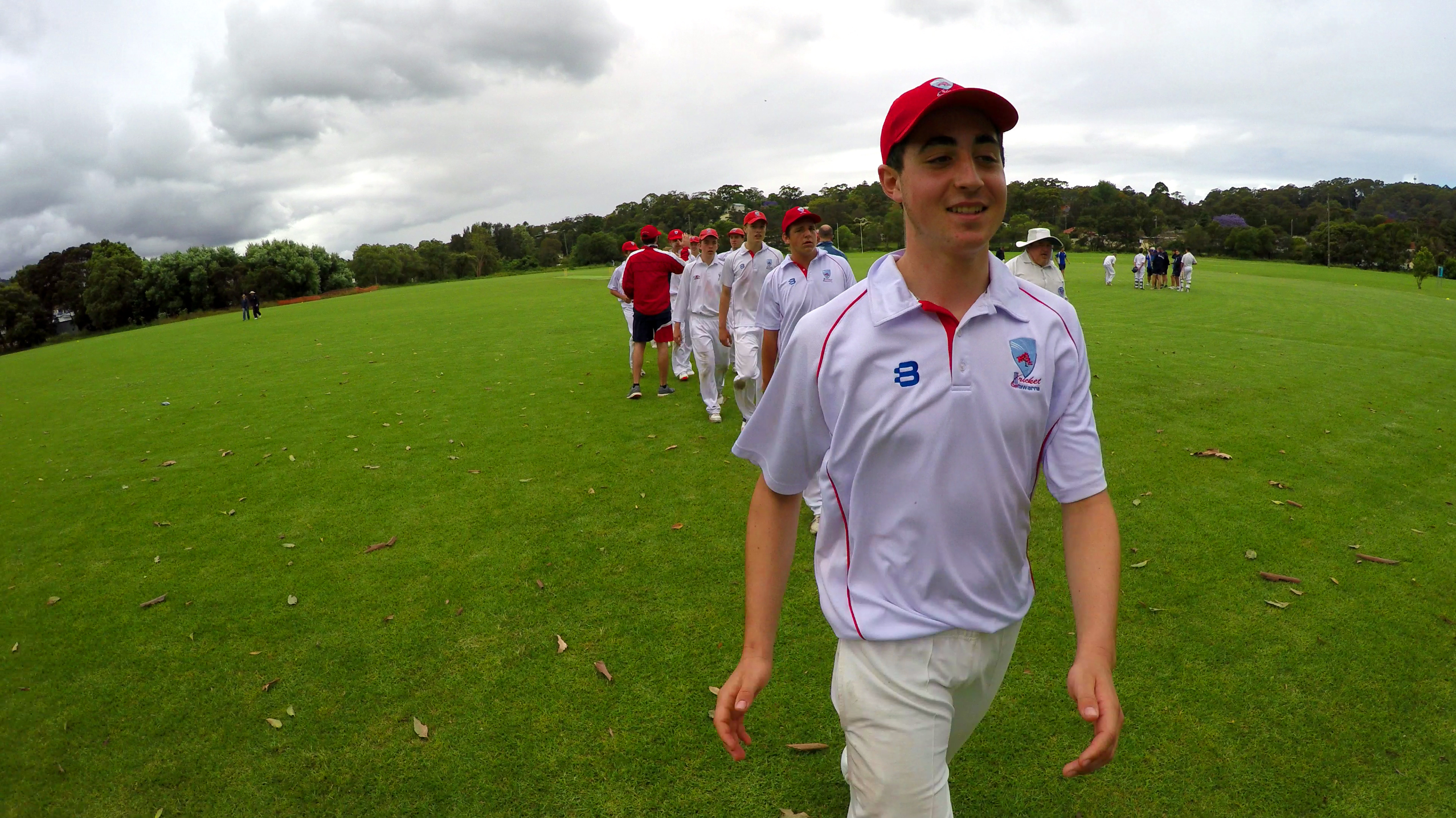 Nevan decided he wanted to have a crack at Representative Cricket this season – this after a year away from Junior cricket (he had debuted in Senior cricket last year). He trained incredibly hard, particularly on overcoming an action that was conducive to wayward bowling. He didn't have many opportunities, it is difficult to penetrate a team that has been together for years. But he loved every minute and, against the eventual Grand Finalists Bankstown, shone with a brutal spell and four wickets (the first was his first ever Rep wicket). He led his side from the field in a very proud moment for dad!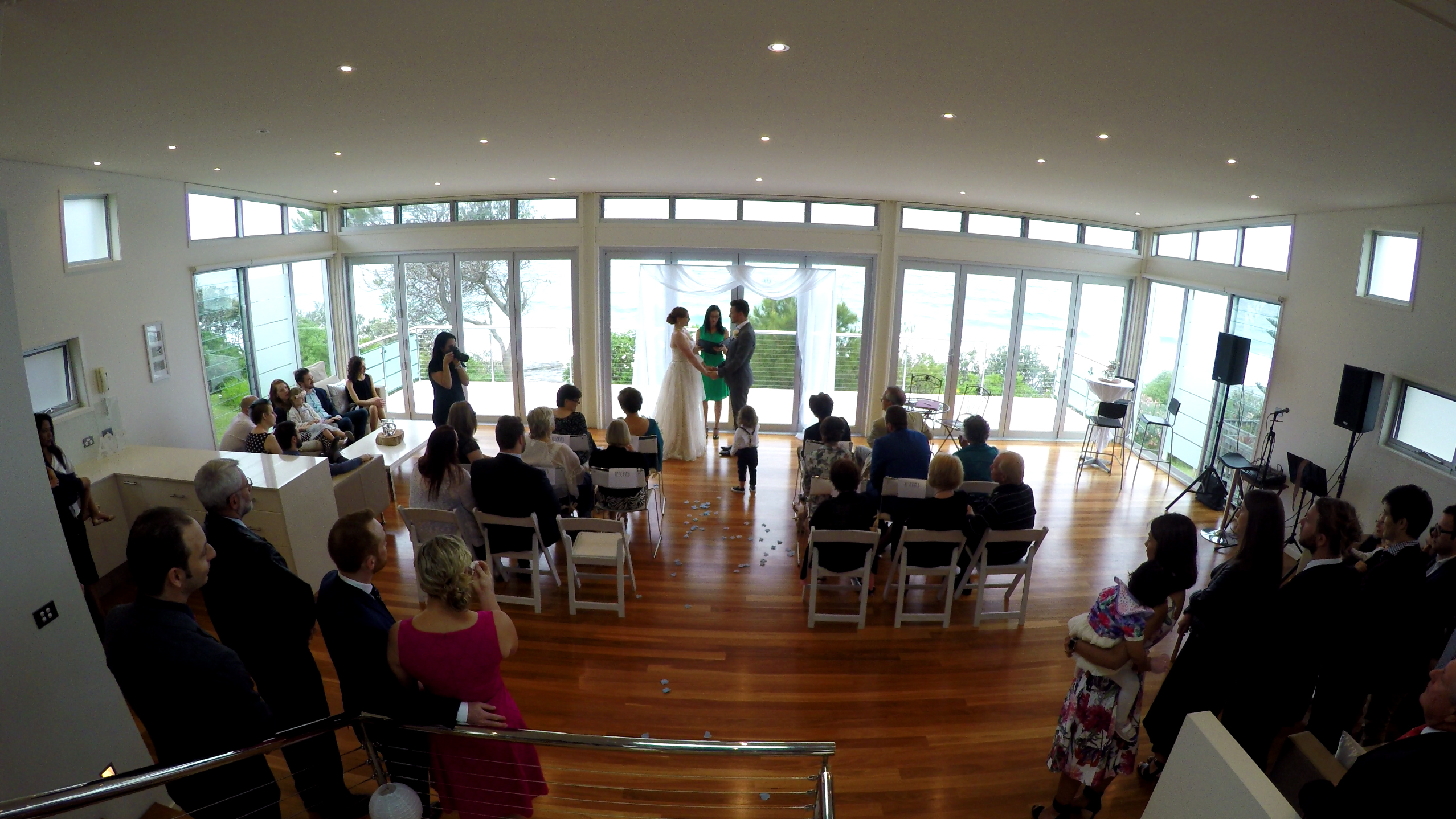 Brett and Abigail's Australian Wedding. Held in Ulladulla, at his parents stunning (and award winning) beach house we were thrilled to be a part of such a magical day for this wonderful couple. Abigail is American and Brett Australian – we share a similar story in some ways. Abigail even had some friends and family make the huge trip from Ohio to be a part of her big day Downunder. It would be amazing if some of Brett's mates could join his family in reciprocation in the USA Wedding held in Ohio in December…
---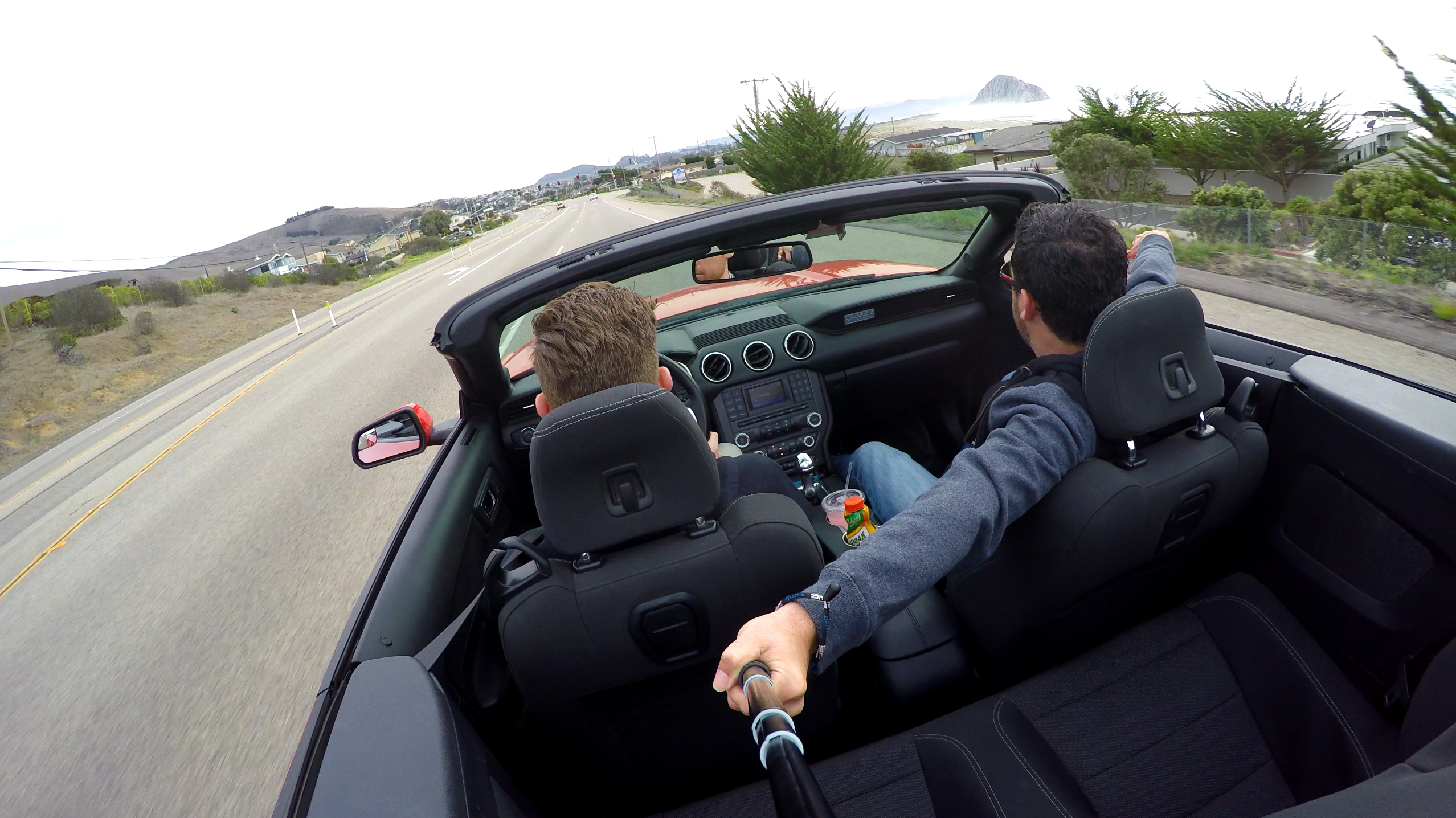 Six months in the making, Peter and Miko joined me as we flew to surprise Brett at his USA Wedding in Van Wert, Ohio. Peter and I spent a few days in California first, sight seeing and spending time in the town/s I spent so many years in. A few big nights, a Hearst Castle tour and teaching Peter how to drive on the right hand side of the road and enjoy California's coastline a highlight. Miko was in San Fran and would join us in Ohio…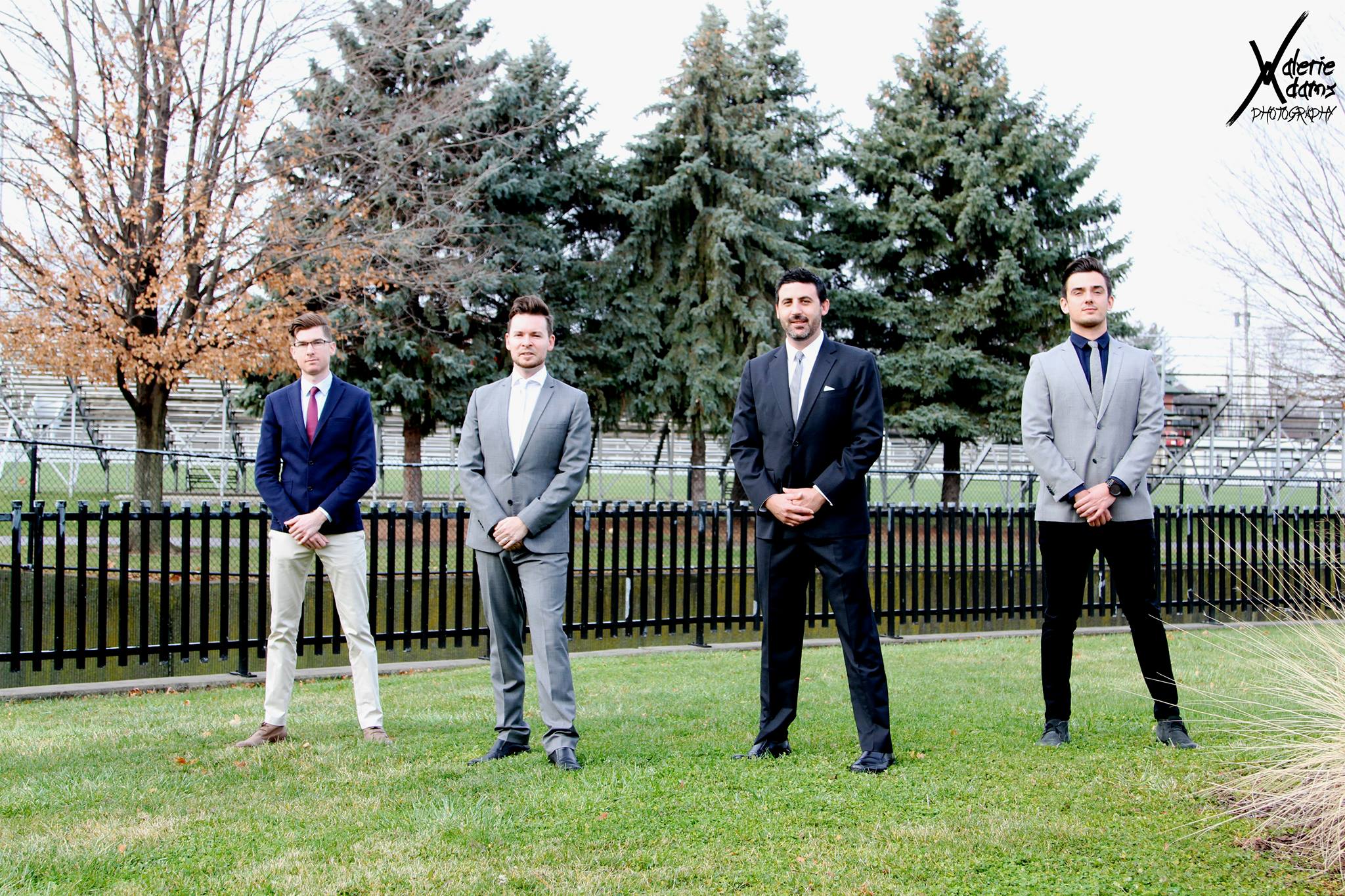 The great surprise. Miko, Peter and myself landed in Fort Wayne, Indiana within an couple hours of each other and, with the help of the wonderful bride (who was in on it) we staged the reveal at a local restaurant. The Friday before the wedding Brett believed he was about to have lunch with his bride, his parents and friends of his parents who had made the trip. Unbeknownst to Brett his mates would walk in and ask if they can join for lunch. The expression on Brett's face as he tried to puzzle out what was happening was priceless, you just don't expect your mates to walk in when you're in a tiny town half way across the planet. In a wonderful twist, Brett decided to have Groomsmen after-all, thrusting us happily into the role. Photo Copyright © Valerie Adams Photography.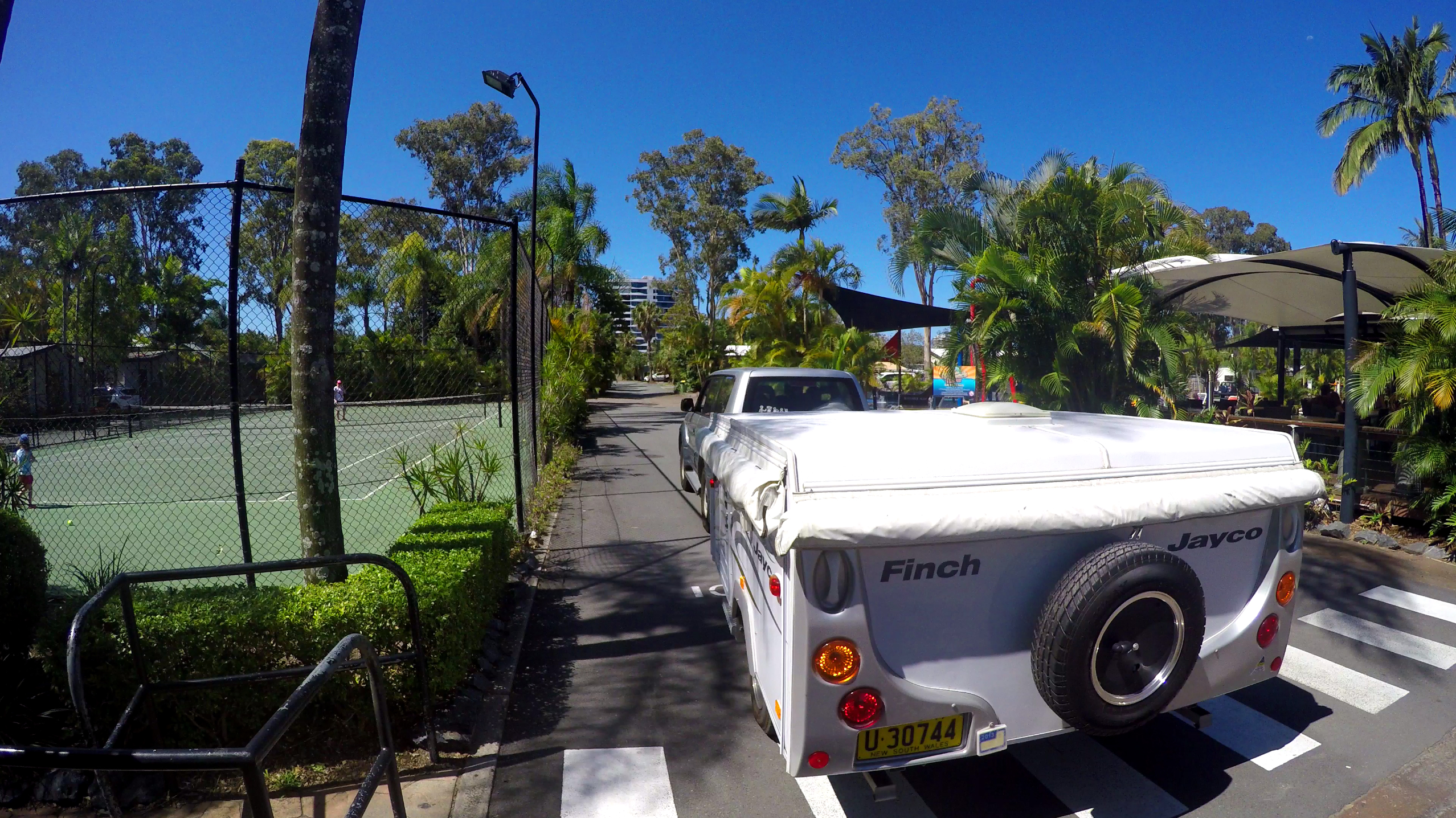 Landing back in Australia after the whirlwind boys trip to America, the family loaded up the new Caravan and began the road trip to Townsville for Christmas – some 2,400km away. The first stop was back at Treasure Island Holiday Park, as the kids had so much fun there in October. No theme parks this time, but plenty of time in the pools. I was able to meet another friend from High School that I hadn't seen in twenty years – Lisa Clarke and her two beautiful kids.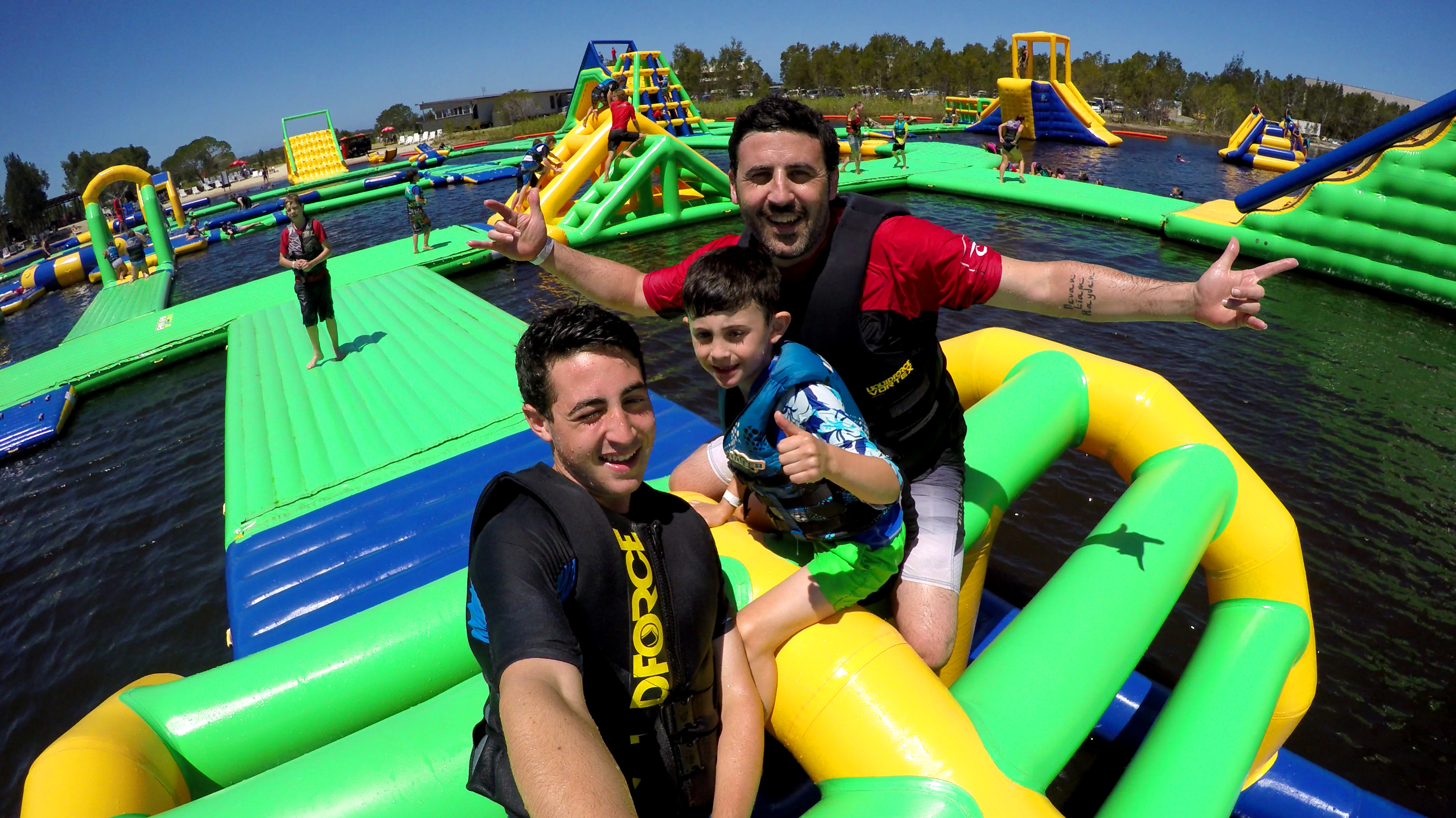 We'd seen this making the rounds on YouTube and Facebook – Aqua Park, Coolum. An inflatable playground choc full of madness and mayhem, we just had to go as we were sort of heading that way. So we did. Spoiling good time to make it to Rockhampton, we made a half day of this magnificent creation. Sliding, jumping, swinging, bouncing, falling, tumbling and slipping our way around this veritable wonderland was something dreams are made of. Unreal.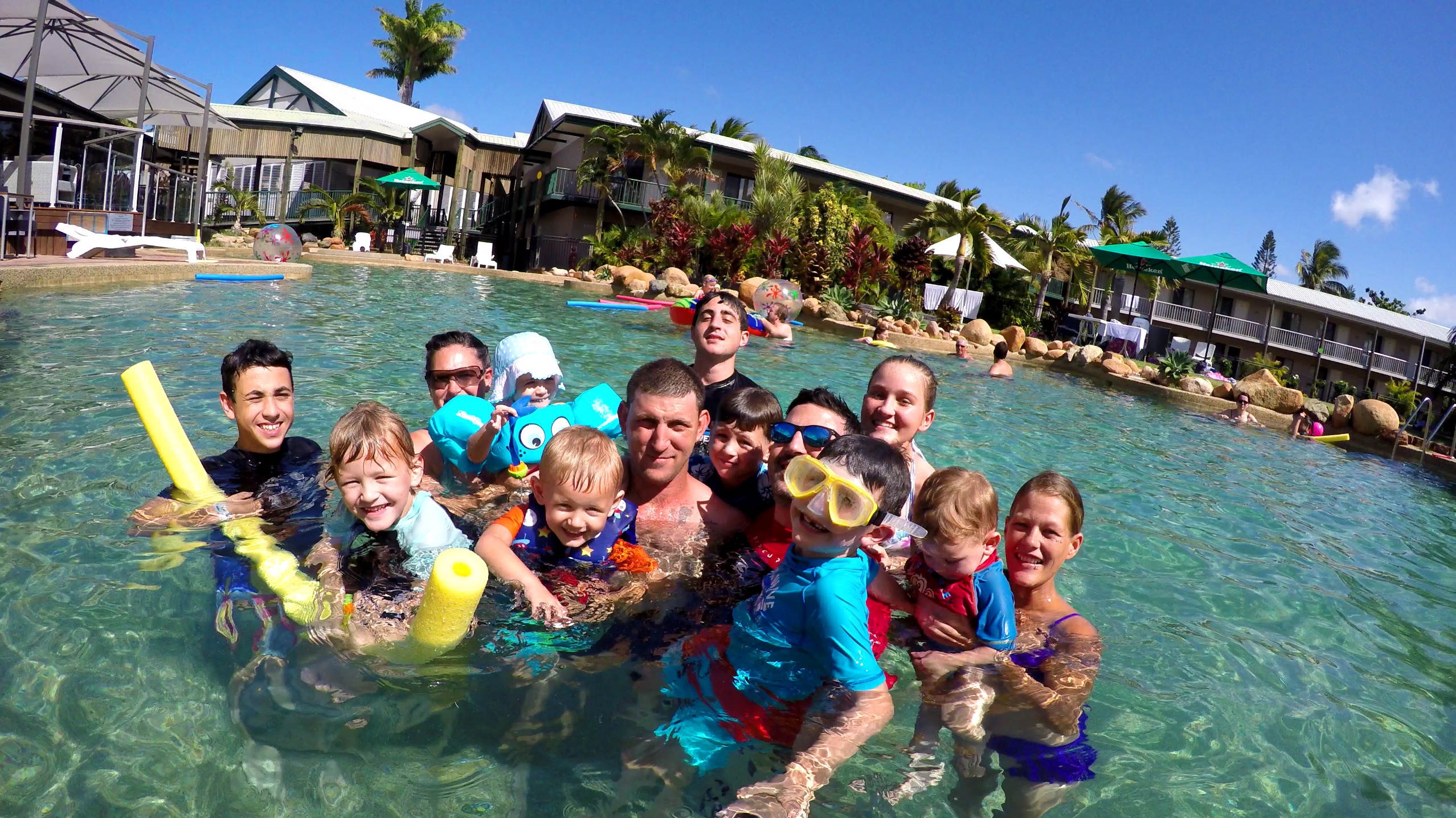 Spending a week back in Townsville with my brother and his family would be amazing at the best of times. Chuck in a Christmas holiday and you've got a true memory maker. I absolutely love my brother and love spending time with his girlfriend and five (count them, five) kids. He also came up with an ingenious plot – Christmas Day at the Mercure Inn, Townsville. All food and drink provided, Santa and presents for the littlies and spending the rest of the day in the pool with the pool bar. Worth every dollar spent, Merry Christmas from the Doigs.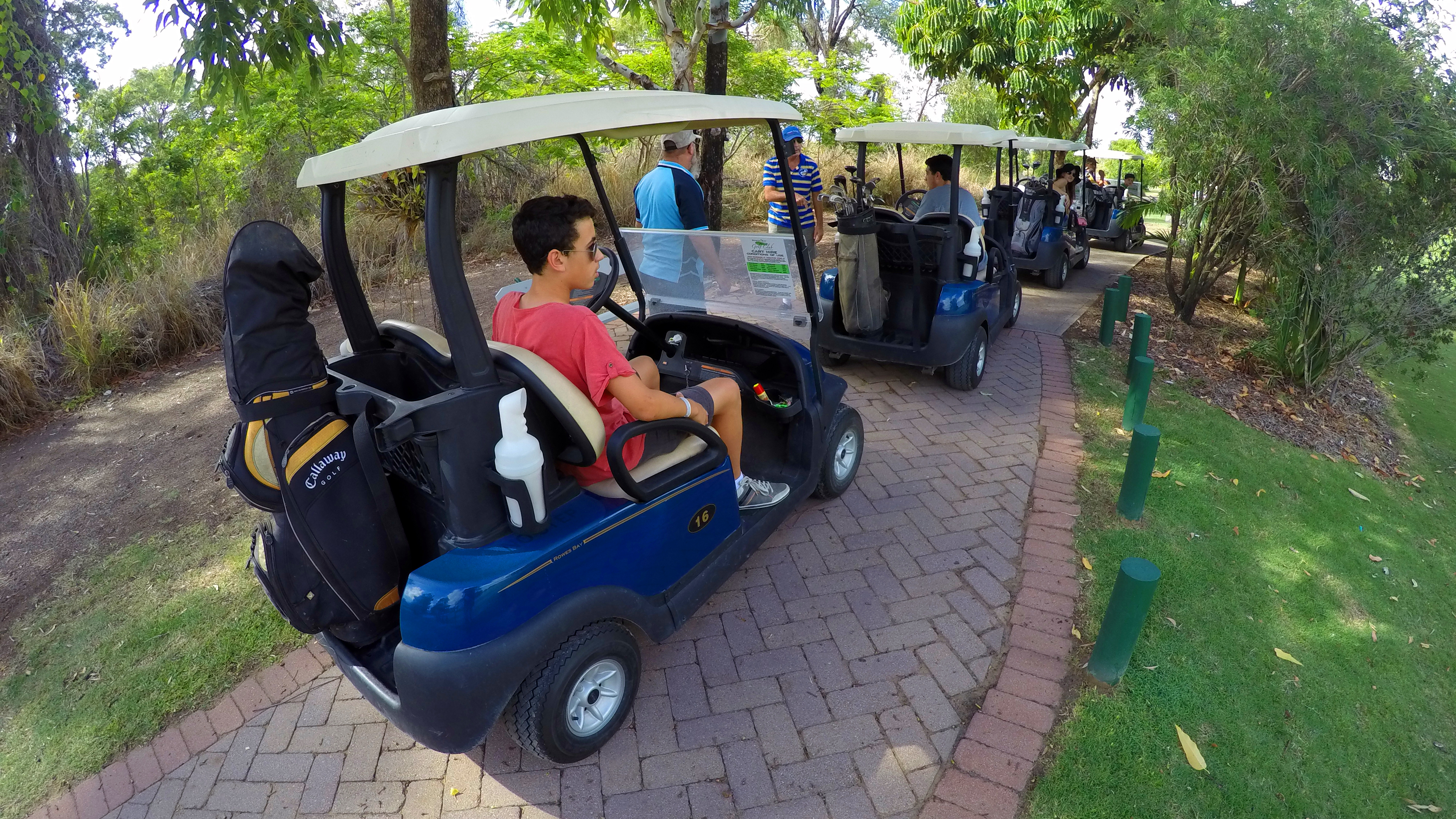 We doubled up on this North Queensland trip by spending time with Dad for his 60th Birthday. One of dads passions when I was growing up was golf – I remember caddying (being a nuisance) every chance I could on Saturday mornings as he played in the Amateur competitions. When dad hurt his back some years ago and could no longer play, you could tell a big part of him went missing. So when we heard the news recently that his Doctor said he could return to the course, we knew exactly what to do. Booking in for a big birthday bash (or whack or hack, depending on your ability or lack thereof) we all head down to Rowes Bay Golf Course in Townsville to turn back the clock, have a few drinks and play nine holes once more…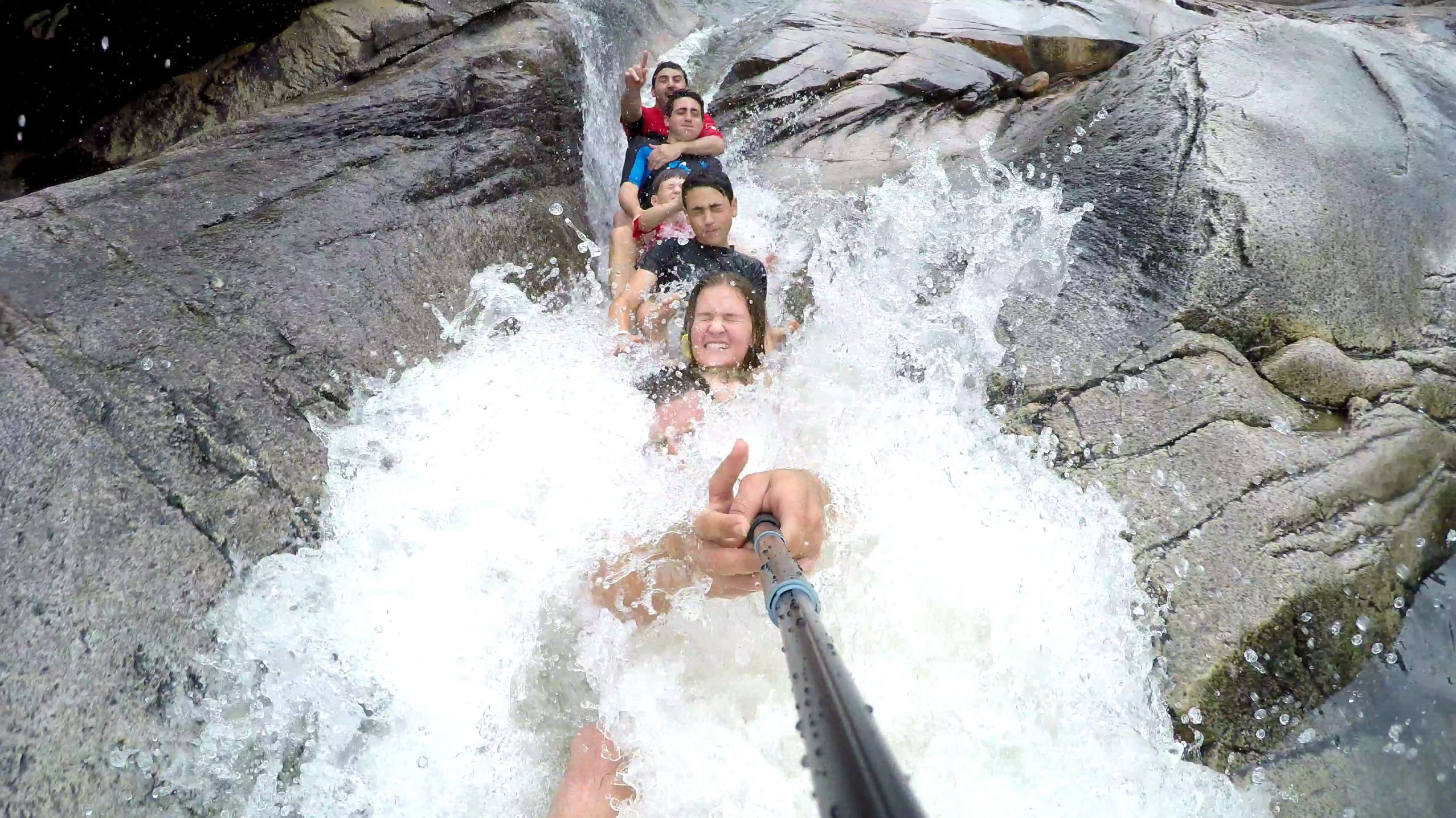 A trip to North Queensland is not complete without a trip to Crystal Creek. We started at Big Crystal Creek, a popular swimming destination known for its natural waterslides formed by mossy rocks. We then ventured to Little Crystal Creek, which is known more for its many rock and cliff jumps into pools of cool, cool water. It's a must do, but be careful and always stay together. People have died up here.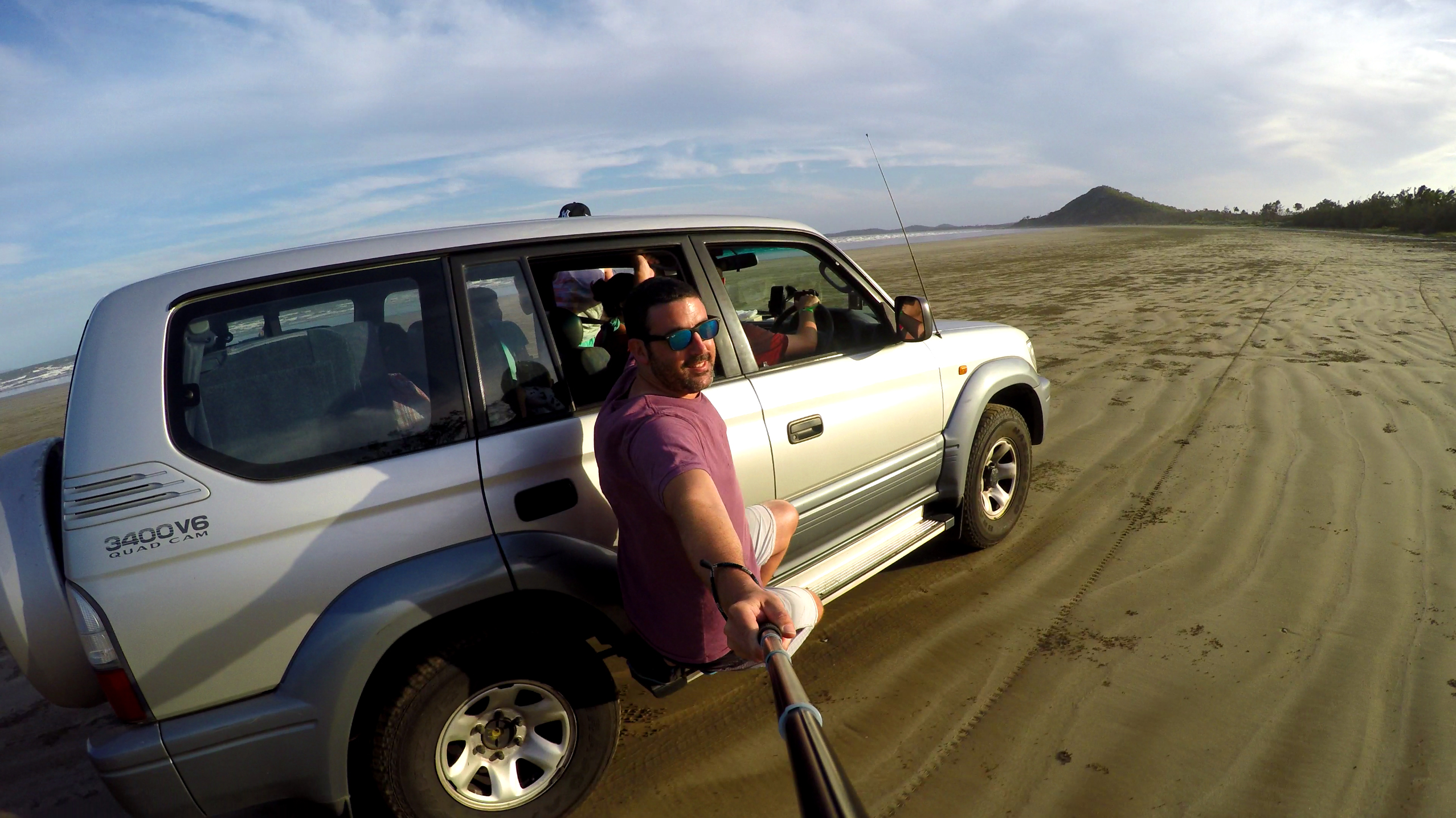 One of the last things we did in 2015. Nevan is a month away from gaining his Learners Permit so, with the wide open beach that looks out over the Great Keppel Islands, Nevan spent some time driving the Landcruiser, probably going about 40 kmph in this photo. We spent a couple days in this cool little coastal town of Yeppoon, much of it in the pool or on a few hikes to some neighbouring lookouts.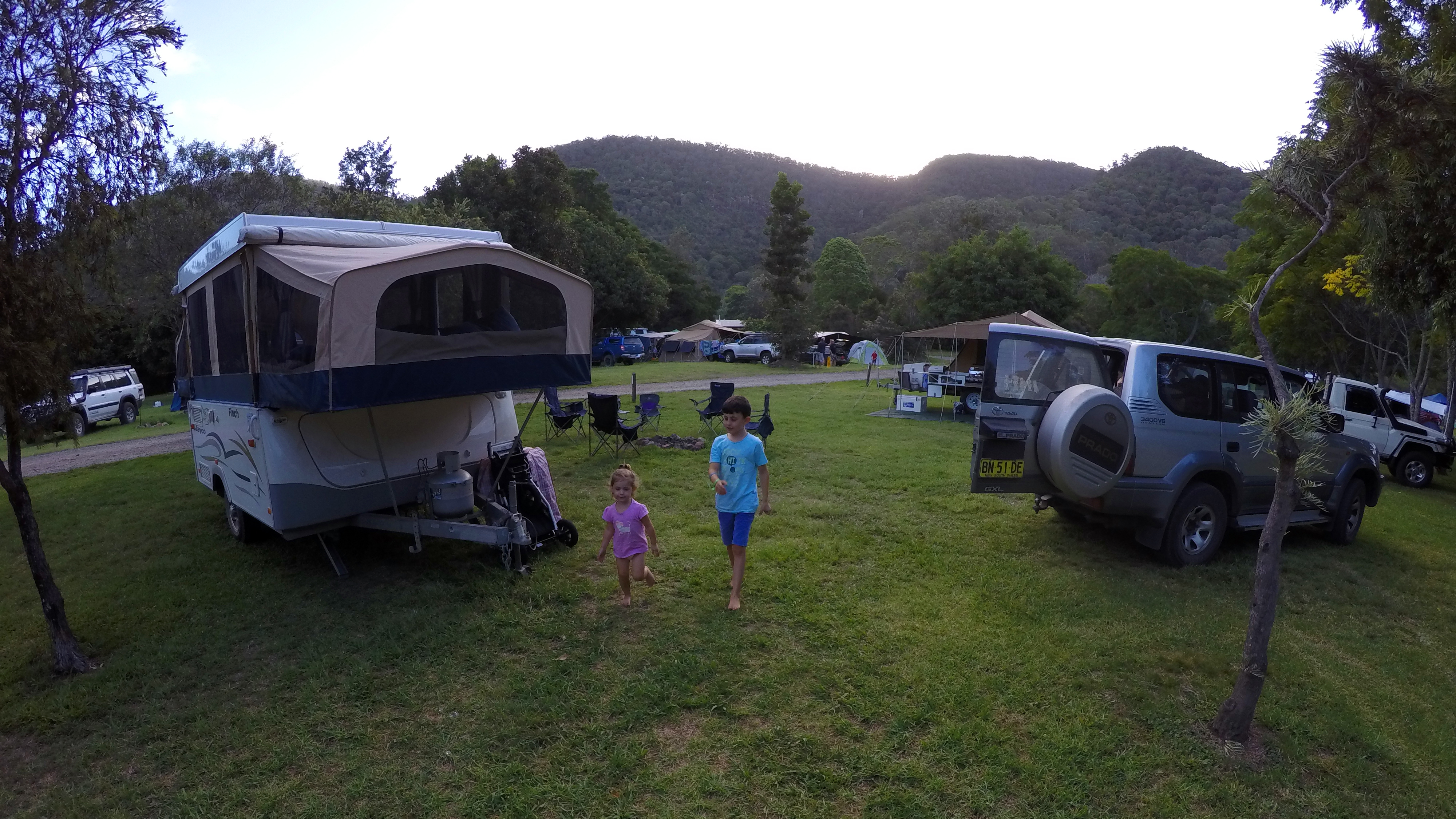 Happy New Year – we spent the end of 2015 disconnected from the world in this bush retreat outside of Woodford, Queensland. Though on one day we did go back to Aqua Park, Coolum because it is so damn cool…